If you're coming from the NFL best ball streets, have played DFS sports that employ stacking, or have simply drafted a WR/TE from the same team as your QB in your home league, then you're well versed in stacking in fantasy sports. We stack in sports where there is a positive correlation between players. By stacking we are making bets on players (or teams) hitting their fantasy point ceilings together. Stacking allows us to narrow the number of variables we must get right when drafting by betting on teams rather than individual players. When you combine the size of these tournaments with how top-heavy the prize structure is, you'll find stacking can be a simple way to gain extra upside in your lineup.
ADPs are as of 3/27/22.
Los Angeles Dodgers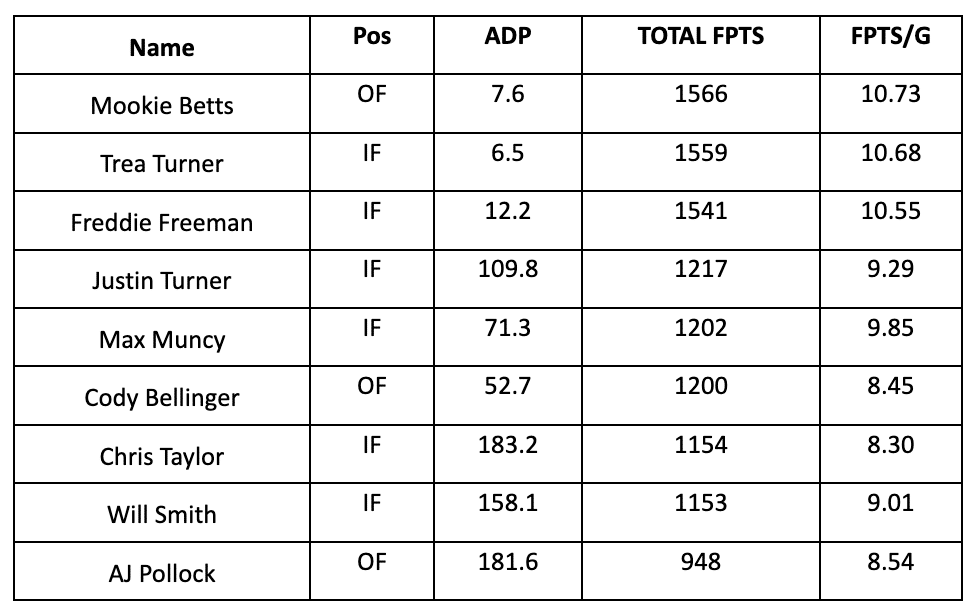 Another year, another dominant Dodgers starting lineup. Everyone in their lineup has made an All-Star Game, and besides AJ Pollock, everyone is projected to score more than 1000 FPTS. Even before the recent addition of Freddie Freeman, the Dodgers were the #1 Team Stack, and now he makes them the only team projected for more than 11,000 FPTS. 
They have three trios of players grouped similarly in ADP, with the first trio being Mookie Betts, Trea Turner, and Freddie Freeman. It unfortunately isn't viable to full-stack the first trio due to their current ADPs. Betts and Turner have been going anywhere from the early to late first round, and now Freeman has snuck into the late first round with his ADP on the rise. It's possible with a late-first-round pick (10th,11th,12th) that you could catch one of them falling to the 2nd but getting all three simply isn't possible.
The second trio includes Cody Bellinger, Max Muncy, and Justin Turner. With Bellinger being the next Dodger drafted. He comes with a 5th round price tag that the projections aren't in line with. Turner and Muncy are both projected for slightly more FPTS than him, but both are being drafted after him. If you're looking to full-stack the Dodgers it makes sense to want to try and include Bellinger, who helps fill a thin OF position, but there are other options in his range that project better.  A few weeks ago, news broke that Muncy would be ready for Opening Day, and the result has been him slowly climbing up draft boards. He is currently being drafted in the 6th round, which is a big jump in ADP considering his 9th round price tag a month ago. Turner is a great value to add to this stack and is currently being drafted in the 10th round, but thanks to Derek Carty mentioning him as "this year's Joey Votto", he could be climbing up draft boards very soon.
The final trio includes Chris Taylor, Will Smith, and AJ Pollock who are all being drafted after the 12th round. Taylor and Smith are projected slightly below the second trio and look to be better values, with more than 100 picks separating Taylor and Smith from Bellinger. If you're filling out a Dodgers stack, you might want to leave some IF slots open with the best values coming from that position. It's not uncommon to see one from the final trio fall in drafts creating even better bargains. Pollock has an identical ADP with Taylor but is projected for less Total FPTS and barely edges him out in FPTS/Game. Like Bellinger, he's the lowest projected amongst this trio but doesn't come with a steep price. He's worth pairing with other Dodgers and helps with the thin overall OF position.
Gavin Lux isn't listed above but he's an injury or teammate slump away from having an everyday role. He is projected for 857 FPTS with an ADP of 239.6, which means he is free in drafts. He's an interesting way to get unique with Dodgers stacks. But he is risky, as there is uncertainty with how much playing time he'll get.
Looking at the playoff schedule for the Dodgers, they will have zero games in the top five hitter-friendly ballparks, according to Fangraphs. They will have a three-game series against the Mets tough pitching staff in Week One of the first round. But they have 11 games between weaker teams, Arizona and Colorado. They will benefit from a doubleheader already scheduled on Sept 20th against Arizona.
Philadelphia Phillies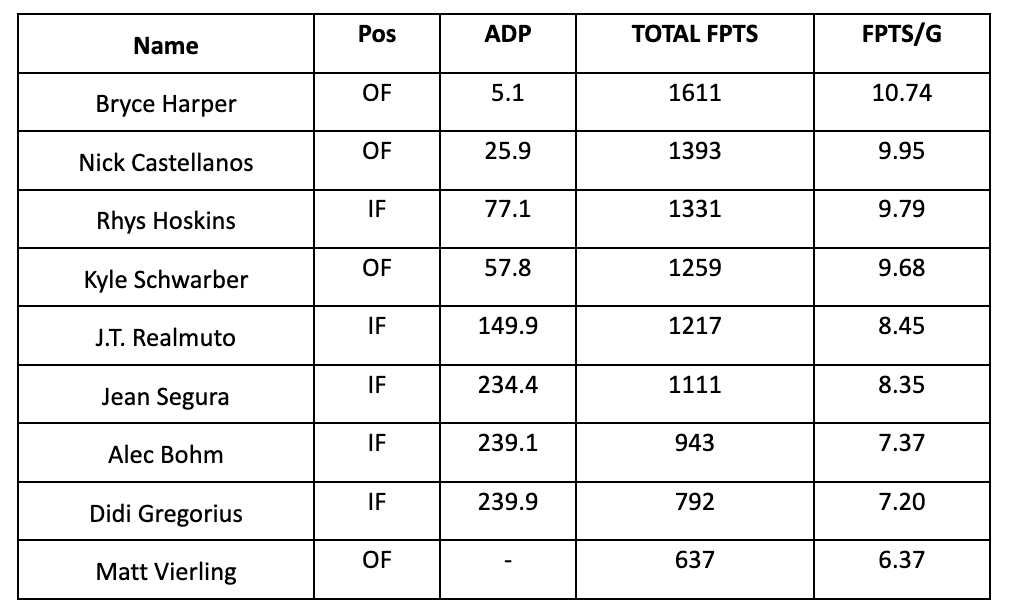 Early in drafts, there were rumors of where the top free agents would sign, and their ADPs were undervalued because of it. Due to their free-agent signings of Nick Castellanos and Kyle Schwarber. The Phillies are now one of the most fantasy-friendly offenses in baseball.
  Bryce Harper is in a tier of his own for the Phils, getting drafted in the early to middle first round. He's a top 10 player in most projection models and according to Bat X, he's the 2nd best player in this format.
The next group includes Nick Castellanos, Kyle Schwarber, and Rhys Hoskins and due to their ADP, it is possible to draft all of them on the same team. However, it is starting to become a popular stack as ADPs have skyrocketed for these three. Before the lockout ended, they were all available about 20-30 spots later than now, and if you were lucky enough, you could have had this stack at a much cheaper cost. If given the chance, I am still stacking this team because three out of the top four projected players help fill the OF position. But I'm trying to find ways to become unique with my stacks.
J.T Realmuto has surprisingly fallen in ADP since these contests opened, yet he's barely projecting worse than, Schwarber, who goes nearly 100 picks ahead of him. He's a great value addition to any Phillies stack and should benefit from the universal DH rule giving him extra days off from catching.
The final tier includes Jean Segura, Alec Bohm, Didi Gregorius, and Matt Vierling who all have a wide range in projections, but all have similar ADPs, in the final round of drafts. Segura is a perfect way to get unique with your stacks, as he has one of the better projections for someone being drafted in the 20th round. An easy way to differentiate the stack is to, bypass one or both of Hoskins and Realmuto in the infield and grab Segura late. Bohm is also a sneaky way to be unique with stacks because he isn't being drafted that often. He has a nearly identical projection to AJ Pollock, who's going about five rounds ahead of him. Gregorius and Vierling are a drop-off in projection but are potential leverage on the field, as they, like Bohm are barely being drafted.
Looking at the playoff schedule for the Phillies, they will have zero games in the top 5 hitter-friendly ballparks. However, they also don't have any games against the Met's tough pitching staff. They do have two tough matchups split between their division rival Braves and the retooled Toronto Blue Jays. An advantage to drafting the Phillies is they have a doubleheader scheduled for Oct 1st.
Atlanta Braves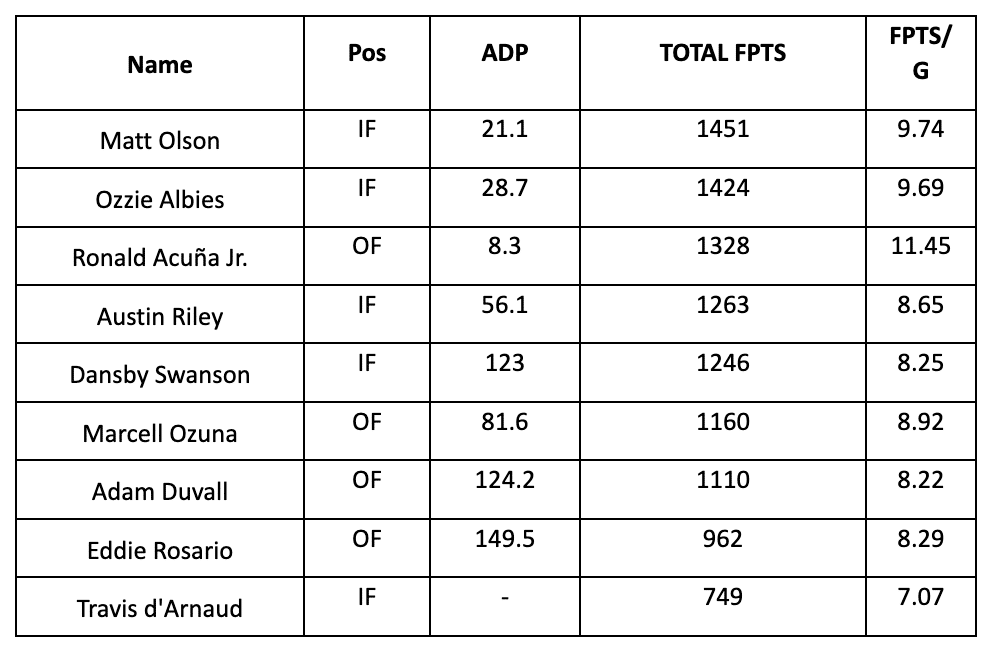 The Braves had big decisions that needed to make this offseason, particularly Freddie Freeman, and it affected the outlook on their whole roster. During the lockout, the Braves were not in the top 10 best stacks, and that was because of the holes they had on their roster with their free-agent decisions. The Braves decided to move on from Freeman when they traded for former Oakland Athletic Matt Olson. They then went and re-signed Eddie Rosario, which propelled them to the third-best stack.
For Olson, he immediately got a park upgrade moving out of Oakland and a huge lineup boost joining the defending champions. The big question now regarding this team is when will we see Ronald Acuna Jr.? Last July, he tore his ACL and missed the remainder of the 2021 season. The start of his season is also in jeopardy. There are reports that he is expected to be back in the outfield in early May, but we don't know if he will get any time as a DH during April. He won't get any time in Spring Training as OF or DH so it could be likely he misses sometime early in the season.
With that being said, Acuna Jr. headlines an early trio of himself, Olson, and Ozzie Albie who have ADPs in the first three rounds. You might have to reach a tiny bit in ADP but it's possible to full-stack these three if you use an early first-round pick on Acuna. He is normally being drafted in the middle to the late first round and while he doesn't have the total FPTS like the others, he is the projected #1 overall player in FPTS/G. It comes down to your risk tolerance and if you want to spend a first-round pick on a player who is projected to miss about a month but when he's playing his fantasy production is one of the best in the game. Olson is typically the second being drafted and it normally comes in the middle to the late second round. With his projections, he is currently slightly undervalued. Albies is being drafted in the early third round and projections would argue he is a little more undervalued than Olson is. Their ADPs have barely shifted since the contests were released, with the biggest change being Olson surprisingly dropping 4 spots in ADP.
Two more Braves, Austin Riley and Marcell Ozuna, are both being drafted being before pick 100 which gives you five stackable options before the 9th round. Riley is being drafted in the late fourth round and like other Braves, he's undervalued. Ozuna is being drafted near the end of the 7th round and projections are in line with his ADP, but his teammate Dansby Swanson is projected better and costs over 40 picks less than him. With how their ADPs are separated it is possible to leave drafts with all five of them stacked up, but they still have great options past pick 100. 
There is a trio of Braves going close together in the middle part of the draft that includes Swanson, Adam Duvall, and Eddie Rosario. Swanson is the next Brave being drafted and will normally cost you around a 10th or 11th round pick. Although he's been prone to sliding in drafts. Not only does Swanson project for better than Ozuna but he's projected extremely similar to his infield teammate Riley and costs nearly 65 picks less. Adam Duvall is only 4 spots behind Swanson in ADP and has a very solid projection. He has a similar projection to his outfield teammate Ozuna, who is going 45 spots ahead of him in ADP. Eddie Rosario is the final member of this trio and is normally being drafted in the 12th/13th round. His projection is lower than most of his teammates but he's a late addition to the Braves stack that doesn't cost too much. 
Travis d'Arnaud is the final brave to be mentioned and if he is being drafted it's in the final round. He doesn't project that well due to uncertainty with his playing time (even with the universal DH rule). I'm not against taking a stab or two to get unique in a mega braves stack. 
Looking at the playoff schedule, they will have zero games in the top 5 hitter-friendly ballparks and don't have a scheduled doubleheader in the playoff rounds. They have to face the Mets pitching staff in a three-game series and get to face the Marlins and A's eight times in the playoffs.
Toronto Blue Jays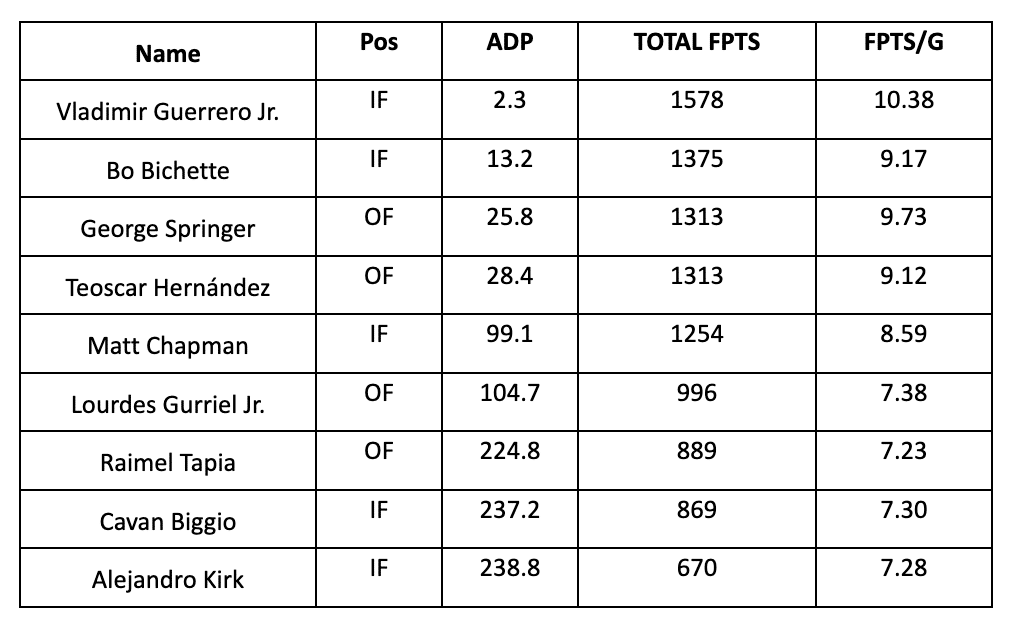 With the loss of Marcus Semien, the Blue Jays were still projected as 3rd overall stack during the lockout. The Braves eventually overtook them, sliding the Jays down a spot as it remained to be seen if they would add some more firepower to an already deadly lineup. Turns out, they would trade just for former Oakland Athletic, Matt Chapman. He has seen a rise in his ADP because of the trade, but still, he isn't being drafted anywhere close to some of his new teammates, Vladimir Guerrero Jr., Bo Bichette, George Springer, and Teoscar Hernandez.
Like the Dodgers, it isn't viable to full-stack all these top players due to their current ADPs. Vladdy Jr. is a top 3 pick in most drafts ever since Fernando Tatis was scheduled to miss 3-4 months. There's a valid argument that he should be the #1 overall pick over Juan Soto, but I like filling the OF position early and often. Projections agree with his ADP, ranking him as the 3rd overall player in this format. Bo Bichette is the next player off draft boards normally between the late first to the early second round. We all know what type of player Bichette is, but projections have him slightly overvalued for his ADP. With that being said, If I can snag him in the early to mid-second round I will mix in a few shares. It remains to be seen if someone somehow paired Vladdy Jr. and Bichette, but as of now, I haven't seen that combination together. George Springer and Teoscar Hernandez are the final two in this quartet being drafted and they will cost you a late second to early third-round pick. Both are projected the same amount of Total FPTS and are within 3 picks of each other. The only way to get three of these players on the same team would be to draft Vladdy Jr. or mega reach for Bo early and then double-tap Springer and Teoscar in the late second and early third round. I have a feeling the Vlad/Springer/Teoscar will be very common amongst other Blue Jays stacks.
The next Blue Jay being drafted is a pair that includes Matt Chapman and Lourdes Gurriel Jr. They are separated by just seven picks in ADP but Chapman is projected for over 250 Total FPTS more. Chapman gets a park and lineup upgrade leaving Oakland and moving to Toronto. He will cost a late 8th to early 9th round pick but is a much better value than his new teammate Gurriel Jr. He is only projected for roughly 50 points more than some of the late-round players I mentioned above such as Pollock, Bohm, and Rosario, etc but is going at a much steeper cost. If you want to add some Gurriel Jr. to your TOR stacks I won't stop you, but he seems extremely overvalued in terms of his projection and the other talent going around him. 
The final trio of players includes Raimel Tapia, Cavan Biggio, and Alejandro Kirk and it's extremely an extremely tricky tier because Tapia was just acquired for Randal Grichuk. I've read multiple reports saying different things about who will start and get more playing time. This is how Bat X has the highest-ranking nine players in terms of FPTS, but roster resource has Danny Jansen catching and Kirk as DH. They can be a unique way to differentiate what could be a very popular stack.
Looking at the playoff schedule, they will have 18 games in a top 5 hitter-friendly ballpark which is the most by any of the top 5 stacks so far. They will also have 18 games against a mix of the Orioles, Pirates, Rangers, and Cubs. They have one scheduled doubleheader during these weeks. 
New York Yankees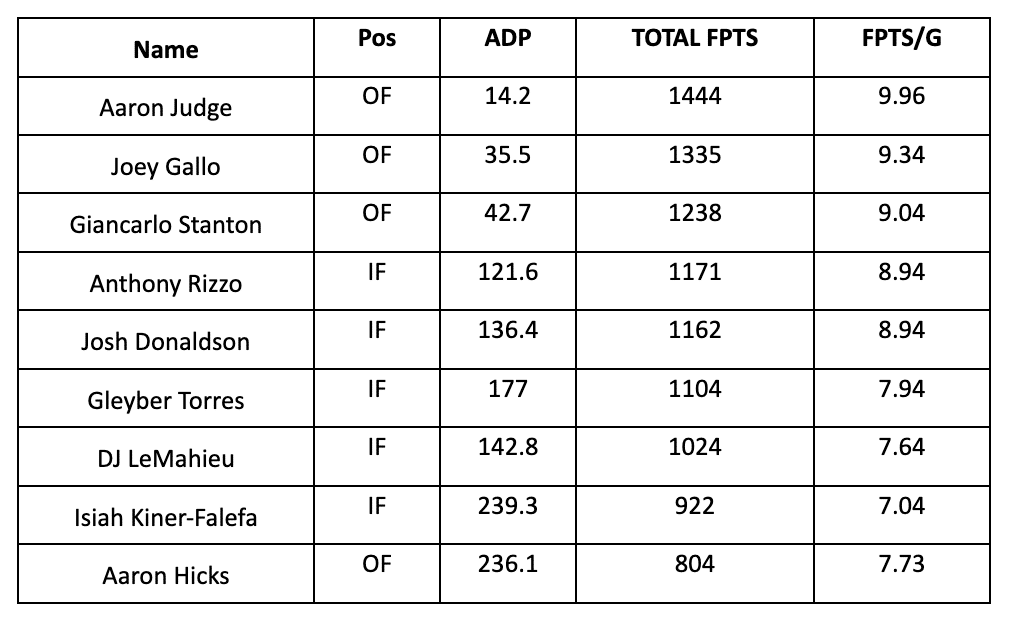 I'll start by saying the outlook on the Yankees looks a lot better now that New York Mayor, Eric Adams, has lifted the vaccine mandate allowing unvaccinated players to play games in New York. The only question now is about the nine games the unvaccinated players will currently miss in Canada due to them barring unvaccinated foreign players from entering the country. That situation is out of our control but something to monitor going forward.
The Yankees come is as the 5th and final stack of the article and don't have any of their hitters going in the 1st round. They maintained a spot in the top 5 by trading for former Twins slugger, Josh Donaldson, and re-signing Anthony Rizzo, who they traded for last season.
We start with Aaron Judge, who is being the only Yankee drafted inside the first two and sometimes three rounds. Projections have him ranked as the 12th overall player and are in line with his ADP. The next duo of Yankees includes Joey Gallo and Giancarlo Stanton, and it's possible to stack up all three of these outfielders if you double-tap Gallo and Stanton on the 3-4 turn. Projections have Gallo a little undervalued while Stanton is a little overvalued, it's an intriguing full stack if you can pull it off.
The next trio of Yankees is Josh Donaldson Anthony Rizzo, and DJ LeMahieu. Rizzo and Donaldson are very similar in their projection and their ADPs. Both are undervalued according to projections and are great options if you are waiting on infielders and with a Yankee's stack brewing. LeMahieu is the odd man out in this group and according to the projections he is being overvalued. His teammate, Gleybar Torres, is projected for more than him and costs over 40 picks less. If you want to diversify and work in some LeMahieu I won't blame you, but I will have almost none myself. Torres is a nice value add to the stack if you missed out on either Rizzo or Donaldson earlier. 
The final two guys include Isiah Kiner-Falefa and Aaron Hicks. IFK was part of the Donaldson trade as he was shipped from the Rangers to the Twins then quickly to the Yankees. Both offer a way to get unique with the stack, but it's hard to go here with the plethora of quality Yankees before them and the other batters around them.
Looking at the playoff schedule, they will have 5 games in the top 5 hitter-friendly ballparks. However, three of those games will be in Toronto during the championship rounds final week and we still don't know whether unvaccinated Yankees (we don't know who is and isn't vaccinated) will be able to play. They have a mix of eight games against the Orioles, A's, Angels, and Pirates, but do not have a doubleheader scheduled during the playoff weeks.