While there are probably an infinite amount of micro strategies we can employ in our fantasy football and best ball drafts, there are a few main roster constructions that drive the majority of strategy in terms of how we structure our teams. 
It's important for us to understand the pros, cons and nuances of all these different strategies. Everyone is going to have their personal favorites, but as drafters we need to be adaptable. There will be draft rooms that we get into where different strategies end up more optimal based on how the board breaks and our opponents are drafting. Any one of these strategies can win, as long as you structure them in a way that sets them up for success, so we need to have the knowledge to be able to do so.
Running back is just 1 of 4 positions, but we as an industry have an unhealthy obsession with the position, so we have decided to name each of the 4 core structures around how they handle the RB position. 
These 4 structures are:
Hero RB became a pretty trendy strategy in 20121, but the industry couldn't quite come to a consensus on a name (shocker). Whether you want to call it Hero RB, Anchor RB, Modified Zero RB or any other name, this strategy has plenty of reasons for us to utilize it in our fantasy drafts.
What is Hero RB?
I know people want hyper specific and rigid definitions of these roster constructions, but I don't think that's super helpful. What is helpful is to understand the overall theme and goal of each of these strategies. In a Hero RB strategy, the idea is to take advantage of two of the most important factors in fantasy football as it pertains to both upside and downside (sounds pretty good right). As Pat Kerrane pointed out last year, the reason to target early round running backs is for the legendary upside. Early round RBs bust at an extremely high rate, and even when they don't "bust", they often don't produce such a great outcome that they separate from the field and give us a distinct advantage on our competition.
In fact, as Pat points out, these legendary and difference making seasons are probably even more rare than people think. The average is just a smidge over 1 per season. Knowing that, Hero RB looks to target just 1 early round running back and then morphing mostly into a true Zero RB structure thereafter. 
The premise is simple. Elite (or legendary) RB seasons are arguably the most valuable thing in fantasy football, so we want to have access to them. But they are extremely rare (typically 1 per season), so we don't want to over-invest in the position. Because we know how fragile the position is with bust rates and injuries, Hero RB allows us to take our shot on the legendary RB asset with an early round pick and then dominate the other positions in our lineup the rest of the way. Finally, this structure is still set up to capitalize on the fragility of the RB position after that initial RB pick, similar to what we see in Zero RB.
Benefits of Hero RB
Based on the above, it's probably fairly clear what the benefits of Hero RB are. Because we know how fragile the RB position is, we might not want to invest too much into it with our most important draft capital. We also know that there is typically only about 1 legendary running back season per year, and in 2021 there actually weren't any legendary seasons. Jonathan Taylor was great and finished as the RB1, but it was the lowest scoring RB1 season since 2015 when Devonta Freeman scored 19 half point PPR points per game.
We certainly want that RB1 legendary season on our team, but given what we know about those top end RBs, legendary seasons, fragility and RB contingent value, if we are going to "Draft Like We're Right" then ideally we would take our shot on that superstar early round RB and move on to the other positions. Historically, being "right" about an early round RB meant that you probably just want that one legendary back and then you want to beef up the rest of the positions on your roster. That's partially because of the bust rates in early RBs, but it's also largely because of how replaceable RB2 scoring is.
In 2021, Jonathan Taylor scored 21.4 fantasy points per game in half PPR formats (like Underdog Fantasy), which was actually 2nd to Derrick Henry (23 points per game). JT outscored the RB12 (aka the last RB1 for the season on a per game basis) by nearly 8 points per game, which was Cordarrelle Patterson with 13.8 ppg. He also outscored every RB other than Austin Ekeler by nearly 5 point minimum. Those are sizable gaps. However, the highest scoring RB2 (aka the RB13 overall ppg), D'Andre Swift scored 13.8 points per game. That only outpaced the last RB2 (Javonte Williams) by 2.8 points per game. Finally, Swift only outpaced the RB33 overall by 3.8 points per game, which is not much more than the gap from Jonathan Taylor to the RB2, Austin Ekeler.
Jonathan Taylor outscored the RB3 overall, Joe Mixon, by the same amount of points (4.7 points per game) that Mixon outscored the RB20.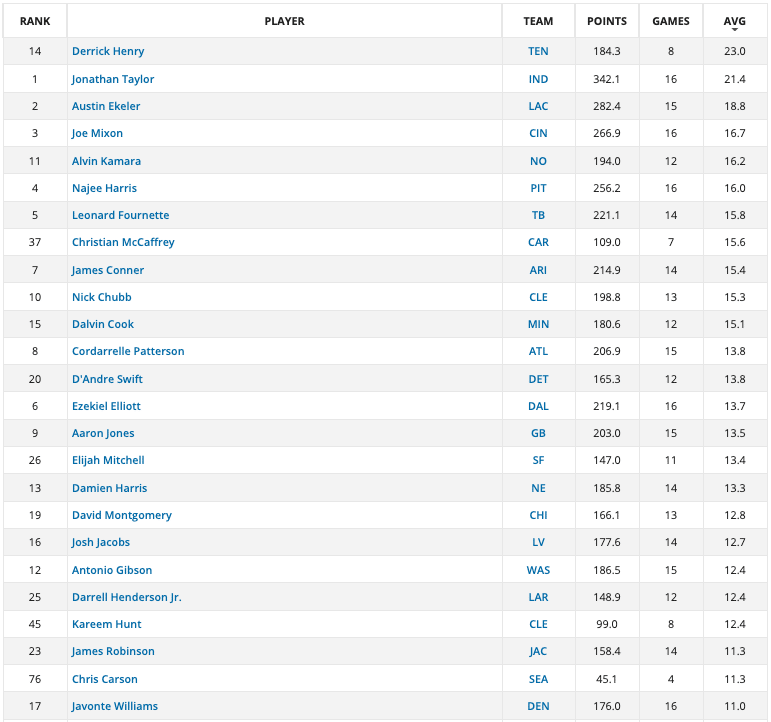 The point is, beyond 1 or maybe 2 RBs, the scores are not separating from the pack, especially at RB2. And that doesn't even account for the playoff weeks. These were the top 12 RBs during the most important weeks of Best Ball, the playoffs: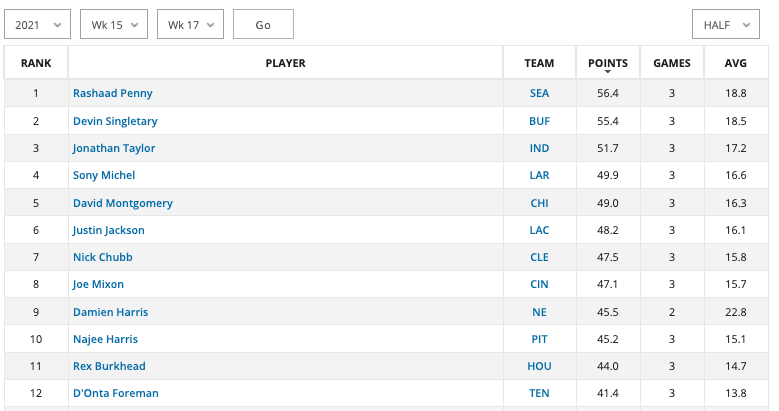 You could possibly make a case for a little extra investment into early running backs in a cumulative scoring format like Drafters, where Week 1 counts just as much as Week 17 so even if the RB isn't distancing himself it might help you a little bit more. However, if we look at the playoffs from 2021 above, not only were the non-Jonathan Taylor highly drafted backs not distancing themselves in raw points over the season, but they also were getting outscored by cheaper backs in the most critical weeks.
Hero RB allows you to capitalize on this nuance of fantasy football. It's the only strategy that gives you access to that difference making RB1 season while also maximizing the value of the RB fragility and contingent value of later round picks like Penny, Singletary and Michel.
Risks of Hero RB
The strategy isn't all rainbows and butterflies, however. If we all knew who the overall RB1 that produced a difference making, legendary season was going to be… then he'd be drafted 1st overall in every draft. Tons of running backs get pushed up to the first few rounds of drafts because everyone is chasing that elusive season, but there's still only going to be one RB1. And most of the time, that's the guy we want, and we might not want any of the rest.
Similar to how SuperHero RB was kind of middling the two extreme strategies (Zero RB and Robust RB), Hero RB is in a similar bucket. You're trying to have your cake and eat it too. So you're going to have a lot of teams with an early round RB that is a not a difference maker or he's just a flat out bust. And those teams are instantly behind the 8 ball because you are losing points to the elite back(s) that others took early while not maximizing the benefits of leaning into that RB fragility and contingent value.
The flip side is also true in Best Ball specifically. In your traditional season long managed leagues, you have access to the waiver wire. And that really helps with the RB fragility aspect. That early round RB bust clearly still hurts, but it's not totally damning. And even if you don't land the right contingent value options at running back later in drafts (think James Conner, Leonard Fournette, Rashaad Penny from 2021), you still have the waiver wire (or even trades) to find those guys.
In Best Ball, your roster is set after the draft. No transactions. Because of that aspect of the format, your probability of finding a difference making contingent back lowers drastically. We already talked about how high of a bust rate early round RBs have, and those are guys that we know are going to have heavy workloads (among other variables) heading into the year. The bust rate is obviously even higher on later round backs.
And that RB bust rate is a compounding issue in this structure. To maximize the benefit (and upside) of Hero RB, you need to BOTH hit on the legendary early round RB (let's call that a 1 in 20 shot) AND you need to hit multiple of the right contingent RB bets (2-3 backs out of 50?). Even hitting on or side or the other is difficult, but both is a pretty crazy long shot, especially given you've limited your resources (picks) to find them by trying to hit on both. If you hit on just the early back and not the contingent bets, you've minimized the value of that legendary season. If you hit on the late round guys (Singletary, Penny, etc.), but you spent your 1st round pick on Ezekiel Elliot, you've minimized the value of those massive hits you found with the contingent RBs.
All in all, there are both huge pros and huge cons to Hero RB. The upside is arguably the highest of any structure in fantasy football simply because it is structured to benefit from the highest upside scenarios that exist. However, it is not with flaws and risks, and that largely comes with trying to middle both the concept of RB fragility and the legendary RB1 season.