Each Best Ball platform has slight, or sometimes major, differences in various aspects like scoring, roster size, ADP and opponent tendencies. As drafters (no pun intended), we need to understand these nuances of each individual site in order to ensure we are building the best possible teams for that specific site.
Drafters is a bit smaller of a platform compared to Underdog and DraftKings, but it's also probably the most unique. For Drafters tournaments, the structure is very different. You still draft your team in a 12 team draft like every other site, but tournaments are done on a cumulative scoring basis. There are no playoff weeks like UD and DK. You simply need to score the most total points from Week 1 to Week 17 in order to win the tournament.
That creates a very different dynamic in terms of how we construct teams, and the types of different variables to factor in. With the playoff format of UD/DK, we have to consider what our teams look like in those playoff weeks, whether that be with correlation, types of players that might be peaking at that time of year, and optimizing a bit more for the playoffs in order to keep advancing. On Drafters, we're simply trying to score the most points, and Week 1 counts just as much as Week 17. Speaking of scoring, Drafters is most similar to DraftKings scoring, but without the yardage bonuses.
Key Scoring Differences & Roster Differences
Full Point PPR
No Yardage Bonuses
Interceptions are -2 Points (compared to -1)
Fumbles are -2 Points (compared to -1)
20 Round Drafts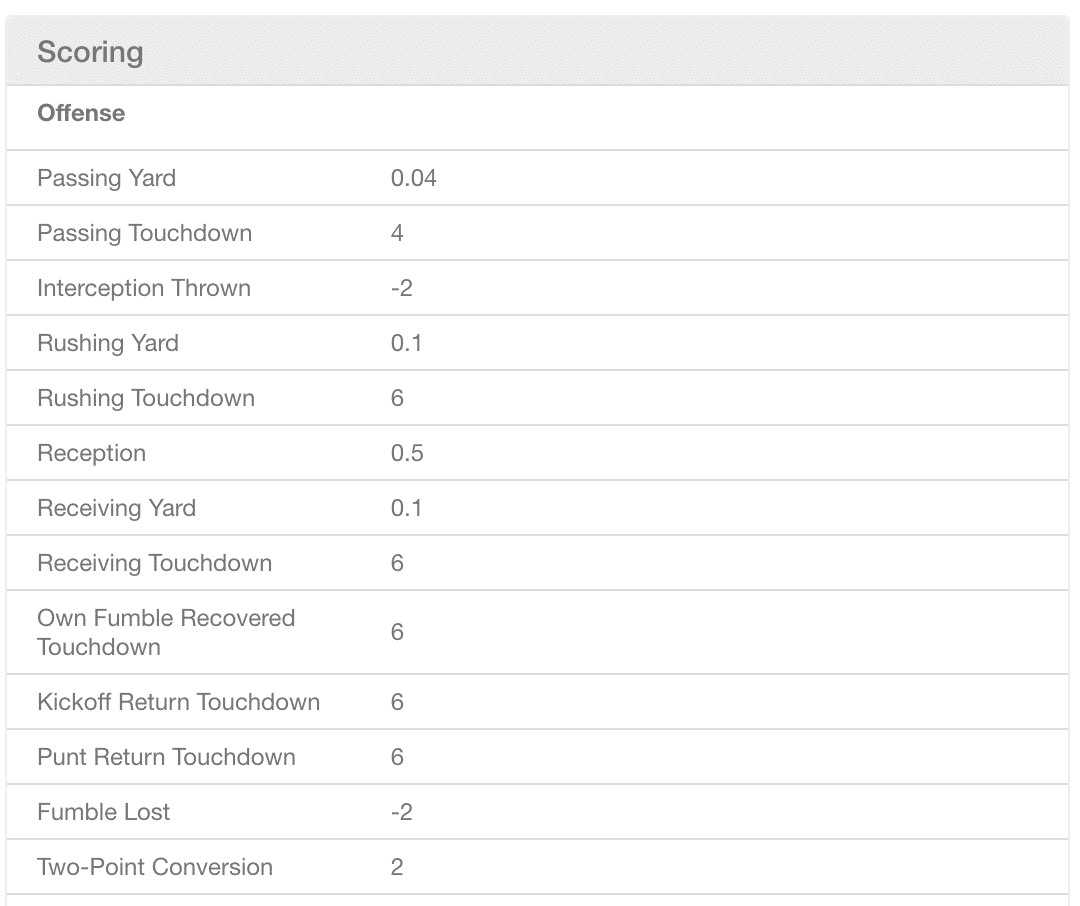 Drafters sort of splits the middle between the two other high profile platforms in terms of scoring differences. Full point PPR lends itself more to, shocker, the players who catch more passes. Pass catching backs and higher volume wide receivers get a significant boost over their peers. I'm not sure we can glean much from the additional point lost on turnovers, but particularly in the Drafters cumulative scoring format, I don't think the full point PPR aspect can be understated. Wide Receivers, particularly in the upper tiers, gain an advantage, but the elite RBs that offer both the high end rushing and receiving upside take on added value as well.
With the cumulative scoring and PPR, I also think it creates a different dynamic at the running back position as a whole. The pure pass catching backs like James White and Nyheim Hines have debatable value in other formats, but it's elevated here. In the playoff formats, the pass catchers may have value in just getting you there with floor and the occasional spike week, but the ideal scenario is to have the truly elite backs when it matters in the playoffs. Those backs could be top round picks or handcuffs (I.E. Tony Pollard or Alexander Mattison), but having the monster upside in those playoff weeks gives you a greater shot at getting a leg up on other extremely high powered teams that also made it that far. You can also "survive and advance" in your 12 team league in the playoff format even without posting monster RB scores if everything else is hitting on your team. Those handcuff backs certainly have appeal here as well, but when you consider the fact that week 1 counts just as much as week 17, and you're competing with 10,000 other teams from the first week, you have to be a bit more cognizant of making sure you aren't giving up too many points at any position from the jump.
Finally, the drafts are 20 rounds compared to 18 in contests like Best Ball Mania 3 on Underdog. This also might not seem like a big difference, but it actually is in many ways. It's an 11% increase in roster size, and those 2 extra picks afford you much more flexibility in how you structure your teams. The "onesie" positions like QB and TE where you only start one player each week give you more opportunity to use 3 picks on that position if you aren't able to get the requisite upside earlier in the draft at the position. At RB and WR, those extra picks allow you to build more depth depending upon how your early picks go. If you start RB heavy, you can draft a huge volume of wide receivers (10, 11 or even 12) in order to make up for that lack of quality with quantity. If you go more of the zero or hero RB route, you have the ability to attach a couple extra late round running backs as upside "lottery ticket" picks build in those extra shots at finding a valuable running back that 18 rounds don't afford you to do.
ADP and Draft/Format Dynamics
Scoring differences are critical, but understanding the dynamics of drafts on a platform like Drafters are probably the most important factor in gaining an edge over your competition.
If you read the DraftKings piece, you know that the DK market is probably the softest that exists. Drafters is not on that level, but I would say it's less efficient than Underdog. There aren't too many screaming values on Drafters, and it seems that our opponents there aren't making as many mistakes as a site like DK.
It seems to fit a middle ground in terms of draft rooms where we can still find WR value throughout the draft, but not to the extent of DraftKings. DraftKings also has the Quarterback thirst that is a huge aspect of that environment, but Drafters players are a lot less QB needy.
Those pass catching and handcuff running backs are a fairly significant factor here, as we outlined above. Given the format, I think it's possible they're slightly over-drafted on DK at times, but on Drafters they really do seem to have elevated value given what you're looking for in this format. We know that we need to not be sacrificing points from the get-go, and we know that full PPR is beneficial for pass catchers. However, they can typically be had at very reasonable prices in drafts, as well as in "pockets" of the draft where the strong options or values at other positions have largely dried up. The handcuffs also go fairly late in Drafters drafts, which allows us to get the best of both worlds on our teams. We can build out strong teams in the early rounds, especially in the PPR format, and no matter how we start our draft positionally, we can utilize a combination of the pass catchers/committee backs with the true handcuffs to get the optimal floor and upside balance that we need in this format.
I keep reiterating that we need to not sacrifice too many points early, which is true, but we do still need to make sure we are building in upside to win the tournament. We don't want to completely avoid the lower probability, super high ceiling bets because we still want to achieve a ceiling outcome as the season plays out.
The nuance of that dynamic is most evident to me at this running back position. We've already discussed the later round backs, but I also think the format aligns very well with a more robust, or at the very least hyper fragile, approach to running back. Knowing that we need to be scoring points immediately, that lends itself to the early RBs a bit more because they have clearly defined roles with both floor and ceiling week 1. We know that we are going to need our top picks to stay healthy no matter how we draft, and even though PPR leans to WRs, you can mix in some top tier receivers with early RBs to find a perfect blend, or you can attempt to utilize the 20 round depth to win wide receiver with quantity instead of elite quality.
Particularly in this cumulative format, if you can get running backs putting up top tier scores out of the gate and minimize the amount of roster spots you use on the position, you can be set up really nicely with a ton of wide receivers on your team. Of course, a WR heavy, zero RB/hero RB approach can always make sense in a full PPR format, especially given the dynamic of those later round RBs discussed above. Ultimately, I think this format is extremely fascinating, and I'm not sure our competitors are considering just how different we should be approaching it relative to the other platforms.
Each Best Ball platform has slight, or sometimes major, differences in various aspects like scoring, roster size, ADP and opponent tendencies. As drafters (no pun intended), we need to understand these nuances of each individual site in order to ensure we are building the best possible teams for that specific site. Drafters is a bit […]
The Ultimate Resource to CRUSH your Best Ball Drafts.
We created the first ever suite of tools, rankings, strategy and analysis specifically dedicated to Best Ball.
Built by Best Ball players for Best Ball Players, the Spike Week tools were crafted to solve the problems we all had as drafters. Whether that's the DraftIQ Exposure and Portfolio tool to help you see anything and everything about your teams and player combinations on EVERY site, the Draft Buddy Browser Overlays to make drafting so much easier or simply rankings and strategy designed specifically for Best Ball tournaments – not just standard fantasy advice.
If you aren't satisfied with the product for any reason, just shoot us an email or contact Erik Beimfohr directly in our Free Discord, and we will refund you within the first 48 hours.
Already a subscriber?