NFL Best Ball has absolutely exploded with platforms like Underdog Fantasy, DraftKings and Drafters offering massive multi-million dollar tournament with life changing money up for grabs. Considering NFL Best Ball was essentially developed as a spin off of traditional season long, managed fantasy football leagues, most people gravitate to the game because they feel comfortable their fantasy football knowledge and experience will translate to success in Best Ball.
The problem is that most people dive right into Best Ball thinking it's essentially the same as drafting their fantasy football league with their college buddies just with more teams and more money. Draft the best players who score the most points and print money. Easy game, right?
Sort of, but not really.
This series of articles, titled How to Win at Best Ball, will take you through everything you need to know to not only get started drafting best ball teams but to start building squads that can lead you to successful winning seasons.
There are many differences between Best Ball and traditional fantasy football leagues, but most people just dive right in to which players we should select. However, in any game of skill or chance (of which Best Ball is a little of both), the very first and most important step you must take is to have a deep understanding of the rules.
Note: This article series will focus largely on NFL Best Ball, but the approach is applicable to any form of best ball, including sports like the NBA, MLB, NHL or even unique forms of Best Ball such as Playoff Best Ball.
Mastering the Rules of Best Ball
Before we dive into the specifics of the rules, you might be asking why these rules are even all that important in the first place. It's fantasy football after all, right? Just draft the best players and win money.
Something I learned a while back from a very sharp DFS player, sports speculator and business person, Jonathan Bales, is just how important this element of any game is. It has always stuck with me. In any 'game', which could be something as simple as rock-paper-scissors, a board game or of course fantasy football, the simplest way to start to figure out a advantageous and exploitative strategy is by understanding the rules. Not just acknowledging the rules, but learning the intricacies of the rules of that particular game… and how they impact what our opponents are doing.
Sometimes it can be as simple as being thoughtful enough to uncover what the optimal way to play the game is. A board game like Connect 4 will actually have an optimal way to play that leads you to winning. On the flip side, games like Poker, Daily Fantasy or Best Ball may have more "optimal" ways to play based on the rules but also have several levels beyond that thanks to the human element that exists in the game.
Best ball specifically is certainly more strategically complex than Connect 4, but the rules can push us in the right direction of some very specific things we can use to our advantage to create an edge. Moreover, given the fact the game is a peer-to-peer competition (humans competing against other humans), our opponents may not always be doing these optimal things based on the rules of this particular game. For Best Ball with so many of our opponents coming over to the game from their traditional fantasy football leagues, I've found this to be extremely true. If we master the unique rules of Best Ball and our opponents are treating it like their home fantasy football league with their college buddies, we can really build up a big edge.
Tournament Format
For the purposes of this series, we'll be focusing on Best Ball tournaments. If you're drafting in contained 12 team (or 3 or 5 team) best ball leagues, plenty of this will still be very helpful to you, but it's going to be catered to these extremely popular tournaments.
Before we even dive into anything about scoring or rosters, the very first thing to look at with Best Ball is the Tournament Format. In general, we have two main formats:
Playoff Format
The Playoff Format is probably what most closely resembles the fantasy football leagues you've played in most of your fantasy career… just on a much larger scale.
The gist of this format is simple. You draft a team in a 12 team league. You need to advance to the playoffs from that league during the fantasy regular season. Once you make the fantasy playoffs, you need to advance through each round of the playoffs to the fantasy championship. From there, you compete against the other teams that navigated the same path that your team did to the championship final with the team(s) scoring the most points in that final week being rewarded with the biggest prizes and 1st place being crowned the champion.
However, Best Ball is just a little bit different (ok more than a little bit) due to the fact that it is much more than just that original 12 team league. In fact, most Best Ball tournaments consist of thousands of these 12 team leagues all within one tournament. So instead of advancing to the playoffs against the same teams in your original 12 team league, once you make the playoffs you will compete against other teams from the other league 12 team leagues in the tournament who have also advanced from their league.
Each individual tournament has it's own slightly different variation of exactly how many teams are in each round, how many teams advance out of each round and how many teams make it to the final round, but here's a general outline of a Playoff Format:
Round 1 (Regular Season) – Weeks 1-14 – 2 Teams Advance out of 12
Round 2 (Quarterfinals) – Week 15 – 1 Team Advances out of 8-16 teams
Round 3 (Semifinals) – Week 16 – 1 Team Advances out of 8-16 teams
Round 4 (Championship Final) – Week 17 – 20-1,500 teams
Exactly how many teams are in each round are going to be entirely dependent upon the individual tournament and specifically how many teams are in the entire tournament. For instance, in the larger tournaments such as Best Ball Mania 4 or the DraftKings $10 Millionaire Maker, we will have larger groups in each round due to the fact that there are hundreds of thousands of teams drafted into those tournaments. But you may also have other tournament options that are much smaller fields with smaller groups in each round. We will definitely be discussing contest selection and strategies to employ in different tournament sizes in the future.
From a strategic standpoint, by far the most important element to understand about this format is just how important the playoffs, and in particular the final round, are to how we attack our drafts. The overwhelming majority of the prizes are awarded to those who make it all the way to the finals in the Week 17, so we need to acknowledge that. It's not that the earlier weeks of the season aren't important because of course we do still need to advance out of our original 12 team league. We can't make the finals or win big money in the finals if we don't make the playoffs. But, we definitely need to be ensuring that we are building our teams in a manner that allows us to have as much upside for those playoff weeks and Week 17 without hurting our potential too much advance too much. We will definitely be discussing tons of more advanced strategies revolving around that concept all the time here at Spike Week, including things like how to maximize playoff upside and how to use the playoff schedule to our advantage.
Cumulative Format
The second main Best Ball tournament format is what we call a "Cumulative Format". As you can probably guess, this format revolves around one basic idea – accumulate the most points in the tournament over the entirety of the fantasy season. In this format, there are no fantasy playoffs. There are no rounds and certainly no Week 17 championship. The goal is simple. Draft the team that scores the most fantasy points from Week 1 through Week 17 of the NFL Season.
The main site that offers this cumulative format is Drafters. On Drafters, you are still going to draft your team within a 12 team draft, just like any other Best Ball draft. But as soon as that draft is over, the 12 team league you drafted that team in becomes irrelevant. Once a team is drafted, you are now competing with every single other team that is drafted in the entire tournament. Every team is drafted within a 12 team league, but that's the extent to which those original 12 teams matter to the format.
Clearly this format is quite a bit simpler, so new players may be more interested in getting their feet wet here. Or if you just prefer a bit more of a traditional approach to fantasy drafts, the cumulative format may be for you. You want to draft the team that scores the most points with the best players from that season and avoid the playoff rounds. Nothing wrong with that!
As outlined in our strategy overview for Drafters, the format is definitely quite a bit different from that of the above Playoff format. Week 1 is equally as important as Week 17. The points count the same every week. This doesn't mean you want to forego the types of players who can offer big upside by any means, but certain players who may be slightly less appealing in a Playoff Format can have significantly more value in the Cumulative Format. You also may need to more strongly consider various strategic elements like bye weeks, matchups over the course of the regular season, and more.
Best Ball Mania 4
In 2023, we did receive one slight wrinkle to Best Ball tournament formats. Best Ball Mania (BBM) 4, the headline tournament on Underdog Fantasy, received a bit of a facelift. In the past, BBM would have been in the Playoff Format bucket. In 2022, they did offer a winner-take-all $1 Million Prize to the highest scoring team in the regular season, but historically it has really just been a Playoff Format contest.
This year that has changed.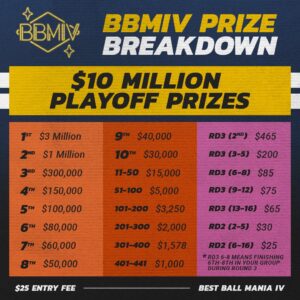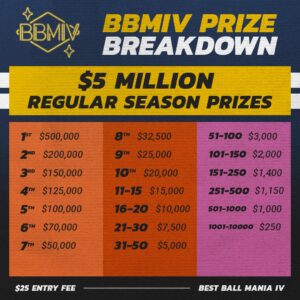 Essentially, Best Ball Mania has become a bit of a hybrid between the Playoff and Cumulative formats. We have a total prize pool of $15 Million (!!!), but that is spit up into two different areas. $10 Million remains in the typical Playoff Format, but $5 Million goes to a Cumulative format. You do not draft different teams for each side of this tournament, but all teams drafted into the tournament will be competing for both Playoff and Regular Season prizes. This hybrid format is brand new for 2023, so I wanted to make sure to note it here in this section as it's a vastly different tournament to any others in the industry.
If you're looking to understand what this format and the unique payout structure means for your drafts, I recently broke it down here.
Scoring
Scoring in Best Ball might actually be the most intriguing element of the rules, but it's more than just how many points players get for certain events.
It's implied in the name, but Best Ball essentially just means that you get to take the highest scoring players on your roster every week of the season. It doesn't matter if your last round pick is your highest scoring player, that score will slot into your starting lineup. The best ball sites/platforms will automatically calculate your scores and put the highest scoring players into your starting lineup each week of the season.
That seems pretty straightforward, but it has some shockingly drastic differences in how we may want to draft teams compared to the normal fantasy football league. It's a natural instinct to want to fill out your starting lineup at the beginning of drafts. It's an uncomfortable feeling to reach a certain point in the middle (or end) of the draft and not have locked in starters in your lineup, but that's why it's so important to understand how differently Best Ball is scored. You don't have to pick who is in your starting lineup, so even if a player who is technically slotted into your starting lineup after the draft is a bit weaker than you'd ideally like, you have an entire roster at your disposal to score points. Everyone knows that feeling of a player on your bench outscoring the player you started, but if that 15th round running back puts up a good score, you get to use it! And since we don't get to add, drop or trade any players during the season, these two elements combined will have very important impacts on how we draft our teams. I'll be breaking down that idea of roster construction in an upcoming piece in this series.
In terms of the actual scoring, meaning how many points players are given for the stats they accumulate, we have 3 slightly different versions amongst our 3 main Best Ball sites:
Underdog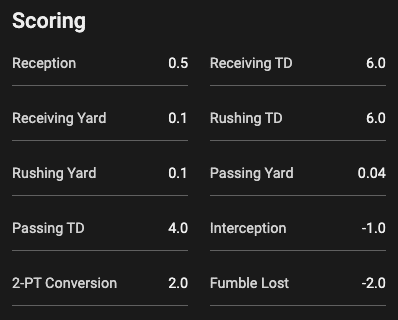 DraftKings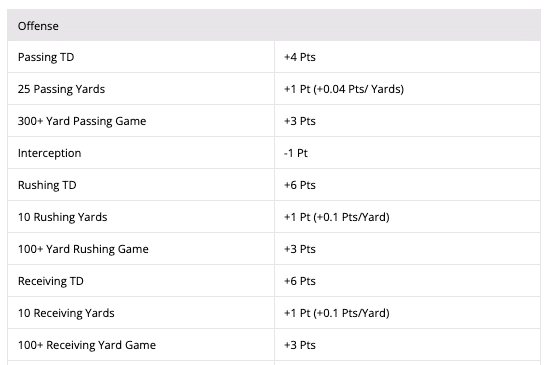 Drafters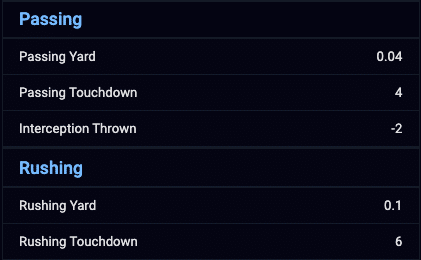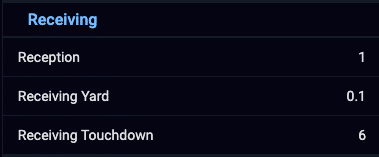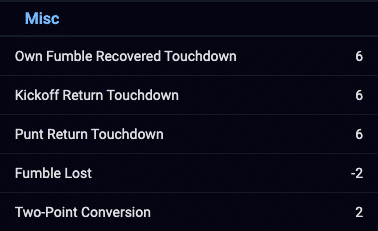 Make sure to take a look at the scoring of each of these sites in depth before you start firing away at drafts. While they're very similar, they do have some subtle (or not so subtle) differences that can cause some pretty drastic swings in player values or rankings (which you can see in places like our Spike Week DraftKings Rankings), as well as our draft strategies.
Here's a summary of the biggest differences:
Underdog uses Half Point Per Reception (0.5 PPR) scoring, meaning players receive 0.5 points for every catch
Both DraftKings and Drafters use Full Point Per Reception (PPR) scoring, meaning players receiving 1 point for every catch
DraftKings awards 3 point yardage bonuses for passing, rushing and receiving

3 points for 300 yards passing
3 points for 100 yards rushing
3 points for 100 yards receiving

Interceptions thrown are -1 Point on Underdog and DraftKings, but -2 Points on Drafters
Fumbles lost are -1 Point on DraftKings, but -2 Points on Underdog and Drafters
(I feel like we should at least have standard scoring for interceptions and fumbles, but I digress)
Each scoring format has its own quirks, but Underdog is the lone site that does NOT offer full point PPR. We will get in depth about what the scoring means in terms of deeper draft strategy in a later piece in this series, but there are a couple of high level things to take into account here. With less points per reception, this means that running backs can have increased value. That does NOT necessarily mean you need to draft running backs early and often because ALL running backs receive a bit of a boost on Underdog relative to the other best ball sites, but it does mean that on average running backs are going to be more valuable on Underdog compared to DraftKings and Drafters.
Touchdowns also become naturally more important on Underdog. There are just less points being scored for non-touchdown events on Underdog, so touchdowns are making up a higher percentage of the overall points scored. This may be a boost to players on higher scoring offenses or players with heavier roles near the end zone. But probably most importantly it creates a higher level of variance. Even for talented players, players earning significant volume, or players in offenses scoring points, touchdowns are very high variance events. For instance, the Patriots were a higher scoring offense in 2021 and Jakobi Meyers was the team leader in targets by more than 50 targets over the 2nd option, but he scored just two touchdowns the entire season.
On DraftKings and Drafters, players receive 1 full point per reception. This clearly gives a boost to wide receivers, and to a lesser extent tight ends, but it's probably even more important to consider for the pass catching role for running backs. A running back who is not going to catch many passes will have a harder time keeping up with scoring on the full PPR sites compared to Underdog. On the flip side, a running back with a slightly lesser role in the running game for his team can still be valuable on these sites if he has a strong role in the passing game. It also can allow running backs who offer BOTH a strong running role and strong reception upside to really separate from the rest of the running backs in the player pool.
Starting Lineup, Roster & Draft Size
Across Underdog, DraftKings and Drafters, there are essentially two different variations of your rosters and size of drafts. But across all 3, for the main NFL Best ball contests, we have one standard starting lineup:
1 QB
2 RBs
3 WRs
1 TE
1 Flex (RB, WR, or TE)
The remaining players that you draft will be on your bench.
You will, however, see two different draft and roster sizes.
On Underdog, a draft last 18 rounds, so every team you draft will have 18 total players. On both DraftKings and Drafters, a draft is 20 rounds, so you have 2 additional pick selections and 2 additional players on your team. There are some strategies we will get into in later pieces within this series that will discuss some different elements and strategies based upon whether the draft is 18 or 20 rounds, but for now it's just important to note that you do select two extra players on DraftKings and Drafters. That means you're going to be diving a little bit deeper into the player pool at the end of drafts, and it also means you are going to have two extra picks to use to your advantage. Often that will mean adding some extra late round players to the position(s) you are weaker at. It can also give you added flexibility to draft some players earlier in drafts who may not necessarily be immediate contributors to your lineup, whether that's rookies or younger players who may get off to slightly slower starts to the season, or even suspended or injured players. But like I said, we'll dive into that in more detail in the future.