Underdog Fantasy has become wildly popular due to their massive Best Ball contests as well as their Pick 'em games, but their daily snake drafts are another incredibly fun option for fantasy drafters. Their NBA drafts (or Battle Royale as they call it format) are incredibly simple, and they give you a shot at 4 or 5 figure winnings every single day. 
All you have to do is draft 6 players from the games taking place that night in the NBA in a traditional snake draft against 5 other users. No positional requirements. No salary cap. Your team of 6 players competes against every other team of 6 drafted that day in that tournament for your share of the prize pool, which typically pays out approximately 20% of the field with 20-25% going to first place. 
Underdog offers a variety of options each day with single entry, double entry and multi entry contests available. Their player scoring is also incredibly simple: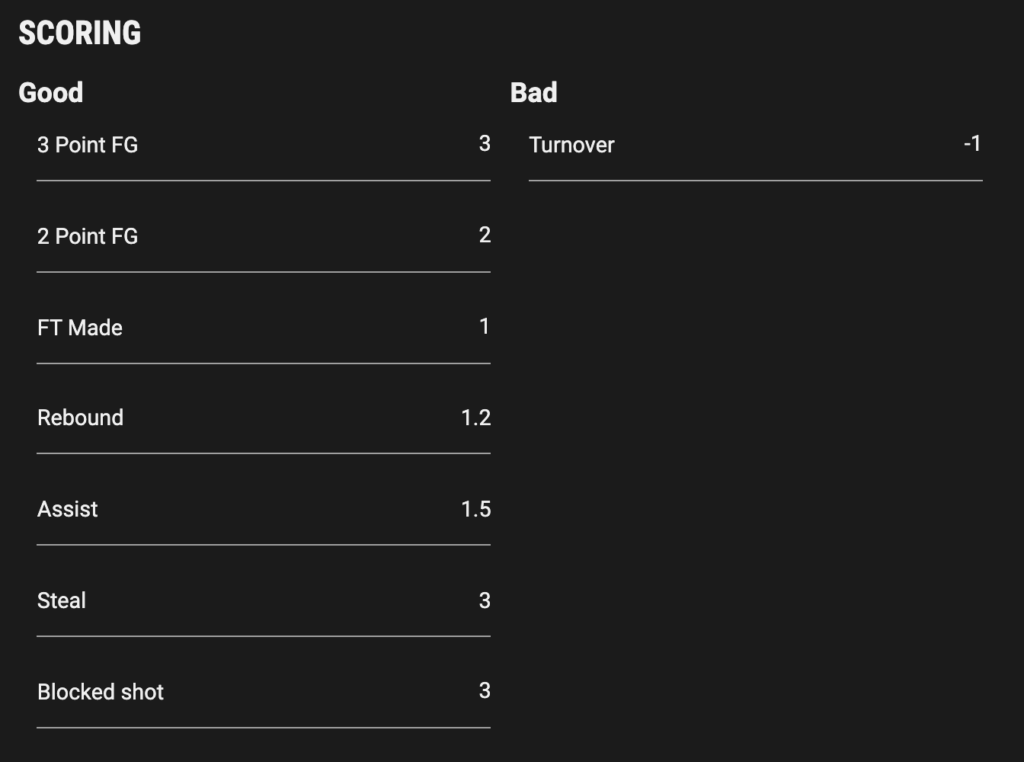 Below are the additional details and rules provided by Underdog for their general Battle Royale contests, as well as their Daily NBA specific contests: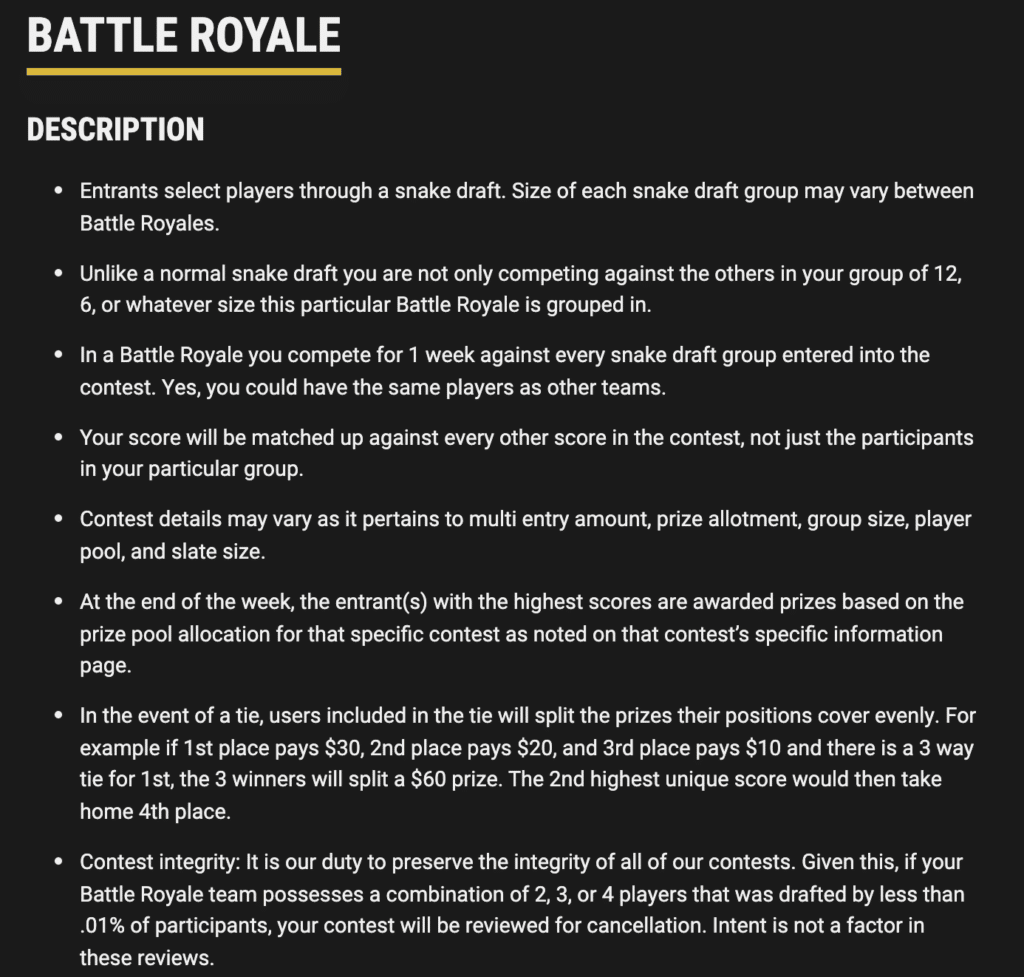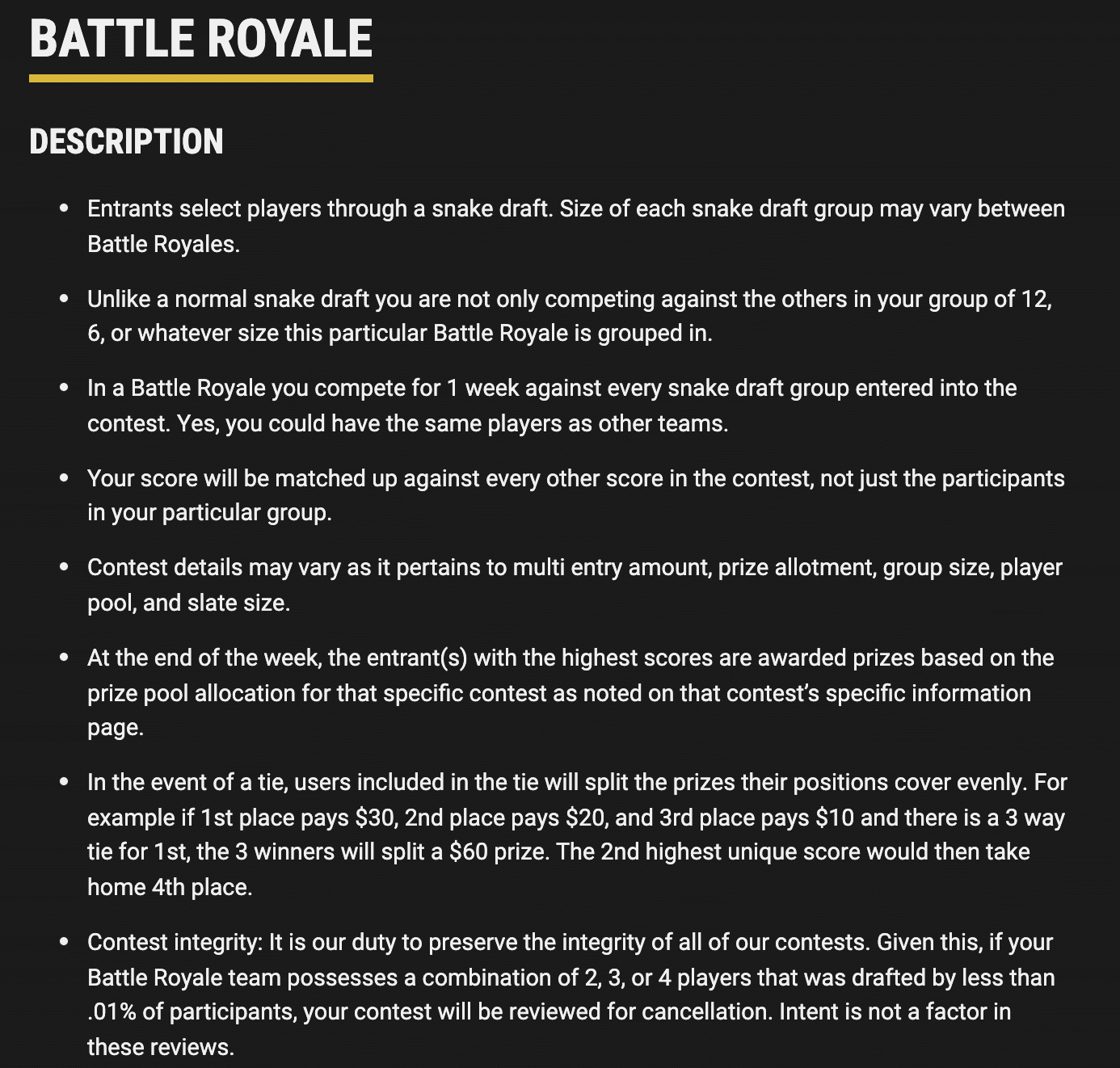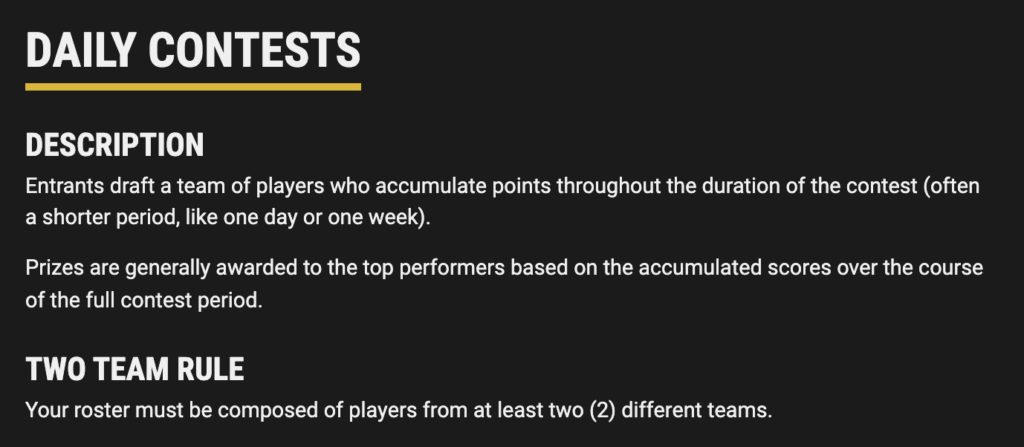 Let's dive into the strategy for today's contests. Much of the strategy for today is driven by the incredible Daily NBA Projections from the RotoGrinders team. If you'd like to subscribe to the full set of projections for every player and team, head to RotoGrinders NBA Premium , which includes fantasy point projections and daily fantasy ownership projections for sites like DraftKings, Fanduel, and Yahoo, as well as LineupHQ Optimizer access and much, much more.
Also, if you're new to Underdog, and you'd like to sign up to test out some drafts, make sure to take advantage of our exclusive 100% deposit bonus up to $100 using underdog promo code SPIKE.
Underdog Fantasy Daily NBA Battle Royale Contest Strategy for March 28th, 2022
Top Options
We have reached that time of year in the NBA calendar. Late season with tons of players sitting out for rest, teams tanking and just general night to night chaos. That's part of why on a slate with 9 games, the top end is not quite as loaded as we're accustomed to. Obviously Nikola Jokic is the clear number one, and then we do have Dejounte Murray in a cushy spot, followed by Trae Young in a strong spot as well. But beyond that, Darius Garland being the 4th best option on a rather large slate of games shows you what some of the late season chaos has done to the high end.
Undervalued and Overvalued Players
Jordan Poole – Poole is a screaming value in drafts, as we have him as the 10th best option on the entire slate, while Underdog's projections have him outside the top 30. He's taken the reigns of this team in the absence of Steph Curry (even with Klay back) averaging more than 40 fantasy points per game for nearly a month and a usage rate over 30% in the last four.
RJ Barrett – Julius Randle returned last game after a multi-game absence, but the market is still too low on RJ here. The Knicks are RJ and Randle's show, and he's a top 15 option that you can get closer to top 30 in drafts. Even in Randle's return, RJ played 36 minutes with a 26% usage rate and nearly reached another double double.
DeMar DeRozan – Maybe it's just that the Bulls are getting a bit healthier or maybe it's a veteran wearing down after playing heavy minutes with heavy usage for much of the year, but DeMar has not been quite as strong of late. They do have all of their big 3 available, and Alex Caruso is also back, so while he's still a top 10 overall option, he's closer to the back end than where Underdog has him in projections.
Injuries and Situations to Monitor
Jayson Tatum – The Celtics are on a back to back and Tatum is questionable. I would lean towards that meaning he sits here, which is a big usage bump to Jaylen Brown. Robert Williams and Al Horford are also out, so there's a lot of production to pick up for the likes of Derrick White, Marcus Smart and Grant Williams as well.
Warriors – Steph is out, and Klay/Draymond are expected to rest here, which gives us the Jordan Poole show once again. Andrew Wiggins and Jonathan Kuminga also become reasonable dart throws later in drafts.
Grizzlies – Ja Morant is still out, but Jaren Jackson Jr. is also questionable. We've seen the Grizz without Ja for a bit now, but if JJJ were also to miss, it would make the trio of Desmond Bane, Dillon Brooks and Steven Adams all quite a bit more appealing with a much higher ceiling.
Good luck!