Whenever someone gets asked about Best Ball by someone unfamiliar, their description is almost certainly something like, "It's just like your regular fantasy football league, except you don't have to set your lineup or manage your team. You just draft, and then your optimal score is calculated every week."
And of course, that's correct. That's certainly the crux of Best Ball and the major differences from your standard managed fantasy football league. The problem is that for most of us, we aren't playing in any 12 team, contained Best Ball leagues. We aren't just competing against the people in our draft like we do in our home league. 
We are playing in Best Ball Tournaments.
And nearly all these tournaments (other than on Drafters) come down to a 3 week playoff tournament. Specifically, Underdog Fantasy and DraftKings have the same 3 week playoff structure. Advance from your original 12 team league? That's great! But that's just the 1st and (by far) easiest step of a 4 step process. 
You'll need to advance through a larger group of stronger teams (ya know, since they all won their league too) in week 15, then do the same against an even larger and tougher group of teams in week 16. Finally, after all that, you simply need to beat 100+ of the best teams in the entire tournament to take home the top prize. It's hard to even put into words how difficult that feat is for any individual team.
Because of this, we know that the playoff rounds are by far the most important part of these tournaments. They are undoubtedly the most difficult part of these Best Ball tournaments, but more importantly they are where all the money is won. And that's our goal… to win that sweet, sweet cheddar.
The problem is that it's very difficult to conceptualize or strategize around those playoff weeks. It's hard enough to project a single week in the NFL, let alone a full season, let alone the last couple weeks of the season. But given just how important those playoff weeks are, I think we are really doing ourselves a disservice to not put as much thought into maximizing our upside in those weeks as possible. Just because we can't accurately project those weeks of the season that far out into the future doesn't mean we can't use some different strategies over our entire portfolio of drafts to give ourselves as much upside and win equity as possible when those playoff rounds come along.
So, what can we do?
I think there are 3 main elements – Youth, Contingent Value, and Correlation.
Youth
Football is a brutal sport, and the NFL just added an extra game to their schedule last year. It's also an extremely difficult and complex sport that is next to impossible for a rookie fresh out of college to step in right away and play at his highest level. 
What we see year in and year out is twofold in regards to youth – 
1 – Older players, on average, have production declines over the course of the season. Whether that be due to injury, the wear and tear of the NFL season or other factors, aging players simply (again, on average) perform worse later in the year. Even at age 36, Larry Fitzgerald was coming out of the gates scorching hot in 2019 with back to back 100 yard games. He surpassed 58 yards just 2 times the rest of the year, never breaking 71. He's just one shining example, but we see it every year.
2 – Younger players, on average, have production improvements over the course of the season. Whether it be due to simply earning their way onto the field more, becoming more comfortable, learning the NFL game, or many other factors, they simply perform better later in the year. Look at Amon-Ra St. Brown from 2021. He never missed a game, but he never surpassed 70 yards and had ZERO touchdowns until week 12. Then BOOM, no less than 8 catches or 73 yards in the final 6 games with 6 total touchdowns. In fact, Amon-Ra was the highest non-QB scorer over the playoff weeks in 2021 (and only trailed Burrow, Allen and Mahomes in total points).
The cohort we see this type of late season explosion is most often rookies, but I would not restrict this group to just rookies. 2nd and even 3rd year players fit the bill too. Those players may simply earn a bit more of a role earlier in the season, but that youthful factor still creates a level of growth over the course of a season that does not exist in older, established players. 
The youth factor creates a subset of the player pool that is more likely to do one or multiple of:
Breakout for the entire season

Stay healthy

Earn a bigger role in the playoffs

Peak performance in the playoffs
So if you're deciding between AJ Green or Marvin Jones and one of these young wide receivers, it may seem like the "guaranteed role" of the vet is more comfortable, but we should opt for the youthful player that offers us paths to playoff winning upside even if it comes with more uncertainty or perceived risk.
Contingent Value
It's probably fairly straightforward when we talk about "handcuffs" at running back. That's what everyone thinks about when we mention contingent value. And honestly, just that concept is still under utilized as it pertains to these best ball tournaments. Look at 2021, where two of the best fantasy running backs in the league come playoff time were 100% contingent bets – Rashaad Penny and Sony Michel.
For reference, here are the top 20 scoring RBs during the 3 week Best Ball playoff period.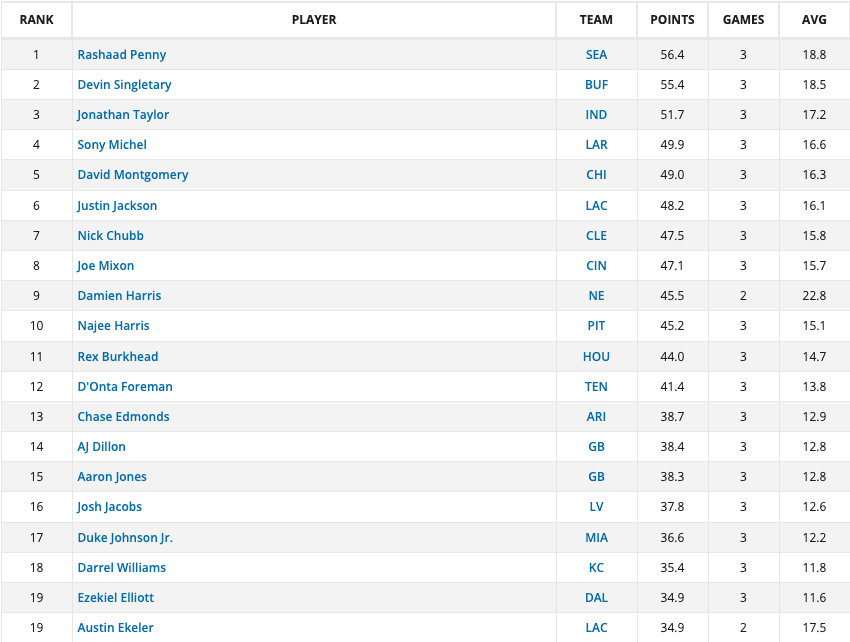 The top 2 scorers and 3 of the top 4 were drafted very late (in double digit rounds).  
Contingent value is not just tied to backup or handcuff RBs, however. Ambiguous backfields are just as likely, if not more so, to produce a super high upside back due to a contingency. Obviously, injury is the most likely scenario where this falls into place. We saw that with James Conner in 2021 when Chase Edmonds got hurt. Conner became the workhorse, every down back in an elite offense that gave you as much upside as any RB in the league from a later round pick.
We also saw this come to fruition with Leonard Fournette in 2021. It was not as much of the injury situation that catapulted him to glory, but he just earned the full role in an elite offense. The same thing happened for Devin Singletary. We often project a split in these situations, but it often does not end up playing out that way, and we end up with this unforeseen upside, especially later in the season when one back has taken over (a la Singletary). 
The important part of this is ensuring that you're not just taking backs in ambiguous situations, but you're targeting the backs that have every down upside and ability. God bless James White, but just because his situation is ambiguous does not mean he presents the upside of an every down back.
These "handcuff", committee or murky backfield running backs are definitely the cleanest and likely highest upside contingent bet you can make. But the upside that contingent value provides is even greater than that. It also can be true in receivers and tight ends.
This is not true in every situation, but for many teams if something were to happen to one of their top weapons in the passing game, we'd see elevated volume (and thus upside) for the remaining weapons. 
Another Arizona Cardinal, Christian Kirk, popped up as a top 11 fantasy WR in the playoffs last year, and that was because DeAndre Hopkins was out. Darren Waller missed 5 weeks, including the entire fantasy playoffs, which allowed Hunter Renfrow to become a target dominator and top 8 fantasy WR during that stretch from week 13 to 17. League winner Amon-Ra St. Brown also benefited in this regard with DeAndre Swift and TJ Hockenson hurt.
We aren't necessarily going into drafts targeting specific pass catchers because of their contingent value, but we can make smart decisions during our drafts. If we don't draft Ja'Marr Chase in the 1st round, and we are deciding between Tee Higgins or Tyler Boyd and a different WR in their respective rounds, the contingent value they have in the scenario where Chase misses time can be the deciding factor.
Correlation
Another one that is probably pretty straightforward to most people reading this, but I think it still does not get as much hype as it deserves. By now, most understand the benefits of correlation as it relates to stacking. Both from a season long and weekly perspective, correlating players from within an offense (particularly a passing game w/ the QB) allows you to benefit in multiple spots on your roster when the offense performs well. 
It's especially important in these playoff formats because you want the correlated ceiling performances. We saw this happen this year with Joe Burrow and Ja'Marr Chase. Not only did they have great seasons together, but they were the two highest scorers in the championship round with Chase putting up a jaw dropping 50 half PPR points.
But correlation can be taken much further than that. 
Since those 3 playoff weeks are so important, correlating on both sides of games can allow us create scenarios where, if things play out in our favor, we have access to both sides of a back and forth, high scoring affair. It's important to remember this is less about predicting which games will be the highest scoring games because it's so far out that we really can't do that with any accuracy. It's more about layering in the upside from the correlation IF the game does end up creating an environment that's advantageous for fantasy scoring.
Ideally, we'd correlate with the championship week (Week 17) matchups, but it's not always possible to correlate as much as we'd like for that week in drafts. But we can still add in playoff week correlation. We have a handy Playoff Week Cheat Sheet here at Spike Week that will allow you to quickly and easily see the schedule for the fantasy playoffs for every team. 
A great example of this championship week correlation that was super successful in 2021 was the Chiefs – Bengals game. Clearly, these were two offenses we were interested in targeting in drafts, and it was certainly appealing when thinking about the potential fireworks of this matchup in the championship round. It did not disappoint, with the Bengals pulling out a crazy upset and Joe Burrow and Ja'Marr Chase going nuclear as the 2 highest scoring players on the week. 
The most fascinating part of this, however, was the fact that the secondary skeleton key to that game stack was not Tyreek Hill or Travis Kelce. It wasn't Clyde-Edwards Helaire or even Mecole Hardman. It was Darrell Williams. A super late round RB that basically anyone could have drafted emerged for the Chiefs as a great fantasy option, and if you drafted the Burrow/Chase stack was the perfect addition to your team. If you were looking for a late round pick, using this correlation tiebreaker for Darrell Williams, no matter what your opinion on him was, was the perfect way to crush in 2021.
Maybe even more importantly, you can pull all 3 of these upside levers together on an individual team. Targeting youthful players that have contingent upside and correlating them with similar archetypes. In fact, that's precisely what won last year's Best Ball tournaments. 
Amon-Ra St. Brown was a rookie WR going late in drafts because the Lions offense projected to be bad, and they had a couple veteran WRs, plus likely volume hogs in De'Andre Swift and TJ Hockenson. He had the youth factor on his side, as well as the contingent value. Swift and Hockenson got hurt, and the two veteran receivers expected to be ahead of him did not pan out (Breshad Perriman and Tyrell Williams). Even Quintez Cephus got hurt.
Rashaad Penny was a former 1st round draft pick that had just never been able to stay healthy. We largely knew he was a quality real life football talent, and the Seahawks have a propensity to run the ball. He went fairly late in drafts because he was the backup to Chris Carson, as well as the health concerns. He also had youth (25 years old), as well as contingent value on his side. 
Oddly enough, these two teams (Lions and Seahawks) played each other in the championship round of Best Ball tournaments, Week 17. All of these factors came together for both of these players AND they squared off against each other in a matchup of two teams who had poor defenses. 
Youth + Contingency + Correlation.
In that final round, only Ja'Marr Chase and Joe Burrow outscored Penny and St. Brown in total points, and those 4 were the only 4 players to score more than 30 fantasy points on the week. If you combined that with the clear Burrow & Chase correlation (and youth) while tossing in the contingency bet on Darrell Williams to correlate with Burrow & Chase, you had yourself a life changing roster that anyone in the world could have easily put together during Best Ball Draft SZN.