While there are probably an infinite amount of micro strategies we can employ in our fantasy football and best ball drafts, there are a few main roster constructions that drive the majority of strategy in terms of how we structure our teams. 
It's important for us to understand the pros, cons and nuances of all these different strategies. Everyone is going to have their personal favorites, but as drafters we need to be adaptable. There will be draft rooms that we get into where different strategies end up more optimal based on how the board breaks and our opponents are drafting. Any one of these strategies can win, as long as you structure them in a way that sets them up for success, so we need to have the knowledge to be able to do so.
Running back is just 1 of 4 positions, but we as an industry have an unhealthy obsession with the position, so we have decided to name each of the 4 core structures around how they handle the RB position. 
Want to try the Zero RB draft strategy? Use our Underdog Fantasy promo code, which provides new users with a first-time deposit match of up to $100 when they sign up!
These 4 structures are:
Ah, Zero RB. The most divisive strategy in fantasy football. But aside from the twitter drama created by both the nuances of the strategy and simply the name itself, Zero RB makes for a fascinating concept to build your teams around, particularly for Best Ball tournaments.
What is Zero RB?
I know people want hyper specific and rigid definitions of these roster constructions, but I don't think that's super helpful. What is helpful is to understand the overall theme and goal of each of these strategies. With Zero RB, it's arguably even more important to ignore the rigid definitions than any other strategy in fantasy football. Before we start, I would recommend that everyone read the original Zero RB article from RotoViz author Shawn Siegele. There are not a lot of articles or concepts that can withstand the test of time over an entire decade and still be so absolutely spot on and equally as helpful as they were the day they were written.
Despite the name, you do actually have to draft running backs even in a Zero RB structure. But the principals of the strategy enable you to build a team in the most anti-fragile way possible. The idea is to spend your most important draft capital on the least fragile and least replaceable positions, which is not running back. In turn, you are spending lesser draft capital on the running back position where bust rates are high and individual players are extremely fragile.
Benefits of Zero RB
There are many variables of Zero RB that many extremely intelligent folks (like Shawn above) have spoken about over the years, but there are a few that particularly stick out to me from a Best Ball perspective.
We know that RBs are extremely fragile, but because of that we see more cheaply drafted RBs turn to elite fantasy assets frequently over the course of every single fantasy season. In just 2021, the likes of Darrell Henderson, James Conner, Alexander Mattison, Sony Michel, Leonard Fournette, Devin Singletary and Rashaad Penny were truly elite fantasy running backs either at various points or for extended stretches (and that is leaving out other names that you'll see in a sec). This type of contingent value does not exist at other positions. If Davante Adams were to get hurt for the Packers in 2021, it is (of course) a boost to the other pass catchers on the Packers offense. But they cannot come close to replacing Adams' production, upside or projection on a weekly basis. At the RB position, that scoring is a lot more replaceable. As you see in the above list of cheap 2021 RBs, we see a plethora of RBs that either earn the majority of the work in an ambiguous situation (I.E. Bucs/Bills) or backs that benefit from injuries to teammates at the RB position (Seahawks/Rams).
On top of that, RB scoring overall becomes a lot more replaceable after the top few guys. You might only have a couple of difference makers at the position (like say Jonathan Taylor last year), but you can make up for those points even before your cheaper backs find their way to their roles. James Conner type backs were giving you strong RB scores even before the contingency paid off with Chase Edmonds getting hurt (14.2 half point PPR points per game – RB17 overall), which wasn't losing you regular season points (in Best Ball Playoff formats like Underdog) at the position.
Speaking of regular season, we know that in playoff formats, the regular season is not where our money is won. Zero RB is particularly situated to capitalize on the Best Ball playoff format, where the most important weeks, the money making weeks, are late in the season. Due to the sheer nature of them being late in the season, that adds even great fragility to the RB position, which creates more potential situations of cheap RBs providing elite RB scoring value. As outlined in the SuperHero RB strategy piece, below is the RB scoring from the 3 weeks of Best Ball Tournaments in 2021: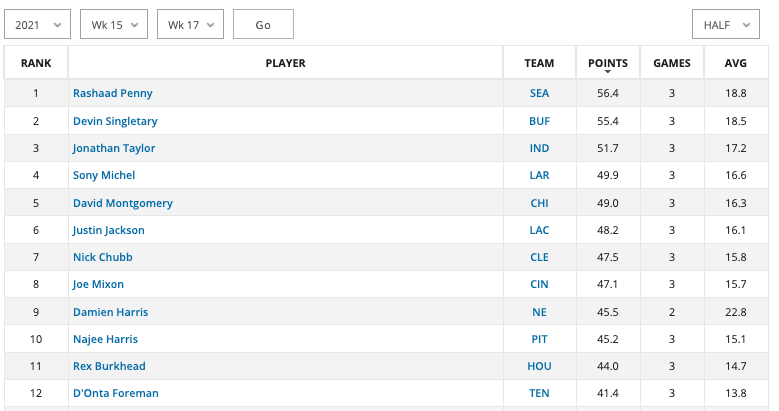 As you can see, cheap running backs absolutely crushed in the playoffs, which allowed Zero RB teams to have shots at combinations of these backs with superstar WRs that don't exist in any other structure.
Lastly, it's not just about the RB position. By spending less capital on the RB position. you're giving yourself an edge at other positions. You are going to have stronger assets at some combination of QB/WR/TE, which also sets you up perfectly for the fantasy playoffs. We know that elite scoring is basically impossible to find at these other positions, so you're giving yourself more elite assets there while structuring your team to find the Penny/Singletary/Michel/etc. type backs that ALSO win you the RB position in the playoffs.
Risks of Zero RB
Zero RB is, of course, not without risks. By far the greatest issue with Zero RB in Best Ball is the lack of a waiver wire. You only get 18 or 20 draft selections, which most often give you just 6-8 spots for a running back even on a Zero RB team. Without the ability to work the waiver wire, as you can in your traditional season long managed league, you HAVE to land these cheap RBs that hit in the draft with a limited amount of picks to do so.
Similarly, you cannot afford for your running backs to take too long to come to fruition. In Best Ball, you generally need to still finish in the Top 2 of your 12 team league in order to advance to the playoffs. If your RBs are not scoring any points for a significant portion of the season, it does not matter if you end up with Rashaad Penny and superstar WRs because you'll never make it to the playoffs anyway. If you are unable to appropriately structure your team with the right archetypes of players in Zero RB, it can severely dampen your expected value.
Zero RB definitely becomes an issue in cumulative scoring formats. In playoff formats, you might have a greater chance of skating by for a portion of the season even if your RBs don't materialize as quickly as you'd like to. Maybe you can luckbox a few TDs early in the season from backups or part time backs. But in a cumulative scoring format like Drafters, Week 1 (and every week) count just the same as Week 17. So if you don't have quality RB scores early on, you are going to have some serious ground to make up, or you may not be able to make it up at all.
Zero RB is a very polarizing strategy amongst the fantasy football community. The reality is that, particularly in the Best Ball space and in Best Ball tournaments, there are clearly reasons that Zero RB can find both success or failure. One thing that sticks out is the nuance to this structure needs a little bit more precise implementation in order to be successful in Best Ball, but if the season breaks your way it might be the highest leveraged way to build tournament teams.