With the explosion of Best Ball has come the explosion of a string of draft strategies that many are analyzing, discussing and implementing in their drafts. Even here at Spike Week, I've written about many of them (like the most notable structural strategies). And all of these strategies are great, but the majority are things people are implementing at a fairly high rate (or at least somewhat in the case of Zero RB).
And you'll hear countless people, including myself, talk about the value of "being unique" or "getting different". That's absolutely important in a game where we are competing against hundreds of thousands (or nearly a million on DraftKings). The problem is that most of the "unique" ideas are either not as unique as we'd ultimately like, or they are making fairly significant sacrifices in one area or the other (overall projection, upside, advance rate, etc.).
So while you're looking to gain as much leverage as you can on the field, you're looking to do in the smartest way possible.
There's no perfect solution to this type of strategic thought experiment, but something I think we as a fantasy football industry don't do well enough is adapt our strategies to the current draft environment. Particularly in Best Ball, where the industry has absolutely exploded and completely changed just over the last year, we need to assess this market we are drafting in differently than prior year's. All of these cookie cutter strategies can work and are very much still applicable, but they aren't going to be as effective as we'd like unless we are adapting them to the current landscape of the NFL, the player pool for this year, what our opponents are doing, the tournament formats, etc.
Which leads me to one approach that I've really started to become high on this summer. It's a strategy I'm calling the "Undrafted Tight End Strategy".
Real NFL & Fantasy Football Tight Ends
Before we dive into the specifics of this strategy, we need to discuss why it might even be a thing from both a real football and a fantasy football perspective.
In today's NFL, the Tight End position has been changing. The days of every team running pro style offenses with traditional tight ends are gone. We are seeing more spread offenses, as well as more specialist roles for players. That goes for both Tight Ends, Running Backs and Receivers.
In 2016, 13 WRs averaged more than 90% of snaps played in their active games. Last year (2021), that number was at just 5 (two of which were Rams – Cooper Kupp and Robert Woods). Interestingly, another Ram, Tyler Higbee, topped the TE list in snap share. Also in 2016, 8 TEs averaged at least an 85% snap share, but that number fell to just 4 in 2021.
If you just happened to remove the Rams, these numbers would be even more drastic.
Scoring in the NFL is up, but if we look at TE targets, we actually have less TEs receiving 5 or more targets per game now than in 2016. In 2016, 24 TEs averaged at least 5 targets per game. Last year in 2021, that number falls to just 17.
A key difference is that 3 TEs last year outscored the top overall tight end from 2016 (Travis Kelce – 12 Half PPR PPG). Mark Andrews (14.7 PPG), Travis Kelce (13.7 PPG) and George Kittle (12.2 PPG) all outscored that top scorer from 2016.
The Current Tight End Landscape
We see that general NFL player utilization has changed, and that has also impacted the way TEs score fantasy points in the NFL, but what about the 2022 landscape?
The market has (accurately) gotten hip to this idea that the elite TEs create a nice gap at the position. With less TEs producing fantasy relevant scores (or even playing as many snaps), we see those TEs with elite upside (like Kelce, Andrews, Pitts, etc) all going in the top 4-5 rounds of drafts. We can generally spot the TEs with that truly elite upside, and they're being pretty accurately valued. However, the next several tiers at the position are where things get interesting.
We all have our favorite guys outside of the elite tier, but history tells us that there will only be a few true separators at the position, and those with the ability to do it, particularly on a weekly basis which is so important in Best Ball are not going to be guys that slip to the mid to late rounds. What tends to happen is that the non-elite tier gets priced in a way that is essentially the market valuing their comfort level with them. Take Dalton Schultz for example, he had a nice year last year in Dallas and now has increased target opportunity. I honestly expect Schultz to have a nice season, but we are talking about a player who only earned 6 targets per game last year, and couldn't even crack 10 points per game in half PPR despite scoring 8 touchdowns. This could certainly end up wrong, but history tells us these are the types of players that can be small wins in fantasy, but are unlikely to be the Mark Andrews of last year.
And thus the problem is that you end up paying a premium for that "comfort", but comfort isn't what wins Best Ball tournaments. It's actually typically the opposite.
Then you get to mid to late rounds where you have a bit of a mixed bag of archetypes, but again, the majority of these players just don't have the Kelce/Andrews/Pitts type upside in their range of outcomes. That's not to say they can't be "hits" in drafts, and many have their place in your draft portfolios, either as part of stacks or as undervalued talents, etc. But as much as I like Noah Fant as a talent, the 3rd option in a run-first Geno Smith led offense is just not going to have a Travis Kelce type ceiling. He's just not (sorry Noah).
But the interesting thing about the TE position is that there's also nothing that says there has to be any true differenced makers. Particularly in Best Ball where the weekly scoring (largely in the playoffs) is SO important, we have the MOST volatile position with a VERY small number of elite options. It's not like the WR position where if you roll out a Robust RB start to your draft you're fading an absurd amount of elite upside players at a position. It's not even like QB where you're fading a relatively small number of elite options, but the scoring is more replaceable & predictable.
If you play DFS, you know that in any given week, if you want to spend down at the TE position, you are really only fading big games from a couple of players at the top tier of pricing. And thus, it can be very advantageous to spend as little money as possible at the TE position, get a decent score from a cheaper player, and load up at all the other positions to outscore your opponents.
On top of that in DFS, you can easily get ownership leverage on the field if you so choose. Maybe the field is paying up for Kelce or Andrews that week at a high rate, or maybe they're paying down for Dan Arnold with all of the Jags WRs hurt. You can easily get leverage by playing a different cheap TE (and maybe he correlates with your QB).
But in Best Ball, we never seem to consider this leverage point, even though the TE landscape AND the format of the game tell us that it's one of the best leverage points we have.
Undrafted Tight End Strategy
Alright, so we understand the Tight End landscape. The elite guys are, of course, an edge from an upside and general projection perspective, but the market has priced that in. Then, we have a huge grouping of tight ends after the elite tier that all get drafted in 100% of drafts, and they have somewhat varying profiles. But history tells us that at best almost all of these players are going to be reasonable hits, while more likely they're just going to be another mid to late round TE that was unimpressive or average.
And every single one of them is drafted in every draft.
So, we know that there are only a few elite tight ends that can separate, and they're very expensive. This year in particular, they also have some serious warts.
Travis Kelce is 34 years old, the Chiefs just lost Tyreek Hill, and he is drafted in the 1st round
Mark Andrews needed the Ravens to suffer the most devastating amount of injuries I can remember, forcing them to go from just over 400 pass attempts (league low) to 611 last year (9th in the NFL)
Kyle Pitts is on arguably the worst team in the NFL with Marcus Mariota and Desmond Ridder at QB
George Kittle is on a run-first team with a very raw QB and immense target competition
Darren Waller only scored 10 points per game last year despite no target competition, and the Raiders added Davante Adams
Which takes us to the three main points in support of the Undrafted Tight ends:
There are only a handful of elite TEs that you have "fade" big seasons from, and they all have reasonable warts and expensive prices
History tells us the rest of the drafted TE pool is extraordinarily unlikely to separate, even if some are "hits"
The Tight Ends going undrafted this year are more appealing than ever (!!)
2022 Undrafted Tight Ends
We've spent a lot of time talking about the first two bullet points, so we should get down to, ya know, the actual players that comprise this strategic idea.
I'm not saying it's wrong, but this year we have a much higher number of players with some combination of real role, real talent, and real draft capital that go undrafted in nearly every single Best Ball draft (especially in 18 rounds on Underdog). I don't have a strong idea of specifically why some of these guys go undrafted, other than the fact that it's a bit of a numbers game. You only have so many TEs that teams need in a 12 team draft, and as we discussed above, they largely get sorted by comfort level within ADP. So you get to this group of guys that either had down years last year, are rookies with fairly uncertain roles, or maybe in less than ideal offenses that just don't get drafted. But in reality, they all have their own perks just like many of the other later round guys.
Are they slightly lower probability bets or slightly lower projections than the other guys who go in rounds 14-18? Yes, they are. But many have similar, or often even higher, ceilings than a LOT of tight ends drafted in every draft. You combine the lower and more volatile nature of the TE scoring with the fact that you now have players drafted in, let's say, 10-20% of drafts, as opposed to 100%. You're giving up a bit of certainty and a bit of projection for a 5-10x discount in ownership across the tournament.
In Best Ball Mania 3, that's a difference of 37,600 other teams having your player and 3,760 other teams having him. It's massive.
The Strategy
Ok, buddy, just get to the strategy already.
Many Best Ball drafters are already employing Late Round TE strategies or just 3 TE strategies. You'll often hear people say things like "If I don't get a TE before TJ Hockenson, I'll draft 3." Or people will employ a late round TE strategy that takes some combination of 3 guys in, let's say, rounds 13-18.
There's absolutely nothing wrong with that, but it's an incredibly common theme across thousands of teams. And given what we have outlined above about the TE position and the ownership leverage on these undrafted TEs, we can combine the two ideas.
Draft 3 TEs
All 3 TEs come with your final 3 picks
All 3 TEs should be players with ADPs outside of the normal drafting range (depending upon which site you're playing on)
So, on Underdog, we'd be drafting 3 TEs to close out our team in rounds 16, 17, and 18. Yes, the round 16 and 17 players would be a "reach" by ADP, but that's actually the point. The TEs that go in that ADP range are, as we discussed above, almost no different than these players below that go undrafted. But ADP often blinds drafters, so it's something we can use to our advantage in particular instances like this.
Clearly, you'll have to plan ahead a bit for this strategy. You'll want to get your other positions out of the way before those final 3 rounds, but that's a pretty easy tactic to put into play.
The Undrafted Tight Ends for 2022
Daniel Bellinger
One of my personal favorites, Bellinger has been running with 1s for all of training camp, despite being a rookie 4th round pick. His production was not impressive in college, but he played for one of the run heaviest teams in the country in San Diego St.. His measurables, however, were elite at the combine. There is a ton of opportunity available in the Giants offense, and Brian Daboll turned a similar type prospect in Dawson Knox into a great fantasy asset.
Trey McBride
2nd round NFL Draft pick. Only thing stopping him from a full-time role is soon-to-be 32 year old Zach Ertz (or maybe more Rondale Moore under-performance), and the dude was an absolute monster in college. I don't really remember a Mackey Award Winner with his production that got 2nd round draft capital & landed in a great offense go undrafted, but I'll take it.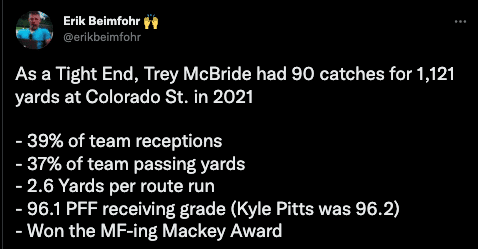 Tyler Conklin
I sort of get why the first two guys are undrafted. One has Ertz in his way a bit, and the other is a rookie on the Giants. But Conklin proved he can be a solid NFL producer last season on the Vikings, and is drawing rave reviews at Jets camp. The Jets signed CJ Uzomah alongside Conklin, but every reported is signing off on Conklin as the clear TE1 on this team, and he's showing a great connection with Zach Wilson in camp.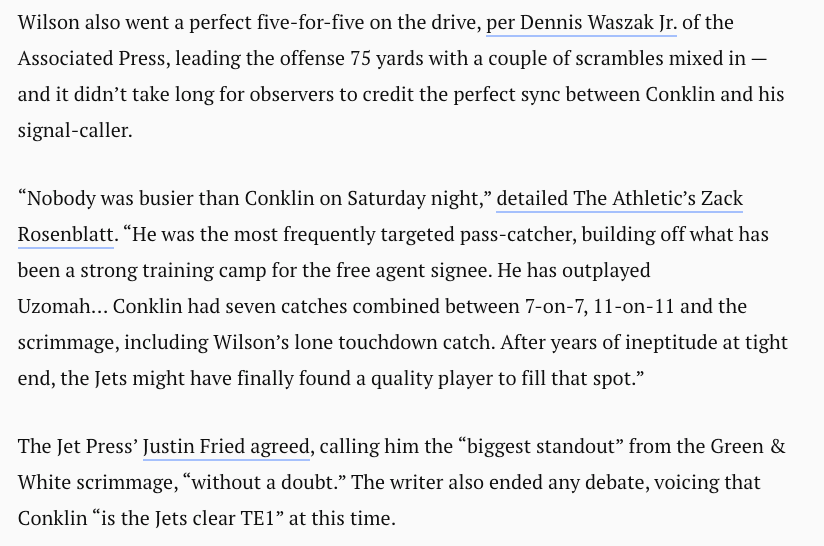 Kylen Granson (& Colts TEs)
It's sort of funny that the Colts make an upgrade at QB to Matt Ryan, Jack Doyle retired, they have traditionally created strong TE production, and they don't have much competition in their WR corps and yet no Colts TE is even getting drafted. Without Doyle, the Colts are left with Mo Alie-Cox, Kylen Granson and rookie Jelani Woods. Woods was an athletic freak at the combine & got selected in the 3rd round of the draft, so I won't disparage anyone for drafting him, but he's incredibly raw out of Virginia, was a fairly unexciting prospect and is reportedly "looking lost" at camp. For me, that makes Granson and MAC more exciting if Woods needs a bit of a redshirt year. Alie-Cox could absolutely be a steal in drafts, as the former VCU basketball player has been efficient in somewhat limited opportunities as a pass catcher to this point. The problem with him for fantasy is that he's an excellent blocker, and he gets deployed as such, and I don't personally expect that to change in 2022. Which leads me to Granson, who should then have paths to the pass catching TE option on this team with a year under his belt. He proved to be a strong receiver at SMU, where he put together 14 TDs over his final 2 seasons, setting a school record for TEs. He only received 15 targets last year, but he would be my bet to replace Doyle in his role.
Greg Dulcich
The favorite of Pat Kerrane is another standout undrafted tight end. With the trade of Noah Fant, we all originally expected the Broncos to feature Albert Okwuegbunam, but then they turned around and drafted Dulcich in the 3rd round of the 2021 NFL Draft. He's a super smooth receiver, and you almost can't go a day at Broncos camp without him getting tons of praise from both coaches and reporters. Especially with the injury to Tim Patrick and KJ Hamler coming off a serious injury, it's easy to see a path for him to get early playing time either alongside Albert O or in place of him. And if he earns more of a full time role (at least in the pass game), he could be the steal of draft season given the offense he plays for.
Jonnu Smith
The poster boy of the article, Jonnu is your flop lag bet of 2022 TEs. After signing a 4 year, $50 Million contract last offseason, Jonnu took a backseat to Hunter Henry at TE for the Pats, and they shockingly played very little 2 TE personnel despite those 2 players signing in the offseason. However, Jonnu has reportedly been flashing in camp thus far. And he's also supposedly led the entire team in targets thus far. We know the talent is there, so if the team makes it a priority to get him on the field and get him the ball, we are going to see the Jonnu that we expected last year with him going in the 13th round of drafts.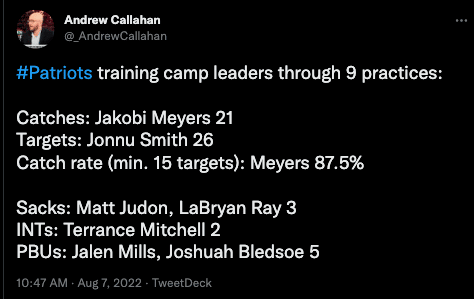 Isaiah Likely / Charlie Kolar
The Ravens traded Marquise Brown to the Cardinals and essentially did not replace him, but that's not really true. What they did do was tell us they want to go back to their old ways of multi-TE sets and running the football by drafting 2 rookie TEs (and a rookie RB in Tyler Badie). Kolar had a very productive career at Iowa St., but Likely has been really flashing in camp, so much so that he's drawing praise from reporters, and even Lamar Jackson & Mark Andrews. The market keeps looking to gadget type players like Devin Duvernary with Hollywood gone, but it could just as easily (if not more so) be one of these two rookie TEs that fill the void. My bet is on Likely (especially with Kolar banged up in camp). We often talk about contingent upside at RB (or even WR), but if something were to happen to Mark Andrews, one of these players would be ELITE options.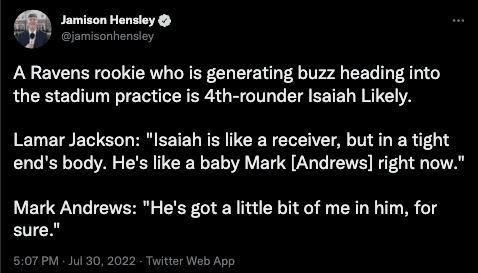 Harrison Bryant
After Austin Hooper left for Tennessee, David Njoku got a big contract extension and thus all the hype in fantasy drafts. However, the Browns look like another team set to continue their use of 2 TE sets, but Bryant is falling undrafted right now. Despite being the TE3, Bryant still had 28 targets to Njoku's 53, and he's no slouch himself in the talent department. He's another former Mackey Award Winner in college out of Florida Atlantic, and the Browns could easily feature him alongside Njoku given their lack of elite weapons at WR and strong run game.
Josiah Deguara
Deguara got an opportunity last year when Robert Tonyan went down, and while he didn't full capitalize, he gained some experience that supposedly has him looking strong in camp. Obviously, the Packers lost Davante Adams, so everyone is very focused on the potential of their WRs to breakthrough in his absence (as well as Aaron Jones and AJ Dillon), but what if it's a Tight End who steps up to a featured role. Robert Tonyan is the market's bet (and I kind of like Tonyan tbh), but he is fresh off an ACL tear mid year last season. If he's not 100% or doesn't return to start the year, Deguara could steal the role with strong performance.