Underdog Fantasy has become wildly popular due to their massive Best Ball contests as well as their Pick 'em games, but their daily snake drafts are another incredibly fun option for fantasy drafters. Their NBA drafts (or Battle Royale as they call it format) are incredibly simple, and they give you a shot at 4 or 5 figure winnings every single day. 
All you have to do is draft 6 players from the games taking place that night in the NBA in a traditional snake draft against 5 other users. No positional requirements. No salary cap. Your team of 6 players competes against every other team of 6 drafted that day in that tournament for your share of the prize pool, which typically pays out approximately 20% of the field with 20-25% going to first place. 
If you haven't yet signed up for Underdog Fantasy, you can use Promo Code 'SPIKE' to receive a 100% Deposit Match on any deposit up to $100. 
Underdog offers a variety of options each day with single entry, double entry and multi entry contests available. Their player scoring is also incredibly simple: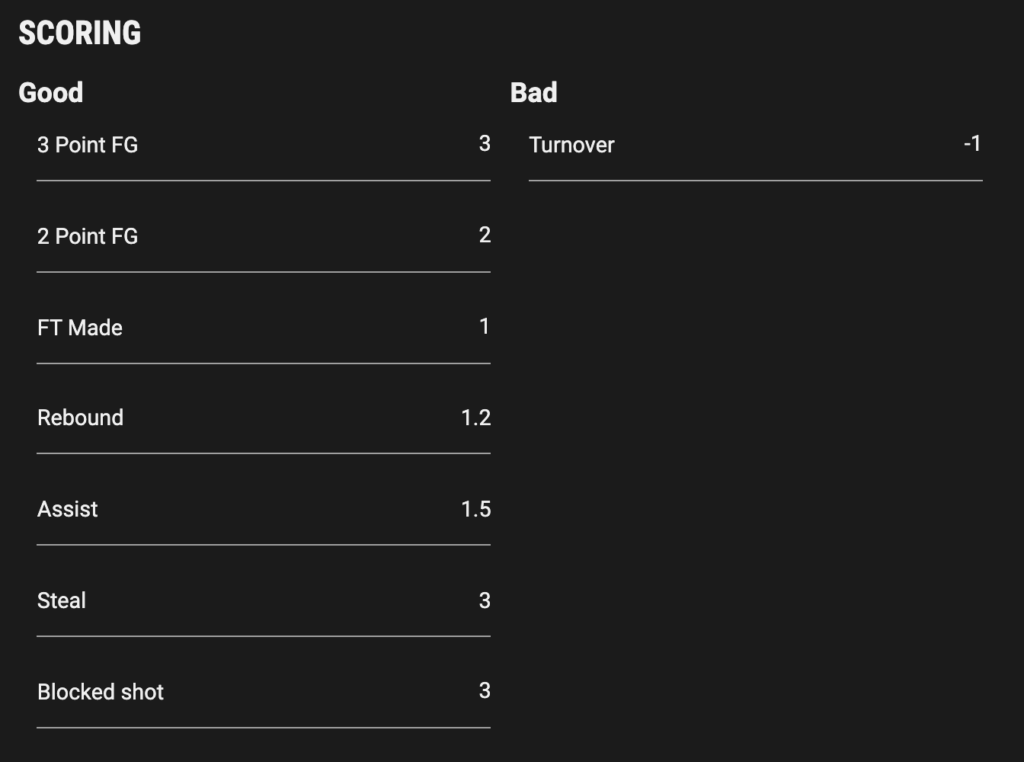 Below are the additional details and rules provided by Underdog for their general Battle Royale contests, as well as their Daily NBA specific contests: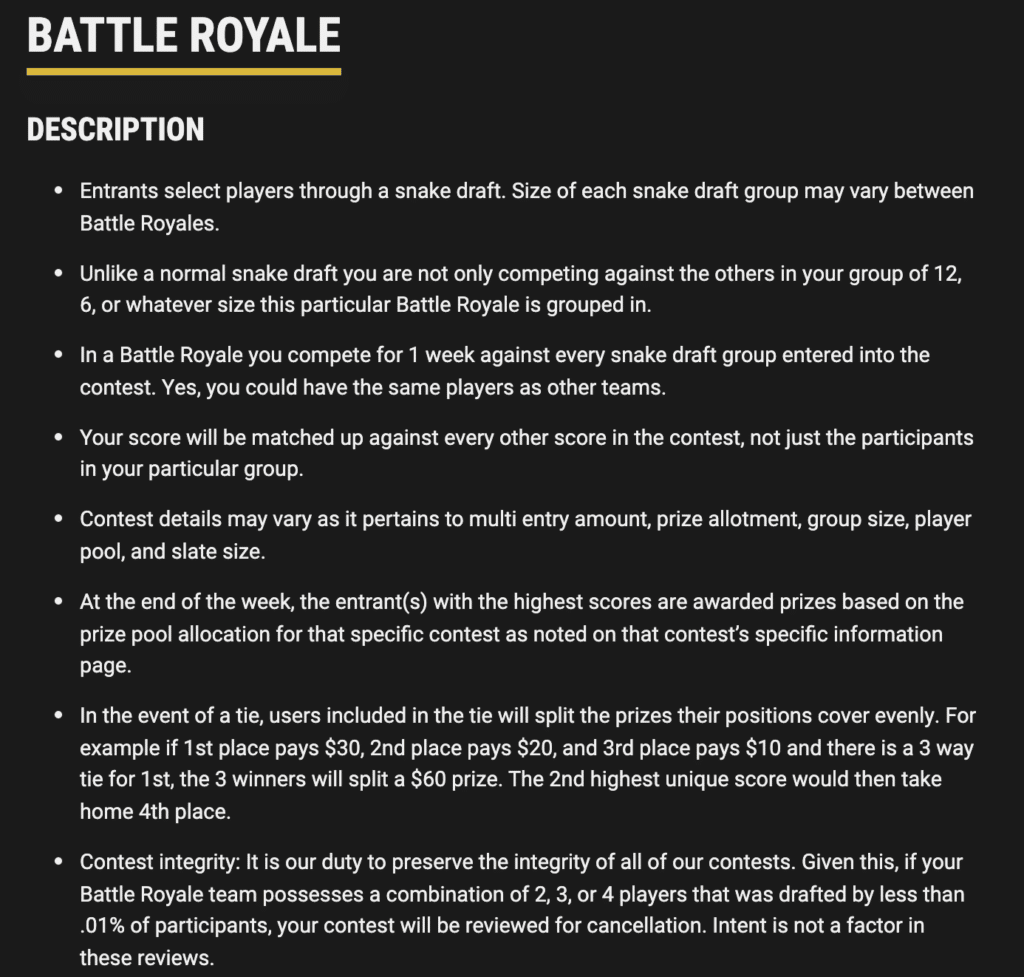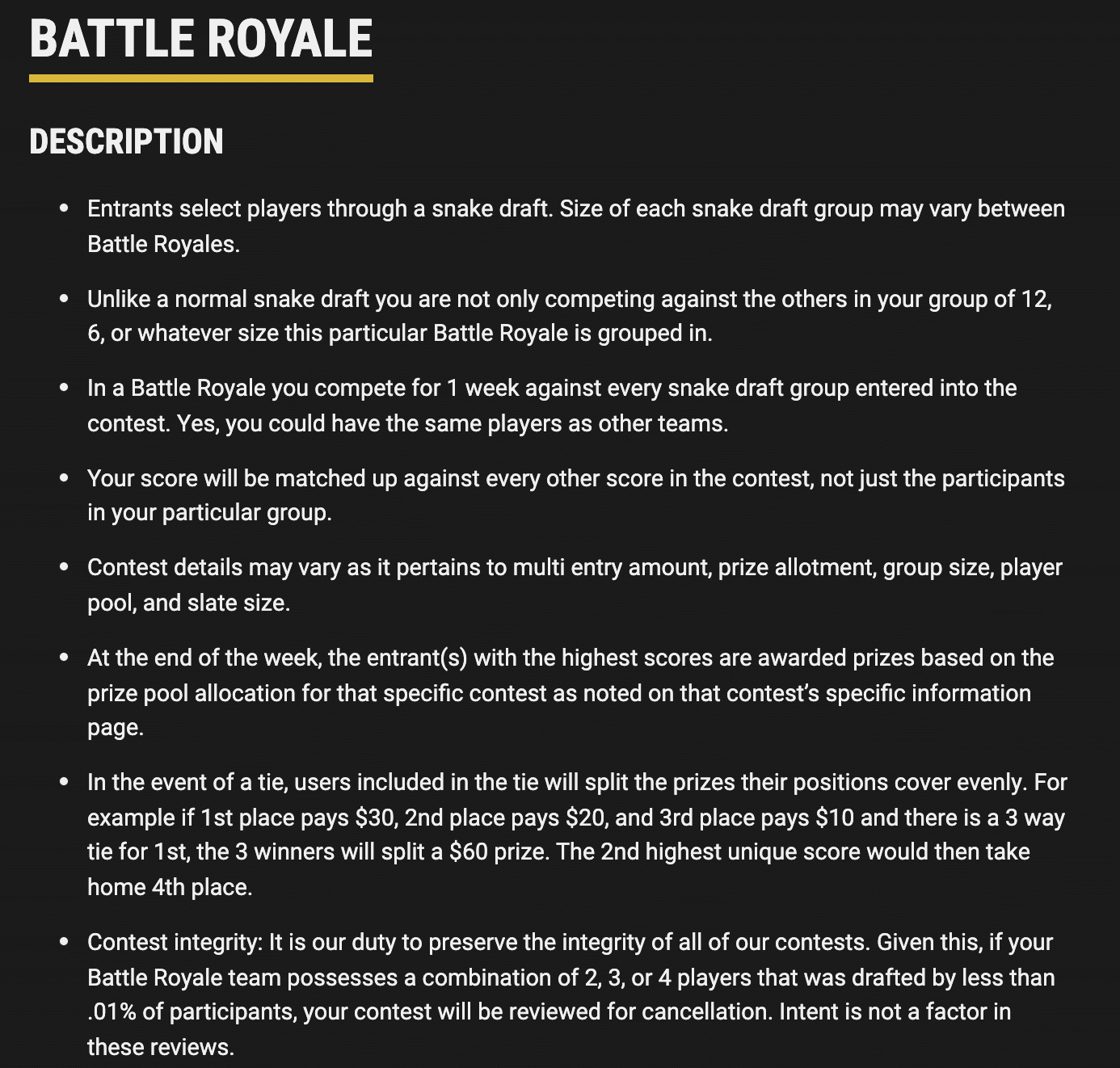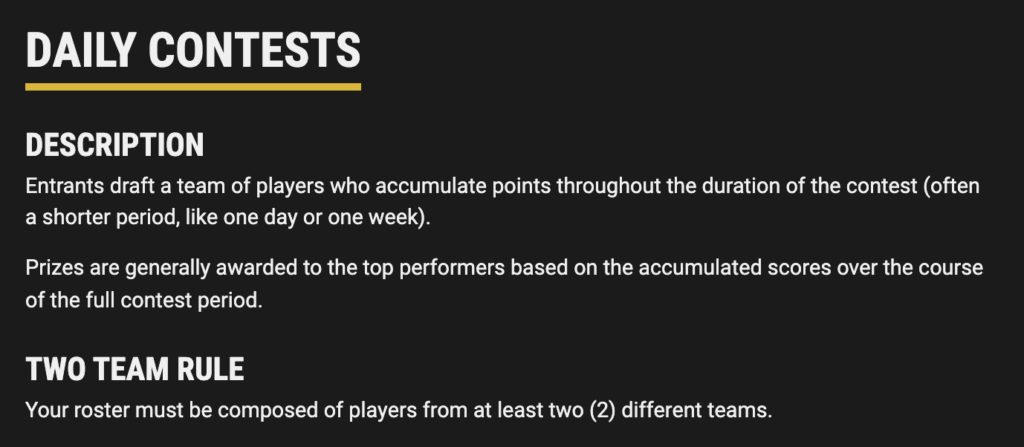 Let's dive into the strategy for today's contests. Much of the strategy for today is driven by the incredible Daily NBA Projections from the RotoGrinders team. If you'd like to subscribe to the full set of projections for every player and team, head to RotoGrinders NBA Premium , which includes fantasy point projections and daily fantasy ownership projections for sites like DraftKings, Fanduel, and Yahoo, as well as LineupHQ Optimizer access and much, much more.
Underdog Fantasy Daily NBA Battle Royale Contest Strategy for January 24th, 2022
Top Options
Every day is different when it comes to the top options, and this Monday 4 game slate is one that's incredibly fascinating because we have none of the traditional big time names at the top. Using the RotoGrinders projections, the two studs from the Chicago Bulls sit at the top of the projections, Nikola Vucevic and DeMar Derozan. The best value at the top, however, is Shai Gilgeous-Alexander as our 3rd highest raw points projection. Beyond them, there is a second tier with Suns guards Devin Booker and Chris Paul, Jonas Valanciunas and Darius Garland, but after them it starts to get exceedingly wide open.
Undervalued and Overvalued Players
Shai Gilgeous-Alexander – As mentioned above, SGA is the 3rd overall projection for us, but current Underdog projections have him 10th. He has been a fantasy monster of late, scoring at least 42 fantasy points in 6 of his last 7 games, and he draws a matchup with the depleted Bulls.
Coby White – The aforementioned depleted Bulls offer up some value in White, as he has to take on a huge role for this team in the absence of Lonzo Ball, Alex Caruso and Zach Lavine (currently projected out). It appears Underdog has Lavine projected in, which is keeping White far too low on their projections, particularly given that he just had a game where he took 18 shots and posted a 27% usage rate.
Goga Bitazde – Goga might be the biggest value on the board tonight, as he projects on UD for just 12 points despite the absence of Myles Turner and Domantas Sabonis. We have him projected for 30+ fantasy points, and he has bested that mark in each of his last two games for the shorthanded Pacers.
Injuries and Situations to Monitor
Chicago Bulls – Not to keep on about the Bulls, but their situation is massively important. Our current expectation is that Zach Lavine will be out, which is what makes Vucevic and Derozan the top plays of the slate and Coby White a value. If Lavine does miss, that puts Ayo Dosunmu in play as a late round pick. If Lavine returns here, it's a huge knock to White and Dosunmu and slight bump down to the top 2 players.
Indiana Pacers – Malcolm Brogdon, Domantas Sabonis and Myles Turner are out. Caris Levert is questionable. If Levert were to play, he would be one of the best picks of the day. If Levert misses, that opens up a strong projection for Chris Duarte, who sported a high 20s usage rate in the last game without all these guys. Jeremy Lamb, Lance Stephenson and Keifer Sykes would be late round options as well to go with the aforementioned value in Bitazde.
Brandon Ingram/Devonte Graham – Ingram has been ruled out for the Pelicans, and Graham is questionable. If Graham plays he makes for a strong value with an elevated role without Ingram. Valanciunas projects near the top of the entire board no matter who plays, and Herb Jones and Josh Hart make for appealing projections as well.
Phoenix Suns – The Suns don't necessarily offer a ton of value, but they will be without Jae Crowder and DeAndre Ayton which just solidifies huge roles for Booker and Paul. It does put Cam Johnson and Mikal Bridges in play later in drafts, while you can also take stabs on the center combo of Javale McGee and Bismack Biyombo.
Utah Jazz – The Jazz are very up in the air, and they're the murkiest situation of the night. Rudy Gobert and Bojan Bogdanovic were both said to have injuries, but we don't yet have a status update on them. Donovan Mitchell is out. Underdog has Gobert/Bogdanovic in projections, but we have them out. Hassan Whiteside missed last game due to conditioning, but if Gobert misses and he plays, he offers immense upside in late rounds. Jordan Clarkson and, to a lesser extent, Mike Conley also get strong boosts without Mitchell and possibly Bogdanovic.