Listen, I get it, the NFL season starts in two weeks, but we playoff baseball just on the horizon! So, let's do a general deep dive into Underdog's new MLB Playoff Best Ball contest: The Pennant.
New MLB Playoff Format
This year the MLB expands its playoff format by adding two additional teams to the fold. The Wild Card (WC) games will now have four best-of-three (BO3) series, instead of the two single elimination games like years prior. In each conference, the #3 and #6, along with the #4 and #5th seeds will matchup in a BO3 series. The Divisional Series (DS) will be a best-of-five series (BO5). Each #1 seed will play the winner of the 4/5 WC matchup and each #2 see will play the winner of the 3/6 WC matchup. The Championship Series (CS) and World Series (WS) will be best-of-seven (BO7) series.
With still over a month to go before the start of the playoffs, there is still quite a bit that change with how the playoff bracket may shape out. Below is a link to the MLB standings to stay up to date with the teams vying for playoffs spots.
Here are the current Wild Card standings.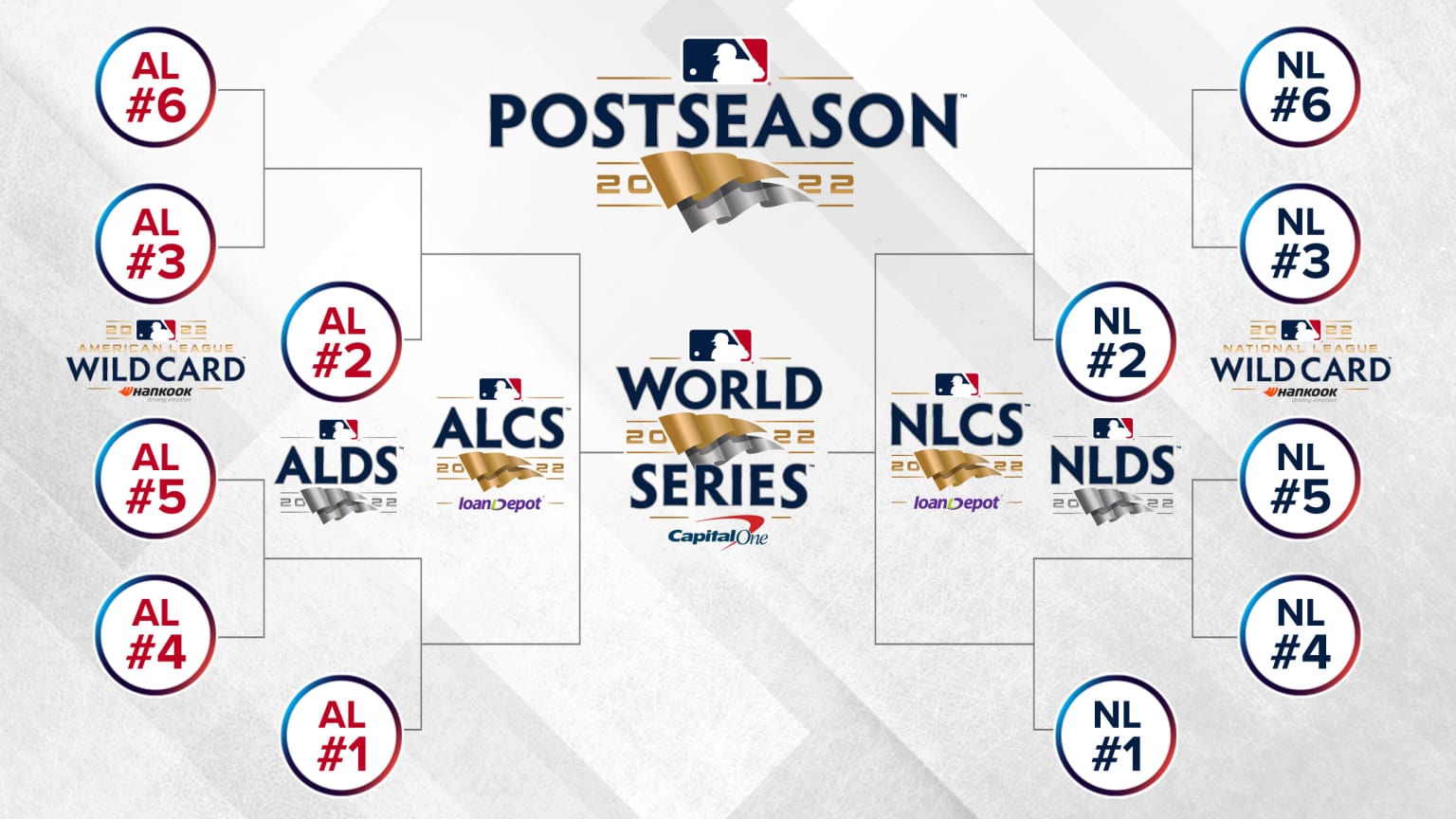 General Contest Info
This is a best ball format. Once you draft your team there are no additional roster moves. It's a draft it and forget it format. Players will score points based on their performance during games in the MLB Playoffs. If your player's team is eliminated from the playoffs, they won't score any more fantasy points.
For this contest you will draft against 5 other users in 6-person drafts, with drafts being 12 rounds long. They are currently both fast and slow drafts available, with the contest closing on, at the latest, October 7th. It costs $10 to enter and allows 150 max entries per user. It consists of 11,160 entrants with a 100k prize pool and $15k going to first place.
The important thing to note right away, is there is only three rounds for the contest. Underdog groups the Wild Card and Divisional Series into "Round 1". Round 2 will be only the Championship Series and Round 3 being only the World Series.
Round 1 will consist of 11,160 entrants in 1,860 6-person groups, with only the top entry advancing.
Round 2 will consist of 1,860 entrants in 310 6-person groups, with only the top entry advancing.
Round 3 will consist of the final 310 entrants competing for the top prizes.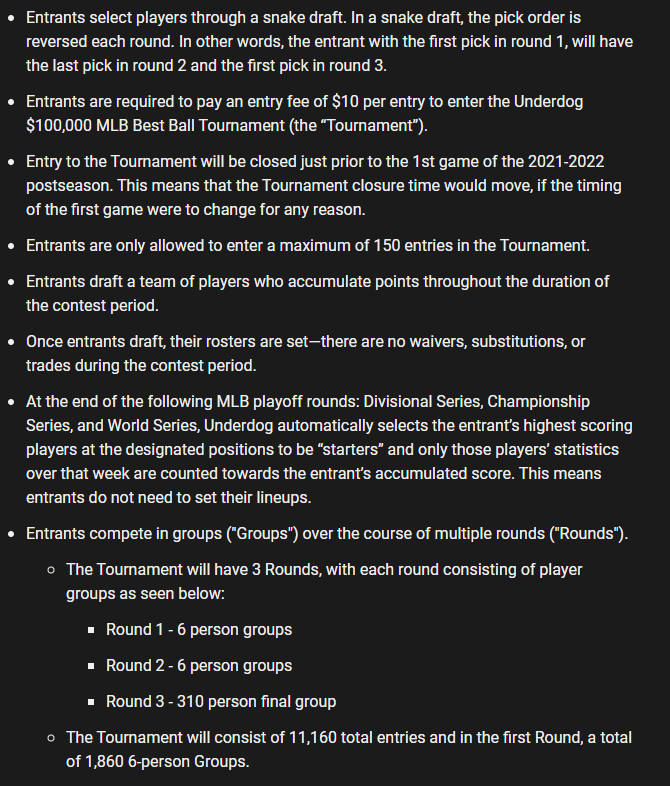 Scoring and Roster
The scoring is straightforward, but there is one important thing to note. Underdog has nine different categories for hitters to score points, whereas a pitcher only has five categories. Hitters gain progressive points for hits (3 for a single, 6 for a double, 8 for triples, and 10 for home runs). Pitchers are the only position group to score negative points, which comes from allowing earned runs.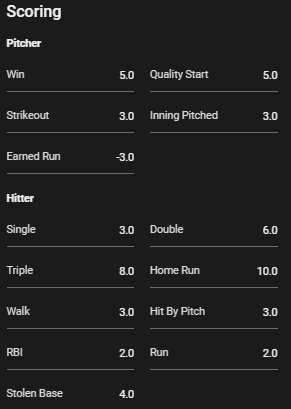 You are tasked with drafting a 12-player roster. Only seven of those players will have scores that count in each round. (As long as their team is still in the playoffs). The seven players in the starting lineup consist of:
Three Pitchers (P)
1 Infielder (IF)
1 Outfielder (OF)
2 Flex (IF/OF)

If you played regular season MLB Best Ball on UD, then you know "when and how many pitchers to draft" was the biggest talking point of the draft season. Due to the scoring format the top tier of pitchers score much fewer total points throughout the season than the top tier hitters.
Scoring is the exact same as the regular season format. The big talking point for playoffs will again be the question "when and how many pitchers to draft", with an added wrinkle of Relief Pitchers mattering more in the playoffs.
Draft Strategy
I've covered the general contest information, scoring, and roster. It's now time to dive into how to attack these drafts.
Round Differences
I mentioned earlier in the article that the wild card and divisional round of the playoffs are combined to form Round 1. This is extremely important to know because the top two seeds in each conference have byes in the Wild Card. This means they are limited to a maximum of five games in Round 1. Wild Card teams play a BO3 series before moving on to a BO5 in the divisional round. So, there's a chance a WC team could play eight games in Round 1.
If WC teams do play eight games, they will likely have a scoring advantage over the top-seeded teams. It should be something that are aware of when we are drafting. The hard part is predicting which teams which teams are going to advance. Building rosters with at least one WC team to ty and capitalize on potential of more games played, is a great way to take advantage of the unknown.
What we do know is that if you play more games, you should score more FPTS, so monitoring the WC matchups will be important in the remaining month of the season. If you are drafting now, whether it's top seeds or WC teams you must take advantage of any team by stacking.
Stacking
Our goal is to have a team in the finals that can not only field every roster spot but every positional spot as well. The only way we are going to achieve this is by stacking players from the same team that advances to the World Series. There are going to be a lot of different strategies that can be implemented to get a team to the finals. If you get to the finals and can't fill every starting roster spot, you're going to have an uphill battle before it even starts.
Given that playoff spots aren't locked up yet, my strategy right now is to mix and match stacking favorites while adding in a potential WC team here and there. With a roster of 12, you ideally want to be targeting 3-5 hitters per stack. Correlating pitchers to your stack is also something you need to be doing in this contest. If we are making bets on teams to advance to the WS, then we must be including pitchers as well. For example, if you are building out a Houston Astros stack, you would want to grab 1-2 Astros Pitchers as well.
By correlating and stacking our teams we are maximizing our upside to the final round and helping ourselves advance all together. If you read Erik Beimfohr's NBA Playoff Best Ball article then this may sound familiar. The NBA and NHL playoff formats are the most similar tournament to this MLB Playoff contest. We need to thread the needle to not only advance two rounds to the finals but also have a roster capable of winning against 309 other people once we get there.
For example, I just drafted this team today: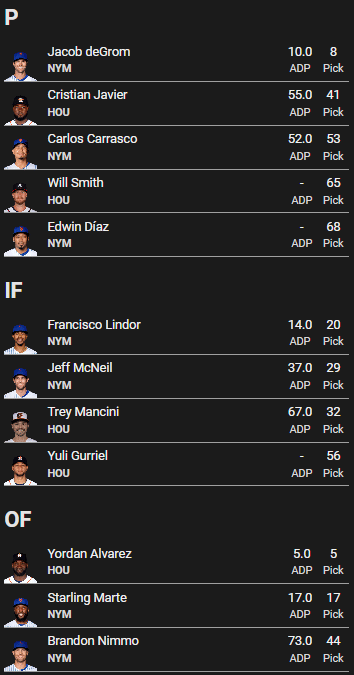 On this team, I am making a bet that HOU/NYM will not only be going to the World Series, but they will score enough points to advance this team through to the finals. There were spots in this draft where I could have veered for another mini stack of hitters rather than the 4-3. However, if I did draft the mini and this team made the finals along with the HOU/NYM WS, I wouldn't be maximizing my output in the top-loaded finals. It's a delicate balancing act between advancing to the next round and building for the finals but I think both can be achieved.
Wait a Minute, Relief Pitchers?
Look I mentioned above how playoff baseball is very different from regular season baseball. There are a lot of question marks as to how managers will handle in game situations. In the playoffs, you see more condensed rotations and shorter leashes with the starting pitchers If it's a game in July and a SP gets into a jam, the manager might give him the chance to work out of it. In the postseason, a lot of these games are played with the season on the line. So, a manager is more willing to go to the BP earlier in games. Teams might also go to four man pitching rotations instead of the normal five in the regular season. All of this could equal more innings for Relief Pitchers (RP).
An interesting stat that was pointed out in the Spike Week discord was that 9 out of the top 20 scoring Ps in last year's playoffs were RPs.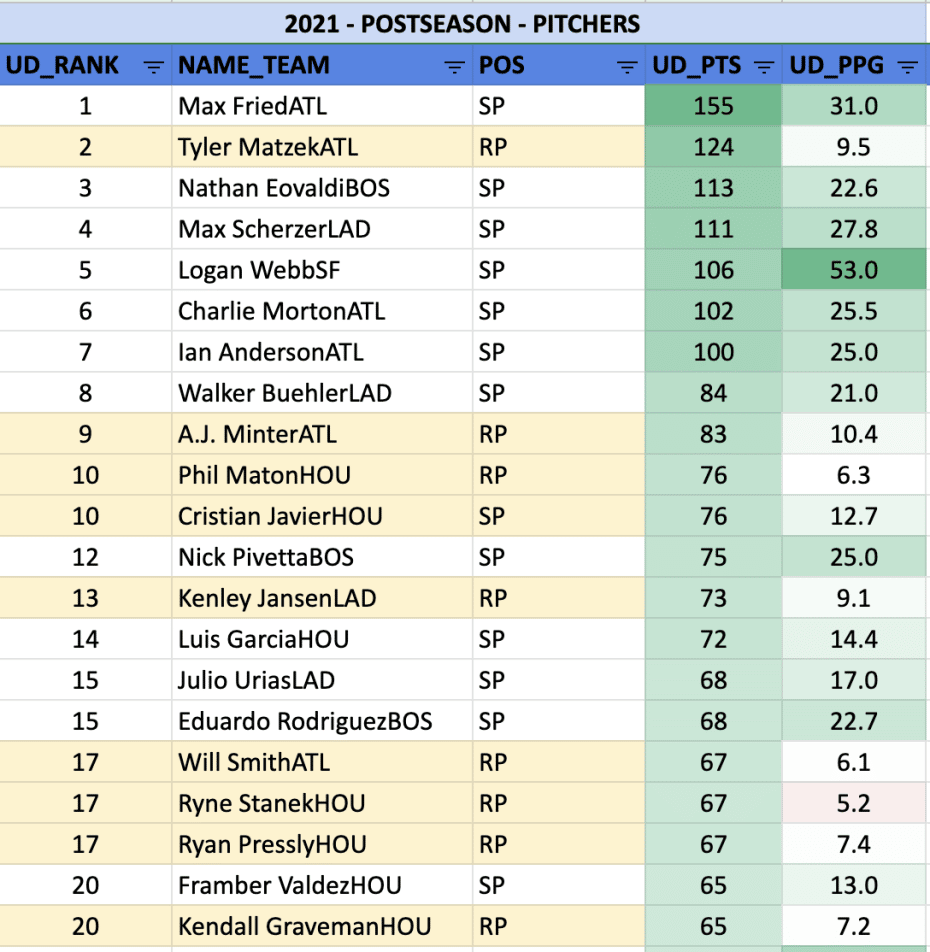 Information courtesy of discord member "B3isbol". Follow him at @B3isbol on Twitter.
*One thing to note is note is HOU/ATL had a lot of injuries to their starting rotations which could be a factor to these stats. Last year could be an outlier, but this still something to keep in mind.
With Round 1 being WC&DS combined, we have more top-tier SPs and hitters to choose from which will likely score more than a RP from a team. A big talking point will be whether to draft another SP/RP from our stack, or an Ace from another team.
Another thing to mention is having a Starting Pitcher with two starts in a single round could be extremely important. Frontline starters are more likely to get two starts in a single round, but there are always circumstances where teams use SPs in a long reliever role. Both things are very hard to predict, of course, so we are better off betting on talent and hoping for more traditional usage
The balance between starting pitching and relief pitching is something I will continue to touch on in future articles and streams. Be on the lookout for future articles that include team-by-team breakdowns, top stacks, and more!