The NBA season is approaching, which means it's NBA Best Ball Draft Season. NBA Best Ball offers a variety different tournaments and sites for us to play, so let's go ahead and dive into all the important aspects that we need to know to get started.
Site Format
Maybe the most important part of NBA Best Ball actually has nothing really to do with basketball at all. We are lucky enough to have 3 main sites with NBA Best Ball tournaments (Underdog, Drafters, DraftKings), but they all offer slightly different variables, whether that be overall format, scoring or something else. Those different variables can have huge, and often underrated, impacts on strategy for each site.
Playoff vs Cumulative
The first key difference to note is whether or not the site you are playing on is a Playoff Format or Cumulative Scoring format. Both Underdog and DraftKings are playoff formats, meaning you compete against the 11 other teams you drafted against for the regular season. After the regular season, the top 2 teams on DraftKings and the top 3 teams on Underdog in your 12 team league will advance to the playoffs.
(The Playoff Schedule is just *slightly* different for the two sites, but a future article will cover that)
Once you advance, then you have to navigate your way through 3 more playoff rounds.
Here's an example synopsis from Underdog's rules: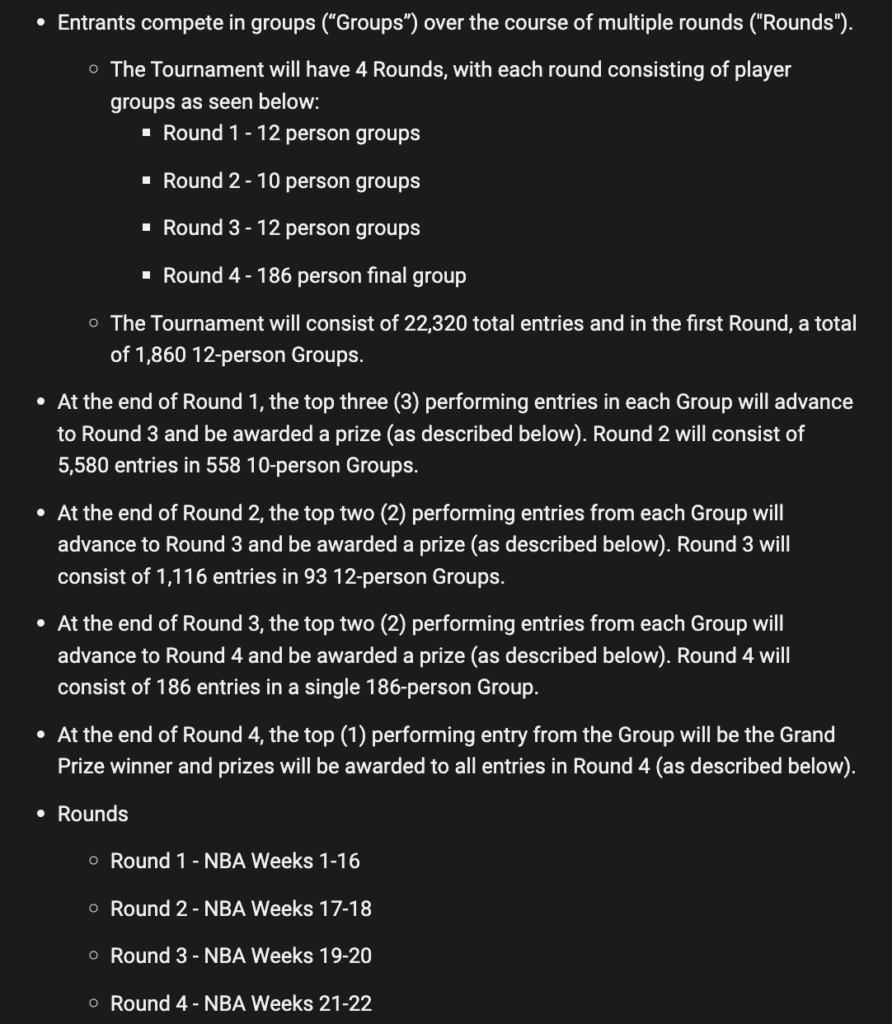 On Drafters with cumulative scoring, it's more straightforward. Draft your team, score the most points against everyone in the tournament over the entire season. That's it.
Scoring
Each site has it's own minor differences in scoring that
Underdog: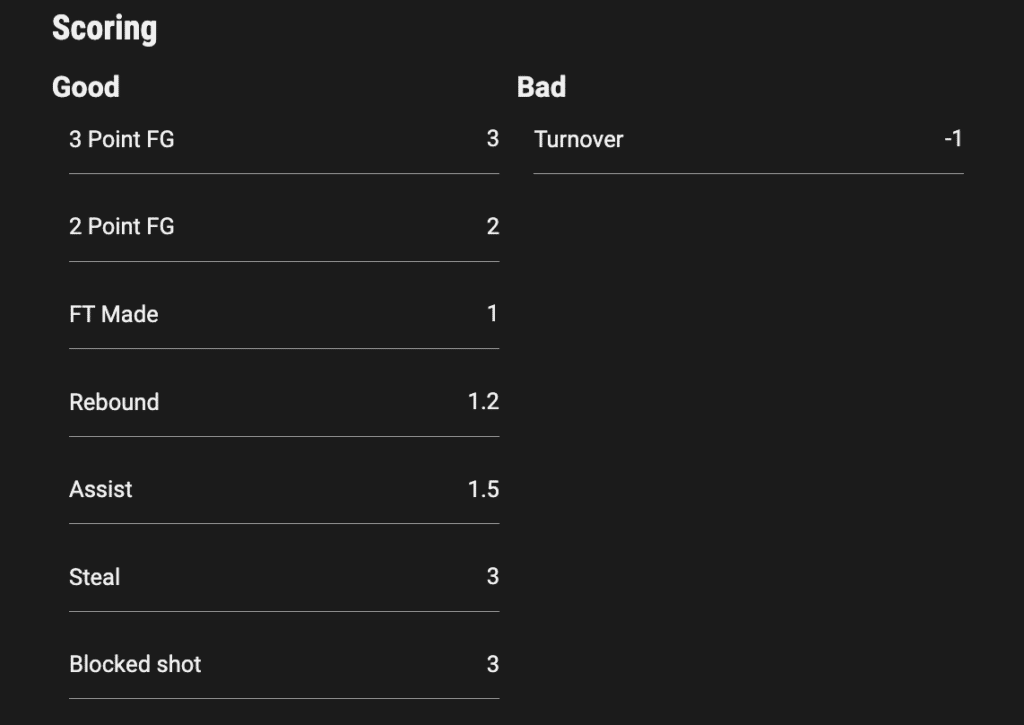 DraftKings: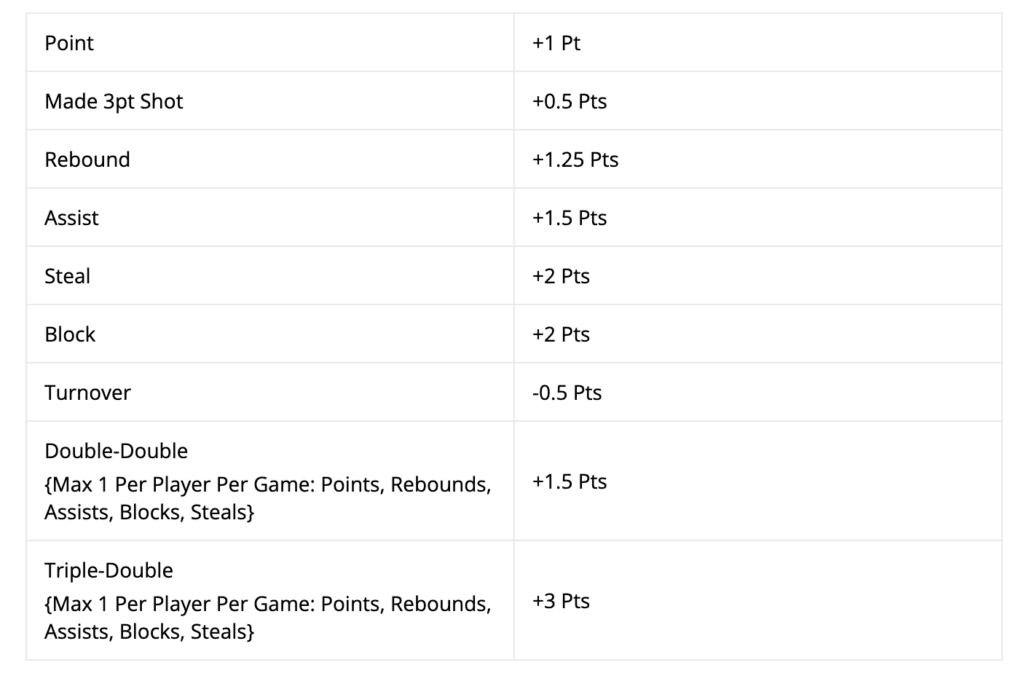 Drafters: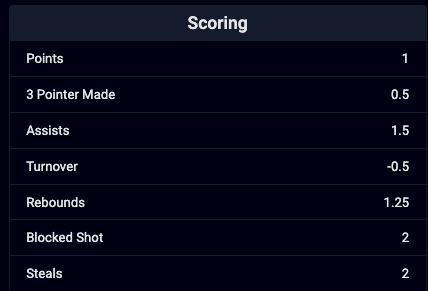 Scoring Summary:
DraftKings has Double-Double & Triple-Double Bonuses
Underdog has 3 points (compared to 2) for steals and blocks
DraftKings AND Drafters have -0.5 for turnovers, Underdog has -1 for turnovers
DraftKings AND Drafters have 0.5 bonus for 3 Pointers Made
Rosters
Each site has minor differences in your rosters
Total Players Drafted:
Underdog – 16
DraftKings – 16
Drafters – 18
Underdog Starting Lineup:
2 Guards
2 Wings
1 Center
1 Flex
DraftKings Startling Lineup:
2 Guards
2 Forwards
1 Center
2 Utility
Drafters Starting Lineup:
2 Guards
2 Forwards
1 Center
3 Flex
General Strategy
This applies to basically every Best Ball sport, but possibly none more so than basketball.
"Wherever your team has a lot of quality, draft less quantity. Wherever your team is lacking in quality, draft more quantity."
I think very frequently in fantasy sports, folks will focus on one of two things:
Just picking their favorite players & ignoring roster construction or other factors
Focusing on making sure they have a balanced roster
At the end of the day, yes you have to draft players who perform well (and of course we will help with that here). And yes, you need scoring from all positions on your roster, but you can optimize for that by following that above rule. In all forms of fantasy sports, but especially best ball, many of the best teams are not the ones you looked at immediately after the draft and said, "Man, I love that team."
That's because players emerge that were unexpected, players fall off in production and of course players get hurt. We are going to have teams that get hit by the injury bug or other problems, but if we "draft like we're right" on every team, the times that we ARE right those teams will be set up much better than our opponents.
Here's an example: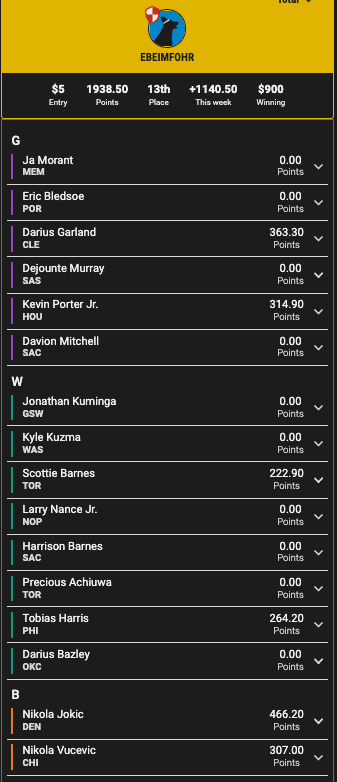 No, I did not win the Small Ball NBA Best Ball tournament on Underdog last year, but my best team was very much in contention. It ended up finishing 13th (I may never forgive Ja and Dejounte for not playing at the end of the season, but alas), but it was an example of the aforementioned principles. I selected Nikola Jokic 2nd overall, and subsequently drafted Ja Morant and Nikola Vucevic at the 2/3 turn. If I was right about those 3 players, I would have a superstar guard, superstar center and another high scoring center that will often be in the flex for me.
But what that mean is that I still needed a little more help at guard, which is why I loaded up middle round high upside players like Dejounte Murray, Darius Garland and Kevin Porter Jr. I was going to be weak at the wing position, with just Tobias Harris as my first wing in the 5th round, so I backfilled that lack of high end quality with a lot of quantity, drafting 8 total wings. Luckily for this team, Scottie Barnes emerged as a potential star and Kyle Kuzma had a big fantasy season, with the likes of Harrison Barnes and Precious Achiuwa filling in some helpful scoring over the course of the season. Because I was "right" about those breakout guards and 2 stud centers, it allowed me to make up for this lack of high end firepower at the wing position through quantity. And then you just need a little luck with players like Kuzma.
We'll be getting A LOT more into roster construction strategies and other strategies here in subsequent content, but the overarching theme of almost everything is based on these principles.