Underdog Fantasy has become wildly popular due to their massive Best Ball contests as well as their Pick 'em games, but their daily snake drafts are another incredibly fun option for fantasy drafters. Their NBA drafts (or Battle Royale as they call it format) are incredibly simple, and they give you a shot at 4 or 5 figure winnings every single day. 
All you have to do is draft 6 players from the games taking place that night in the NBA in a traditional snake draft against 5 other users. No positional requirements. No salary cap. Your team of 6 players competes against every other team of 6 drafted that day in that tournament for your share of the prize pool, which typically pays out approximately 20% of the field with 20-25% going to first place. 
Underdog offers a variety of options each day with single entry, double entry and multi entry contests available. Their player scoring is also incredibly simple: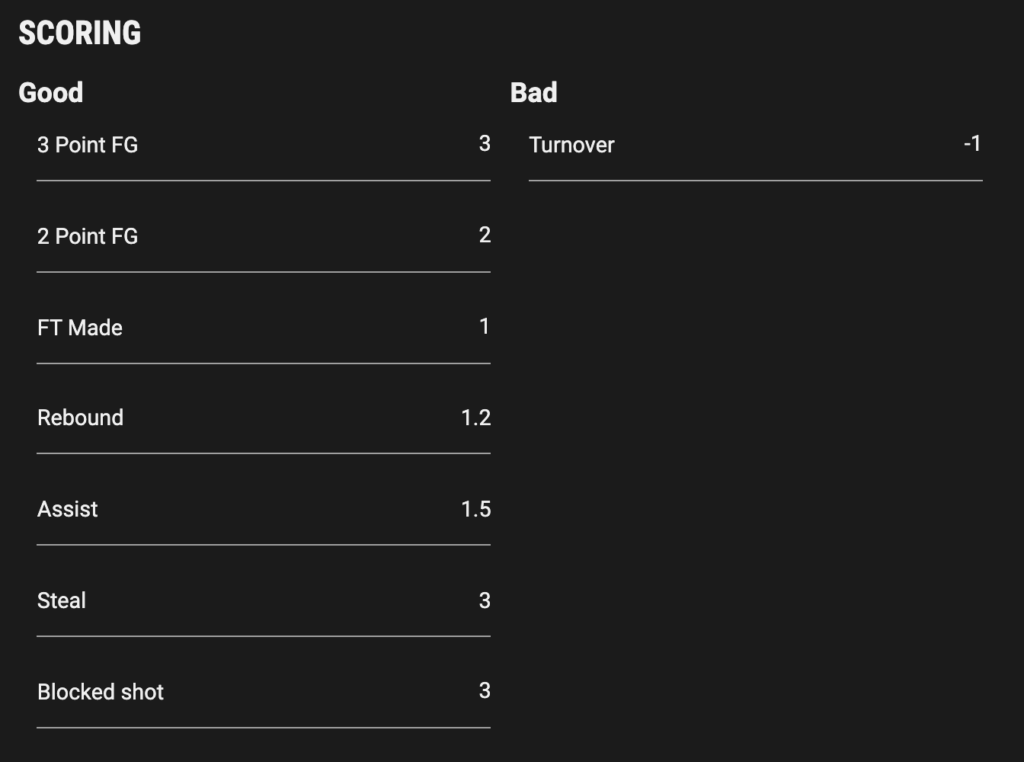 Below are the additional details and rules provided by Underdog for their general Battle Royale contests, as well as their Daily NBA specific contests: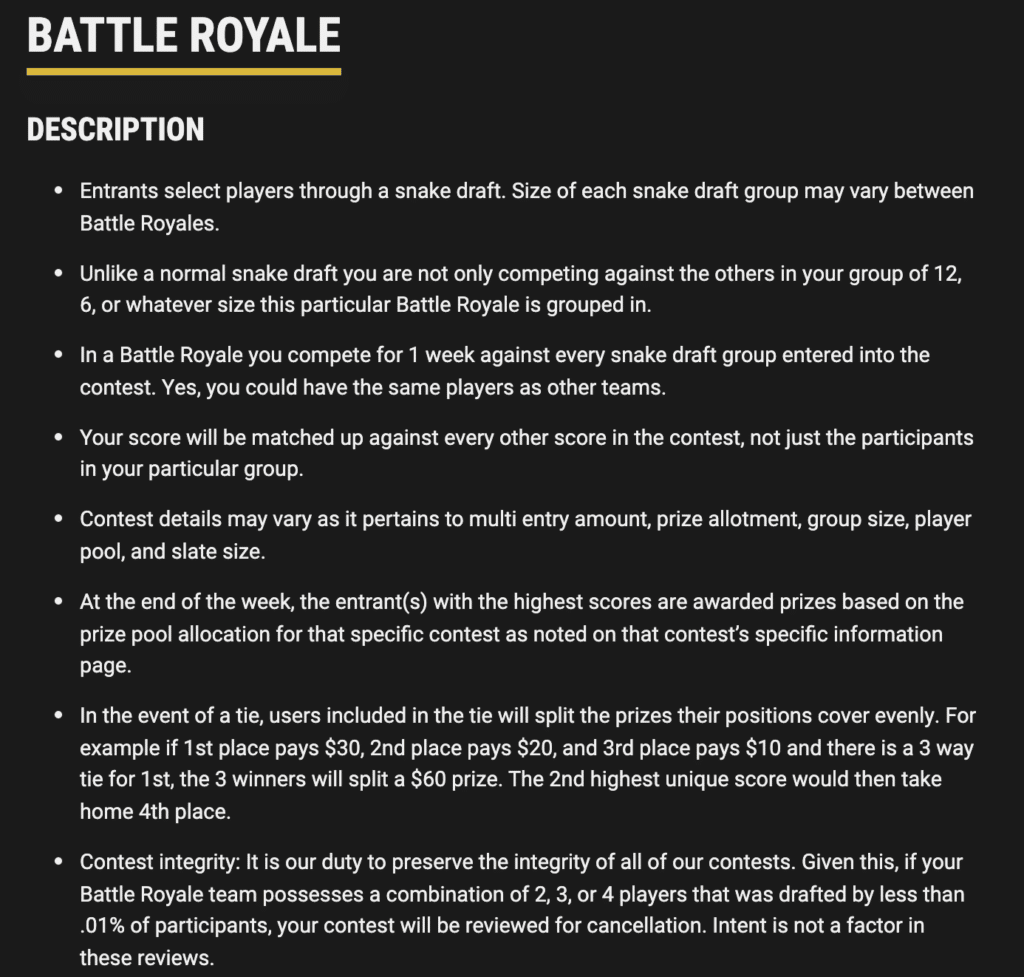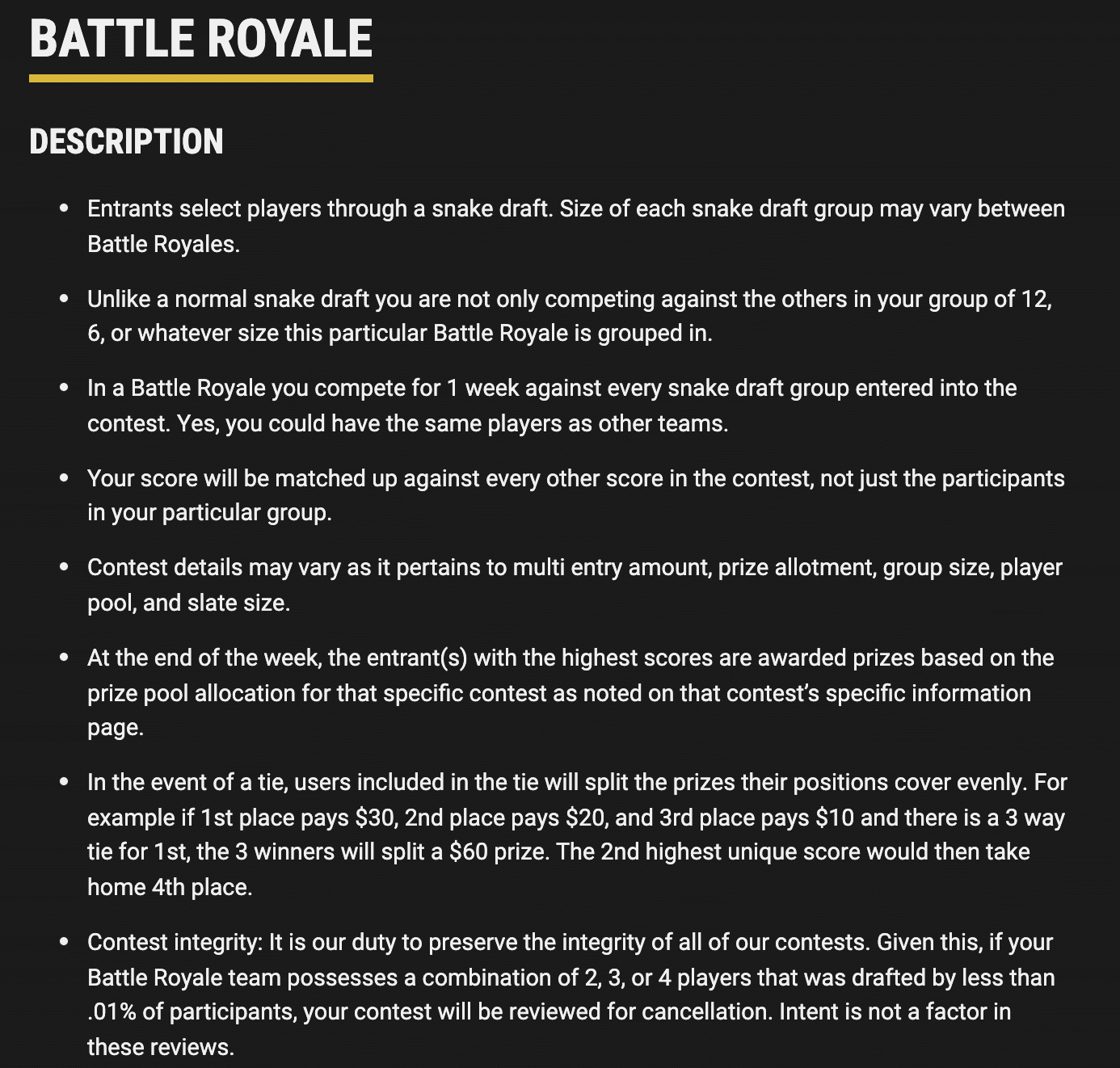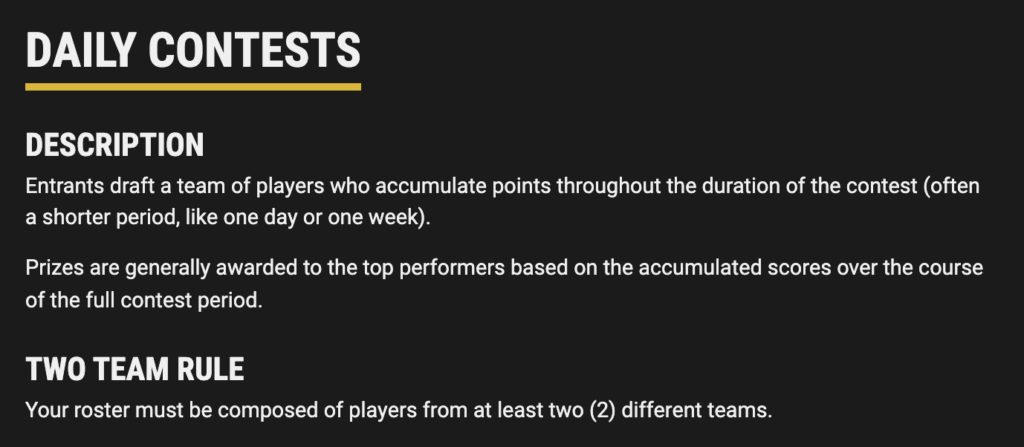 Let's dive into the strategy for today's contests. Much of the strategy for today is driven by the incredible Daily NBA Projections from the RotoGrinders team. If you'd like to subscribe to the full set of projections for every player and team, head to RotoGrinders NBA Premium , which includes fantasy point projections and daily fantasy ownership projections for sites like DraftKings, Fanduel, and Yahoo, as well as LineupHQ Optimizer access and much, much more.
Underdog Fantasy Daily NBA Battle Royale Contest Strategy for March 1st, 2022
Top Options
There are some very clear tiers at the top today, starting with Luka Doncic. Luka is on a tier of his own tonight as really the only true fantasy superstar (doesn't hurt he's playing the Lakers either). After him, Lebron James largely stands alone in his own 2nd tier as well. Without AD, Lebron has to shoulder so much burden (& play heavier minutes) just to keep the Lakers competitive. Then there is a fairly wide open 3rd tier, headlined by Stephen Curry. Without Klay Thompson and Draymond Green, I think a case could be made to put Steph with Lebron (or even ahead of Lebron) in the 2nd tier because of just how much more he has to do for this team.
Undervalued and Overvalued Players
Scottie Barnes – This could probably just be labeled "The Raptors", but Barnes is the poster boy. Even if Fred VanVleet returns here, the absence of OG Anunoby creates to much upside for all these Raptors, but particularly Barnes. We know Nick Nurse keeps a super tight rotation, and Barnes is a lock for upper 30s minutes without OG, and maybe even 40+. The matchup is pristine against this terrible Nets defense, and all of these Raptors make for incredible high upside, high floor picks today.
Cade Cunningham – Cade has been a frequent "undervalued" guy in this section, and that is again true today. He's a rookie on a bad team, so some of the variance of those factors keeps his projection down on Underdog, but his underlying rates are elite. He has 5 category upside and a huge usage rate that makes him easily a top 15 option.
Karl-Anthony Towns – This is splitting hairs a bit because KAT is still a top 4-5 option, but he is not quite the high upside superstar we've maybe come to expect. He's a great fantasy asset, but with D'Angelo Russell and Anthony Edwards in town, KAT has often been the guy willing to take a few less shots and less usage this year. Last game is a great example where they won a close game, but KAT carried the 6th highest usage rate on the team. He's a willing passer, and Jared Vanderbilt's rebounding takes away some of his previously big rebounding totals. He's still KAT, but he's not quite as elite of an option as he once was at the high end.
Injuries and Situations to Monitor
Lebron James/ Anthony Davis – We know that AD is out (again), but Lebron is questionable. Lebron played in the Lakers last game, and the entire burden of the offense was on he and Russell Westbrook. Lebron had a 37% usage rate and RWB was 34%. The team, however, got blown out by a Pelicans team that is certainly worse than tonight's Mavs. It's must win time for the Lakers, but this team is not very good.
Fred VanVleet / OG Anunoby – OG is out with a finger injury, and VanVleet is questionable tonight. Fred missed last game, and Malachi Flynn started in his place and had a very strong fantasy game. The star of the show was Scottie Barnes with a monster 65+ fantasy point performance despite sitting most of the 4th quarter due to a blowout of the Nets. All the Raptors would be very strong at their cost if VanVleet were to miss again.
Kevin Porter Jr. – KPJ is questionable with an illness, and if he were to miss again it would open up Dennis Schroder to be a very strong pick. In their last game without KPJ, Schroder started and played just under 38 minutes, making him an excellent late round pick if KPJ does miss.
Good luck!