Underdog Fantasy has become wildly popular due to their massive Best Ball contests as well as their Pick 'em games, but their daily snake drafts are another incredibly fun option for fantasy drafters. Their NBA drafts (or Battle Royale as they call it format) are incredibly simple, and they give you a shot at 4 or 5 figure winnings every single day. 
All you have to do is draft 6 players from the games taking place that night in the NBA in a traditional snake draft against 5 other users. No positional requirements. No salary cap. Your team of 6 players competes against every other team of 6 drafted that day in that tournament for your share of the prize pool, which typically pays out approximately 20% of the field with 20-25% going to first place. 
If you haven't yet signed up for Underdog Fantasy, you can use Promo Code 'SPIKE' to receive a 100% Deposit Match on any deposit up to $100. 
Underdog offers a variety of options each day with single entry, double entry and multi entry contests available. Their player scoring is also incredibly simple: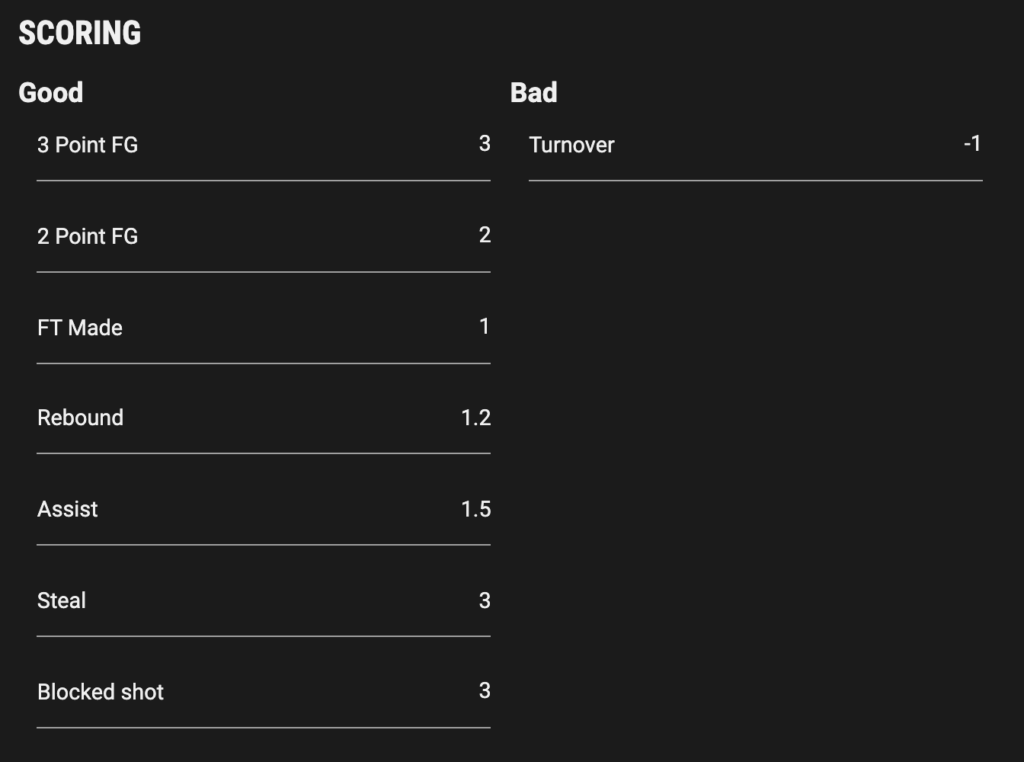 Below are the additional details and rules provided by Underdog for their general Battle Royale contests, as well as their Daily NBA specific contests: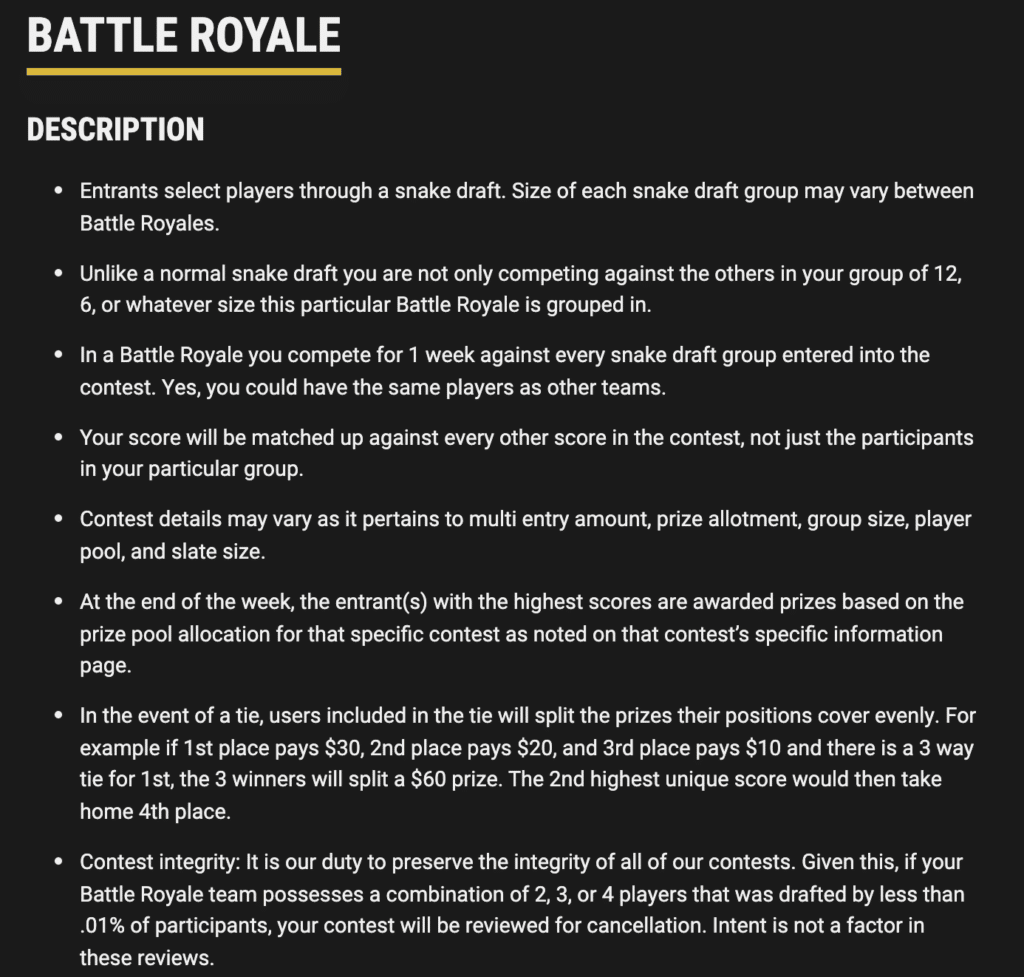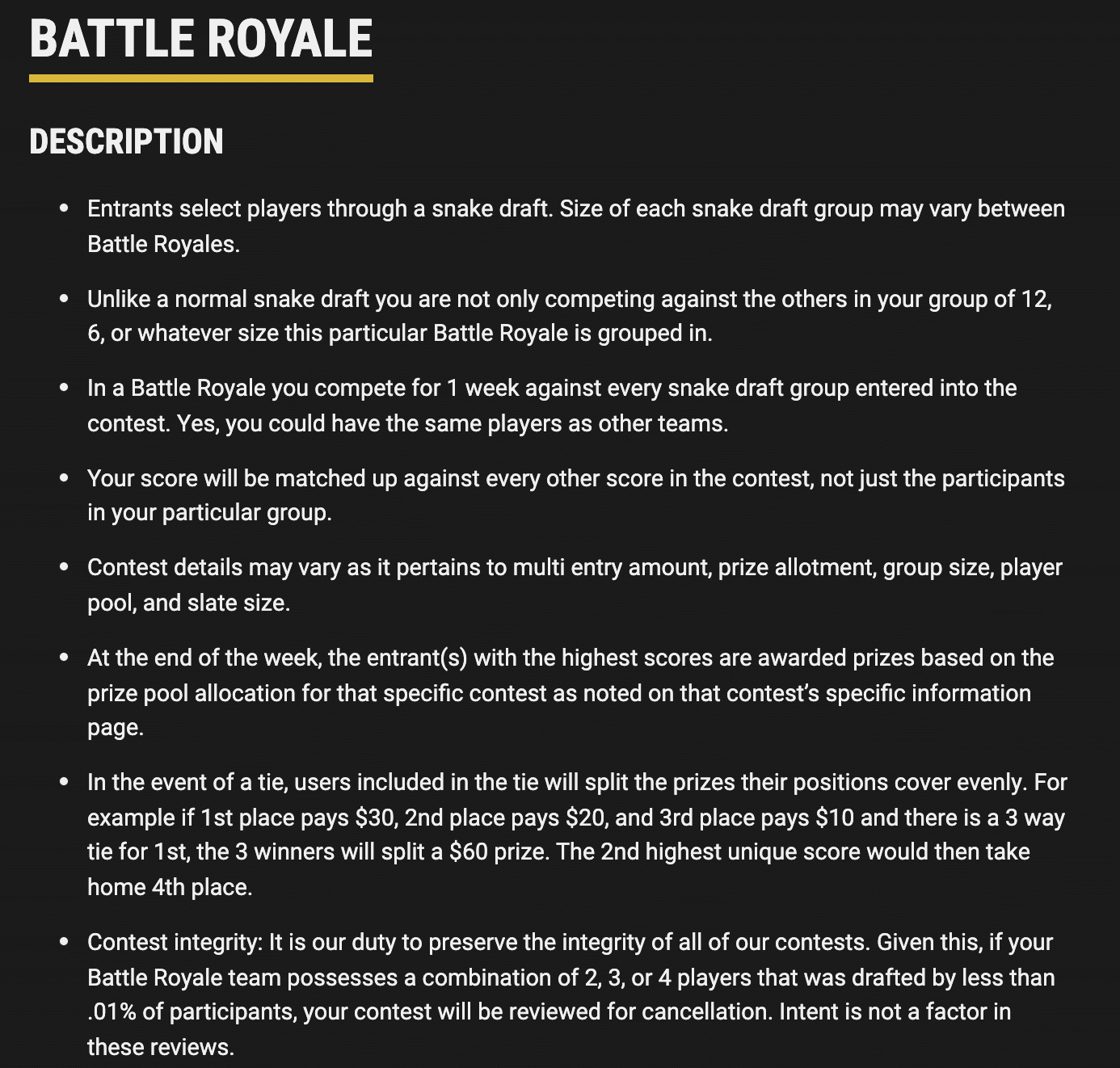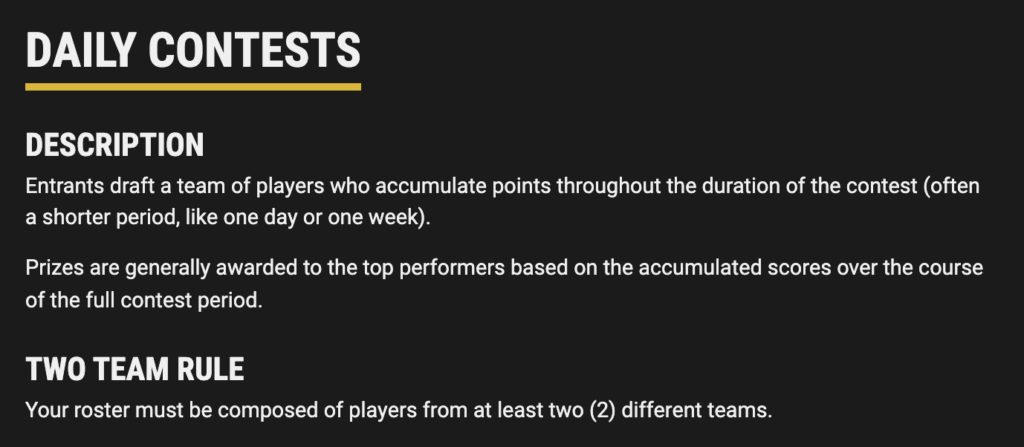 Let's dive into the strategy for today's contests. Much of the strategy for today is driven by the incredible Daily NBA Projections from the RotoGrinders team. If you'd like to subscribe to the full set of projections for every player and team, head to RotoGrinders NBA Premium , which includes fantasy point projections and daily fantasy ownership projections for sites like DraftKings, Fanduel, and Yahoo, as well as LineupHQ Optimizer access and much, much more.
Underdog Fantasy Daily NBA Battle Royale Contest Strategy for February 10th, 2022
Top Options
Tonight brings a fun 7 game slate, but there's one major obstacle… the trade deadline. Today is the trade deadline, and it's extremely likely that a trade (or several) totally shake up our rankings and draft strategy today. The biggest variable by far is James Harden. Rumors are swirling on him being traded, but luckily for us he has already been ruled out tonight. That puts Kyrie Irving near the top of our list today behind Giannis Antetokounmpo and Luka Doncic. Giannis/Luka are a bit of a tier by themselves, and then it's fairly wide open. We'll see what the deadline brings, but Pascal Siakam, Jimmy Butler, Ja Morant, Chris Paul, Devin Booker and Steph Curry all fill out a strong second tier.
Undervalued and Overvalued Players
Kyle Kuzma – Kuz has had a couple of down games in the last two in brutal matchups, which should give us the perfect opportunity to buy low against a ravaged Nets team that could be without even more pieces if they do in fact make a trade. Kuz is not far away from that above mentioned second tier, but UD's projections don't value him that way.
Spencer Dinwiddie – Dinwiddie has had a lot of downs lately for the Wizards, but this is the perfect spot for an "up". Bradley Beal is out for the season, and Dinwiddie gets a revenge spot against his former team, the Nets. He showed just two games ago that his upside is very much still there without Beal, so as long as he's still on the Wizards tonight, he makes for a great late round pick.
Brandon Ingram / Jonas Valanciunas – These two aren't massively overvalued in our rankings currently, but I wanted to point out the addition of CJ McCollum is definitely going to take the ball out of their hands more. There might be enough to go around, but DeVonte Graham is still there as well, and you're just not getting the type of discount I'd like to see on Ingram/JoVal given the CJ addition.
Injuries and Situations to Monitor
Trade Deadline – Outside of James Harden being out, there aren't a ton of injuries to monitor. The obvious storyline of the day is the trade deadline. There are almost certainly going to be things we can't foresee happen, and I will be sure to update our rankings to account for all the activity this afternoon after the deadline passes.
Just for reference, there have been trade rumors on a ton of guys, including maybe some names we wouldn't expect. Many of these players may be very low probability of being traded, but important to at least have in the back of your mind nonetheless. Below are names that have been floated in trades that could impact drafts –
James Harden, Spencer Dinwiddie, Jalen Brunson, Mitchell Robinson, Cam Reddish, Nerlens Noel, Christian Wood, Eric Gordon, Kyle Anderson, Jerami Grant, Evan Fournier, Robert Covington, Donte Divincenzo, Chris Boucher, and likely more to come.
Good luck!