Drafters Fantasy helped kick off what is sure to be the most epic fantasy football summer of all time with the launch of their $1 Million NFL Best Ball Championship tournament this week. Yes, that's another Best Ball tournament with $1 Million in prizes, and this one has a $250,000 Top Prize.
The great thing about Drafters is that it offers a slightly different format from the rest of the Best Ball space. It's what I call a "Cumulative Format" as opposed to the "Playoff Format" of Underdog, DraftKings and FFPC. All that really means is this:
Enter a 12 team draft

Draft your team of 20 players

(Hopefully) score the most points of any other team in the entire tournament

Profit (big time)
There are no fantasy playoffs, no "advance rates", no week 17 game stacking. Just the team(s) with the most points over the 17 week fantasy football season win. There are a few other small differences (like Full PPR), but you can read about those here in our Drafters General Strategy.
We also have both Top 250 Overall Rankings and Positional Tiered Rankings available for FREE (for now) specifically geared towards Drafters format. Drafters is also offering a free $20 ticket (which you can use for a shot at that $250,000 prize) for any first time deposit of $10 or more. Just click here & sign up.
We know that due to the cumulative scoring we need to make sure we aren't sacrificing too many early season points, but we also need to maximize our overall upside in our team. Super early in this contest, I've found the ADP to be pretty efficient. However, I think there are a few guys we should really be smashing in drafts right now until they become appropriately valued.
David Bell – WR, Cleveland Browns
Spike Week Rank – 118th Overall

Drafters ADP – 202nd Overall
Bell perfectly summarizes the ideal pick on Drafters. We know that Full Point PPR is a big boost to Wide Receivers. We know that rookies/young players frequently offer the type of upside, for their cost, that can propel us to winning best ball seasons. The problem for many rookies on Drafters is that they may be quite slow out of the gate. Amon-Ra St. Brown was valuable in any format of best ball last year, but definitely less so on Drafters where he was not providing you anything until very late in the season. Early weeks count just as much as late weeks in this format.
The landing spot for Bell, however, offers him the unique ability to be a useful fantasy asset from day one. The Browns have a wide open depth chart at Wide Receiver, with just veteran Amari Cooper as a locked in starter. Underdog's Josh Norris mentioned to me yesterday that the Browns plan to play him in the slot, which should get him on the field right away and add to his PPR value. Whenever Deshaun Watson is able to play, he will provide elite level QB play that elevates the entire offense, and Bell was an underrated prospect, too.
Bell was one of my "Hot Takes" for the season where I said he'd be the rookie WR1 and the Browns WR1. I get that's a little spicy, but Bell's profile was exceptional aside from a poor combine.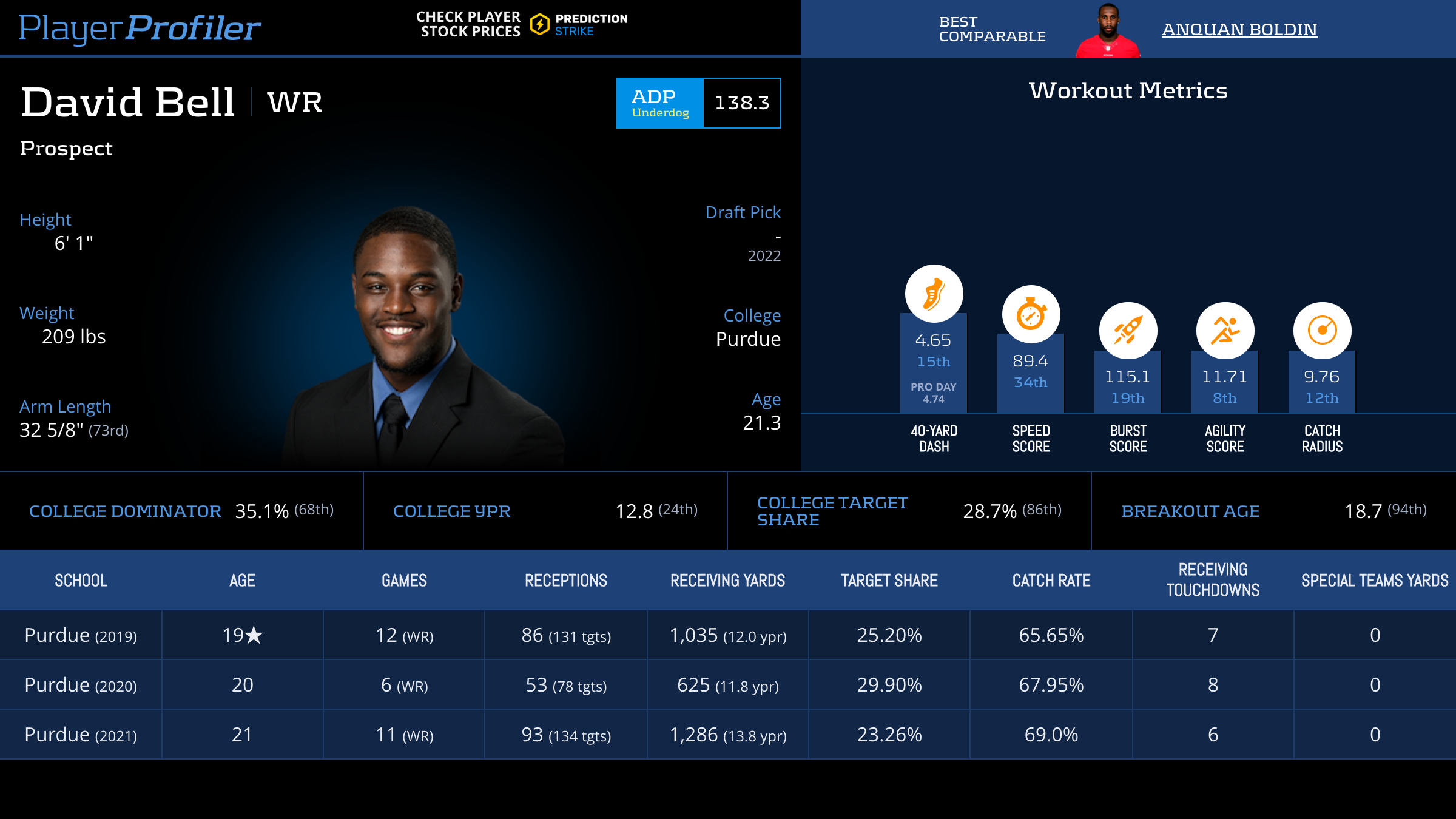 From that piece – 
"Age 19 breakout despite playing alongside Rondale Moore in the Big Ten, early declare, elite college production, good size and dominator rating (69th percentile, nice). The speed/athleticism had some spooked, but his best comp on PlayerProfiler is Anquan Boldin, which is one of the more perfect comps I can remember (who ironically also absolutely crushed as a rookie)."
I'd also liken his game somewhat to that of Keenan Allen, as well. And all of that comes together to make a pick on Drafters that is massively undervalued right now.
James Conner – Running Back, Arizona Cardinals
Spike Week Rank – 15th Overall

Drafters ADP – 34th Overall
Conner has been one of the biggest fantasy winners of the entire offseason. It's certainly still possible that the Cardinals bring in a free agent running back, but the market is pretty thin now, and even the likes of Sony Michel would still keep Conner's role looking pristine heading into 2022.
We saw when Chase Edmonds got hurt last year that Conner was one of the top RBs in all of fantasy. He already had an elite goal line role (8 TDs in 8 games prior to Edmonds' week 9 injury), but he took over as a total workhorse. 

In the 5 games without Edmonds, Conner racked up:
86% of snaps

17 carries per game

18 Red Zone carries

7 Inside the 5 carries

16% Target Share (26 total targets)

572 Total Yards

9 Total TDs (2 receiving)
That's insanity. He was the RB2 in PPR scoring during that stretch only behind Jonathan Taylor.
Of course, we can't just extrapolate those numbers into 2022, but it's an indicator of the ceiling we are talking about here. The ceiling is near the top of the RB ranks, but he is drafted in the middle of the 3rd round.
The downside you'll frequently hear on Conner is the injury risk. He has essentially gotten hurt every year of his career, including last year. It's completely valid! And on sites like Underdog where you absolutely need your premium investments available for those ever important playoff weeks, it becomes a bit trickier. 
But on Drafters with the cumulative scoring, that injury risk is slightly lessened. Of course we don't want our 3rd round pick to get hurt, but if Conner plays most (or even half) of the year, his upside can be more than enough to catapult you to a cool $250,000, especially given the fact that most RBs are going to miss games anyway.
Marquez Valdes-Scantling – Wide Receiver, Kansas City Chiefs
Spike Week Rank – 93rd Overall

Drafters ADP – 121st Overall
MVS is an extremely polarizing player around fantasy circles and rightfully so. In his time with Green Bay, we saw about an equal amount of big plays from him as we did dropped passes on 80 yard touchdowns that resulted in Aaron Rodgers being caught cursing by the TV camera.
But that's precisely what makes him such an incredible best ball pick.
Despite the up and down play, Aaron Rodgers unwillingness to make risky throws, and the obscene target share commanded by Davante Adams, MVS was still valuable in Best Ball. In PPR scoring, he has put up at least 15 PPR points in 8 games over the last two seasons. In 27 games played while averaging just 4.4 targets per game from Rodgers, he had 8 "big" games, including 6 games of at least 19 PPR points.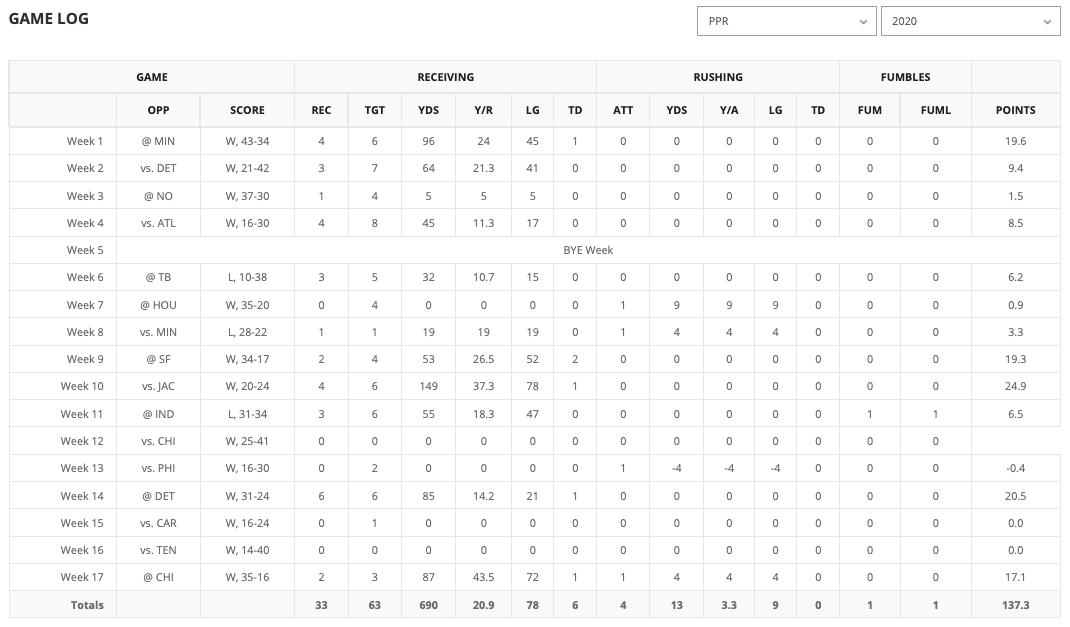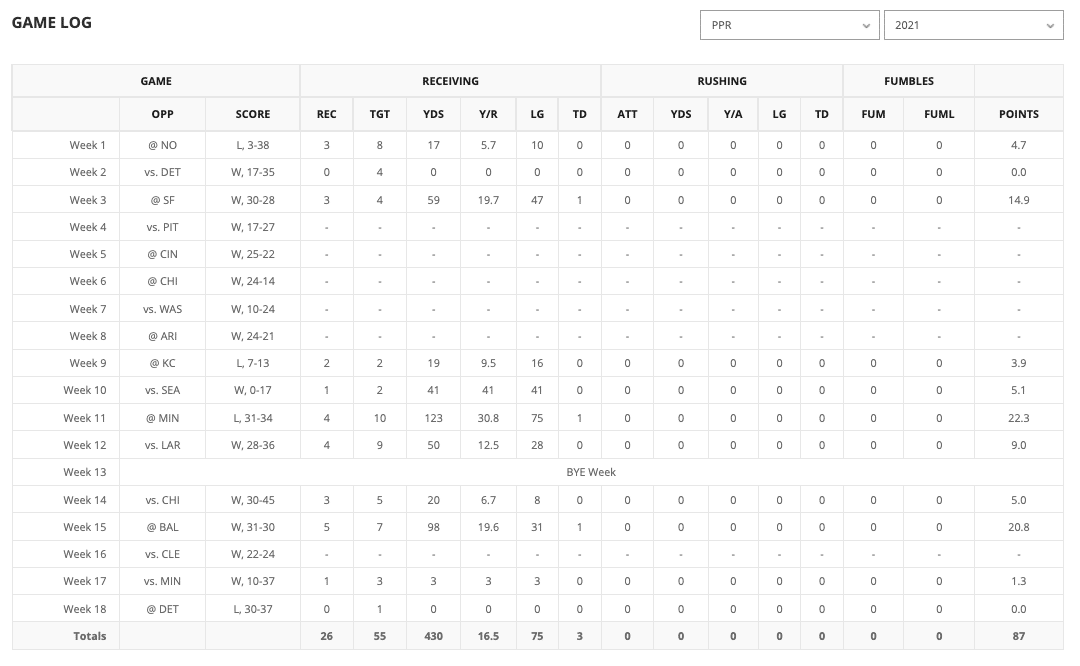 Now, MVS moves on to the Chiefs, signing a 3 Year, $30 Million deal this offseason. JuJu Smith-Schuster and trendy rookie Skyy Moore join him in KC, and they'll (in combination with Mecole Hardman) replace last year's group of Tyreek Hill, Byron Pringle and DeMarcus Robinson. 
Amongst those 3 losses, they leave behind 41.15% of Chiefs targets from 2021, with Hill obviously being the biggest loss (26.22%). That's 41% of what was 675 attempts last season, or 277 total targets. Kelce and Hardman already had 130 and 72 last season, respectively, so even if they pick up a few we are talking about a HUGE number of targets left behind. Targets from Patrick Mahomes in the Chiefs offense.
And maybe the Chiefs take a step back without Tyreek, but that's what is perfect about MVS. He doesn't need the Chiefs level efficiency OR the volume to be an incredibly useful fantasy asset because of the way he scores points. He is, of course, not the same player as Tyreek Hill, but he's the one player in the Chiefs skill group that wins down the field.
Despite the narrative of the "2 Shell" defense limiting the Chiefs, Mahomes was still slinging it down field. He finished the year with 76 passes (per PFF) 20+ yards down the field, tied with Kyler Murray for 7th most in the NFL, and he was the 8th highest graded QB on those throws (ahead of MVS's former QB, Rodgers).
Given his archetype, the leftover targets, and the offense + QB he is now in, I don't see a way in which MVS isn't an extremely useful fantasy asset in 2022, barring injury. Even if Kelce, JuJu and Skyy end up dominating the targets, he's still going to pop up for multiple spike weeks (no pun intended) just by being Patrick Mahomes deep threat.
And the crazy part is, what if he's better than we think? We've typecast him into strictly a deep shot weapon, and it's probably likely that's just what he is. But what if Green Bay and Rodgers pigeon holed him into that role, and Rodgers lack of trust in him (and insane trust in Davante) held him back from producing in a more robust way.
I don't know exactly what probability or odds I'd put on MVS breaking out to be the go-to guy on the outside and 2nd option to Kelce in this offense, but no matter what we think of him, that is absolutely in the range of outcomes. And that would be something crazy like a 75 catch, 1200 yard, 10 touchdown season. 
Available well beyond the top 100 picks on Drafters. Sign me up.