The NBA season is off to a WILD start with multiple tanking teams exceeding expectations, some theoretically contending teams struggling and most importantly our rankings and projections hitting big yesterday on the short 4 game slate. Shoutout to our very own discord member for crushing last night's NBA Battle Royale tournament on Underdog Fantasy with a tie for 2nd place and a cool $3,750.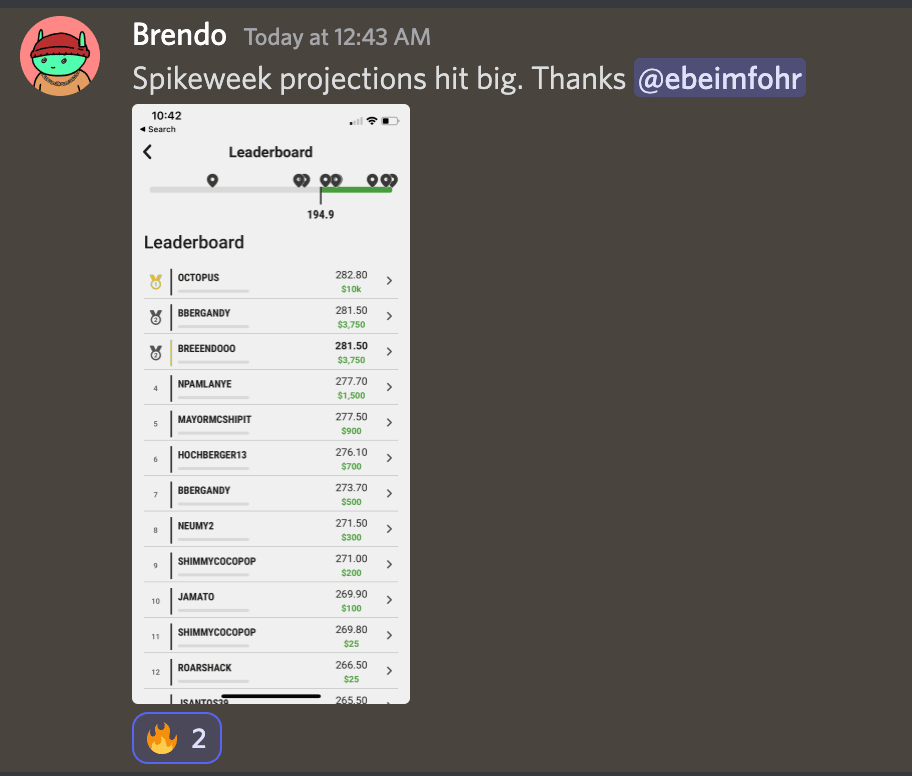 Before we dive in, don't forget to check out our FREE Rankings for NBA Battle Royale and Snake draft tournaments every day. These rankings are where a lot of the analysis here gets derived from, and they're based off both median and ceiling projections to put the most accurate rankings together for your chance to win these tournaments.
Let's dive in.
NBA Battle Royale & Snake Draft Strategy for October 26th, 2022
Top Options
While Doc Rivers has been vocal about scaling back Joel Embiid's minutes, there has become a bit of a gap between he and the top 2 options – Giannis Antetokounmpo & Nikola Jokic. The projections still have Embiid for more normal minutes, but with a little foul trouble and possibly a little scaling back, we saw just 28 minutes from Embiid last game. It's possible his teammate James Harden could even surpass him for 3rd overall today.
You could probably make a case for Lebron James over Embiid as well given what he's having to do for the Lakers right now, and the fact that Russell Westbrook is doubtful to play. He and Anthony Davis are both extremely strong tonight, and they combine with Pascal Siakam to create a little mini 2nd tier that is not *too* far away from the top tier.
Beyond that is where things start to open up. I might argue Kyrie Irving, Trae Young and Dejounte Murray are in another mini 3rd tier, but regardless it definitely opens up somewhere quickly after Siakam.
Undervalued and Overvalued Players
Kelly Oubre – Making Kelly Oubre a top undervalued player on a big slate certainly never feels great, but his upside at his cost is the best in drafts today. Without Rozier last game, he led the Hornets in usage at just under 30%. He also nearly double-doubled, and he poses big steals & blocks upside on a nightly basis. He is our 27th ranked player, but frequently goes undrafted on Underdog.
Damian Lillard – Despite winning Western Conference Player of the Week with an unreal string of performances last week, Dame is simply a bit too expensive here tonight. He's been awesome, and he's carrying the Blazers to an impressive 4-0 start, but he's running into a slow Miami Heat team with a high end defense tonight. There are just other stars in better spots tonight at his cost. He is our 17th ranked player, but his ADP is 11th.
Injuries and Situations to Monitor
Russell Westbrook – The Lakers are 0-3 and have a tough matchup with the Nuggets, and the fit with Westbrook clearly hasn't gotten any better. So it'll be all on the shoulders of Lebron and AD tonight with Westbrook doubtful.
Scottie Barnes – Scottie is questionable to play, and if he's out again it locks in Siakam to his top 8 status, but it sneakily gives a big boost to Fred VanVleet, whose usage jumped to 25% last game without Scottie.
Devin Vassell – Vassell is one of the only higher usage players on the Spurs, and he's doubtful to play. That should mean big time usage for Keldon Johnson who already took 20 shots last game even with Vassell in.
Terry Rozier – Rozier is again doubtful to play tonight, which makes all of Dennis Smith Jr. Gordon Hayward and Kelly Oubre viable upside shots in the last couple rounds despite a tougher matchup, with the aforementioned Oubre being our highest ceiling and most undervalued of the 3.
Good luck!