The details of Best Ball Mania 4, including the total Prize Pool and Payout Structure were just recently announced by our good friends at Underdog Fantasy for this 2023 fantasy football and best ball draft season. It's the biggest and most unique season long fantasy football tournament ever, and Underdog hinted at it dropping immediately after the 2023 NFL Draft.
With such a unique format, a $3 Million Top Prize and such an early launch, there is a lot to consider in how we should attempt to build our teams for this tournament.
There are pros and cons to drafting Best Ball teams well before the season, and I wrote about some important elements of when to draft your teams here. But let's be honest, we all can't help it but to at least dip our toes into the waters of this exciting new tournament when it opens. It's just fun (and $15 Million is a lot of coin).
We're all excited for this new contest and the 2023 draft season, but with such a unique tournament and payout structure, what does this mean for us as drafters?
Best Ball Mania 4 Structure
In case you missed it, Underdog dropped the details of Best Ball Mania 4 (BBM4) on twitter.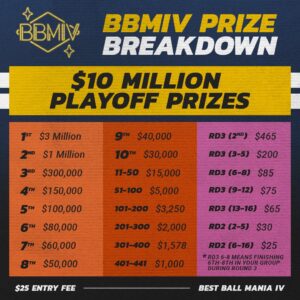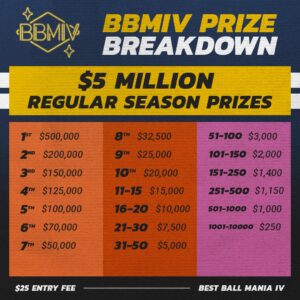 Long story short, the tournament is essentially two separate tournaments in one. $10 Million (67%) of the Prize Pool goes to the Playoff Prizes and $5 Million goes to the Regular Season Prizes.
The entry fee is $25 per team, so assuming Underdog sticks with their rake percentage of 11.3% from last year, the total entries in the contest should be 667,800. That would mean there are 55,650 12 team leagues, and 111,300 total teams that will advance out of their 12 team league.
Beyond that, Underdog announced the following advancement structure for the Playoffs:
Round 1 – Weeks 1 – 14 – 2 / 12 Advance
Round 2 – Week 15 – 1 / 16 Advance
Round 3 – Week 16 – 1 / 16 Advance
Round 4 – Week 17 – 440 Team Final
The only changes from Best Ball Mania 3 here are that Week 15 went from 1 / 10 advance to 1 / 16, and the Week 17 Final is 440 teams instead of 470 teams.
On the Regular Season side, the top 10,000 teams will be awarded a prize based on their total points scored from Week 1 through Week 14. In order to profit on the regular season side, you will need to finish in the top 1.5% of all teams in the entire tournament. 90% of those teams will receive $250 as teams that finish 1,001 through 10,000 (9k teams) are all in the same payout bucket. That totals out to $2.25 Million of the $5 Million Prize Pool for those 9,000 teams. The remaining $2.75 Million goes to the top 1,000 regular season teams, which would be an incredible top 0.1% finish in the nearly 700,000 team field, culminating in a top prize of $500,000 for the single highest scoring team in weeks 1-14.
Playoffs vs. Regular Season Structure
With 33% of the prizes awarded to the regular season (weeks 1-14) scoring, it seems at face value that we have a bit of a decision to make in terms of how to build our teams. Do we continue to go hard optimizing for the fantasy playoffs or do we downshift a little bit and try to focus on scoring more fantasy points in the regular season?
The interesting thing, however, is this payout structure isn't quite what it seems in that regard.
Technically, there are $5 Million in Regular Season Prizes being paid out to the top 10,000 regular season scoring teams. But the key here is the very last line on the regular season image above. Teams that finish between 1,001 and 10,000 will all receive $250. At first, it seems great! Just sneak into that top 10k, and you get 10x your entry fee ($25). And certainly there's no denying that's a nice little boost for these top 1.5% teams in cumulative points over the first 14 weeks.
Those teams are going to advance to the playoffs, too.
With 2 out of every 12 teams advancing out of their league, we know that if you score enough regular season points to crack the top 1.5%, you're also basically a lock to be advancing out of your 12 team league. It's nearly impossible for 3 different teams in a 12 team league to crack the top 1.5% of all teams because those total points are driven so much by certain individual players (think Josh Jacobs last year or Mark Andrews/Cooper Kupp two years ago). So in a different way, what this structure has done is moved $2.25 Million (or 15%) of the total tournament prize pool ($15 Million) from ALL advancing teams to the TOP advancing teams.
In Best Ball Mania 3, there was only one singular regular season prize. $1 Million (10% of the prize pool) to the most total points in Weeks 1-14. Meanwhile, the minimum payout for a team that advanced out of their league was $35, or $10 in profit. In BBM4, the minimum payout for a team that advances out of their league is just $25, or said another way, you get your entry fee back. If you finish 2nd through 5 in Week 15, you will receive $30, or $5 in profit.
As stated above, we know that ~ 111,300 teams will advance to the playoffs. 25% of those teams will receive $30 and 69% (nice) of those teams will receive $25. In BBM3, those two groups of advancers each received $10 more – the minimum payout was $35 and that next bucket was $40.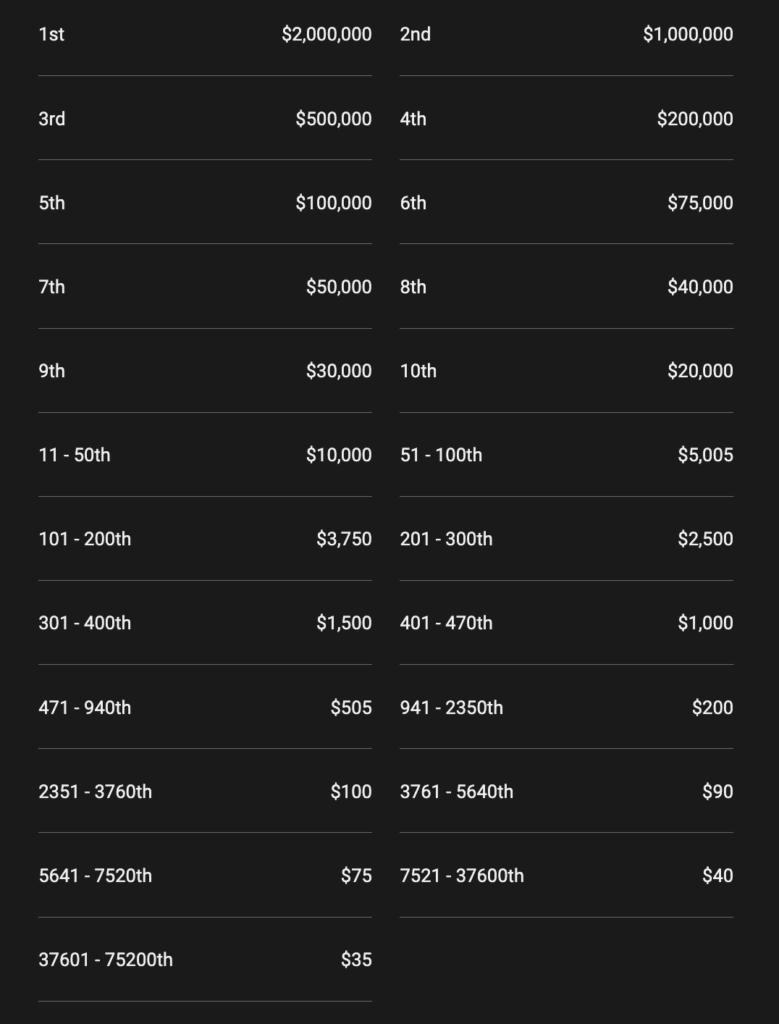 (Hang with me here, I know it's a whole lot of random numbers)
This is all important because what has really been done here is NOT as dramatic a shift in total money to the regular season as it appears at face value. For the most part, we just see an uptick in prizes to the very top (top 1,000) regular season teams from 10% last year to 27.5% this year. Then, there's just some shifting around of funds from all advancing teams to these 9,000 advancing teams AND to 1st Place overall in the Playoffs.
That's because those minimum payouts for the advancing teams have gone down by $10 each. With 111k teams advancing to Week 15, but only ~6,956 of those getting out of those bottom two payout buckets and moving on to Week 16, which is 104,344 teams that all receive $10 less than if the payout structure remained the same, or basically $1 Million.
However, we know there's $2.25 Million allocated to the teams that finish 1,001 to 10,000. For all intents and purposes, those are advancing teams. They're just some of the top scoring advancing teams, but not the absolute highest scoring regular season teams.
Interestingly, some other payout buckets on the playoff side has also been reduced EXCEPT for the Top 10, and mostly just 1st Place and 2nd Place. Despite the same prize pool for the Playoffs as last year ($10 Million), 1st place has gone up from $2 Million to $3 Million. 2nd Place remained $1 Million, and the total prizes in the top 10 have gone up by 20% from just over $4 Million to just over $4.8 Million.
Change Summary
Incredibly long story short, but while we absolutely have seen a shift to more money in the regular season, it's probably overstated at first glance. We really have 3 main changes to the structure:
Increased Regular Season prizes from 10% to 27.5%.
Moved some minimum payout prizes from ALL advancing teams to 9,000 advancing teams that scored more regular season points
Increased the top heaviness of the Playoff tournament by 20%
What does this mean?
This structure has been very polarizing and fascinating in the fantasy community given that it's a huge shift in the Best Ball landscape and something that's never been done before. However, I think there might be a little misunderstanding of what it actually means.
When we see $5 Million (33%) of the total prizes to the regular season, it feels like we are rewarding a larger number of teams and/or making things easier to profit if you just draft a good regular season team. But it's actually quite the opposite.
At the end of the day, we are still only paying out the top 1.5% of regular season teams. As Justin Herzig shows us, even if you draft 150 teams, you're not a lock to secure even one team in the top 10,000 of the regular season. And even if you do, there's a 90% that team nets just $250. The total cost of drafting 150 teams is $3,750.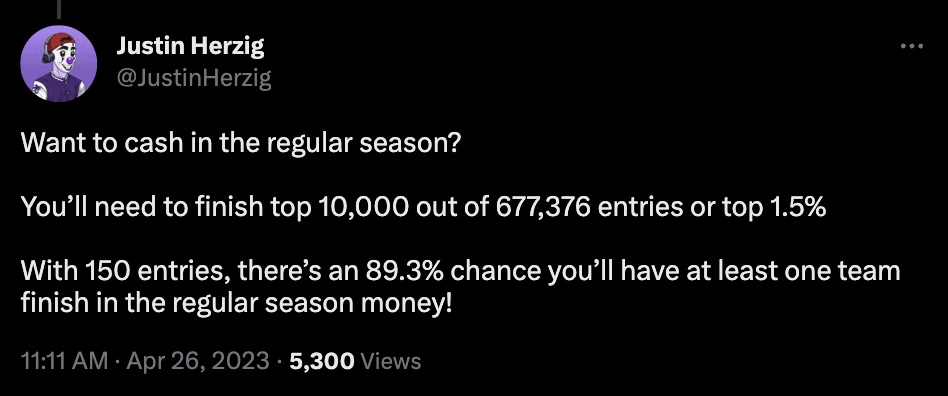 So really what we've got on our hands here is a MUCH harder and top heavier tournament than before. The funds are a bit more split up between the "type" of top teams, but nearly all the money is going to those top teams, whether that be the top 1% teams in the regular season or the 440 teams who make the Week 17 final on the Playoff side (and particularly the top 10, or shoot the top 2).
A quick breakdown of the $15 Million Prize Pool & nearly 700,000 teams:
42% to Week 17 Finalists (w/ 32% to the Top 10 finishers)
18% to Top 1,000 Regular Season Teams (Top 0.1%)
15% to 9,000 Next Top Regular Season Teams (Top 1.5%)
That's 75% of the prize pool dedicated to the very, very top teams. Last year, between the regular season champ and the week 17 finalists, that made up 60% of the entire prize pool.
What Do We Do?
I'll be getting a LOT more into specific strategies for this tournament here at Spike Week over the coming weeks and months, both here on the site and on our YouTube shows. But my first take is that our strategy really should not change much in terms of targeting upside. Of course there will be some minor nuances on a micro level with things like injured or suspended players, contingent value players, rookies and more. But by FAR the biggest takeaway for me digging into this structure is that even though the regular season prizes make it feel as though we have more opportunity to ignore some of the playoff upside concepts and focus on the regular season, the specifics of the payouts don't really align with that.
Given how top heavy the payouts are and just how insanely high you need to finish on BOTH the regular season and playoff side, we to be doing everything we can to find breakouts, upside and other opportunities to get massively outsized gains with our teams. Most of the time, the type of upside we want to target from a playoff sense (stacking, breakouts, youth, contingent value) is ALSO a great way to create upside in our teams for the cumulative regular season scoring. And we are going to need every bit of upside no matter if we are looking at these regular season or playoff prizes in BBM4.