As fantasy football players, we spend all summer (and if you're a Best Ball player nowadays, all year) agonizing over micro player takes, draft strategies, portfolio management and team structures. The problem is that we jump right to all of those subjects before getting into the baseline of what should drive every single one of those subjects – the current draft environment. Things like:
Player & Team ADP
Tier Breaks
Stack Options
Positional Strength or Depth
And much more
One specific player may be an awesome pick at a certain price or due to certain context about his position, the range of the draft he falls in, or even the tournament you're drafting him in. But if we change some of those variables, the way that player fits into the draft landscape totally changes.
The same goes for structures and draft strategies. I am admittedly more of a team Zero RB type drafter, but if the market is not appropriately valuing certain RBs or the WR landscape early in drafts is not strong, then strategy shifts should be made and other structures may be more optimal.
So let's dive into some of the most importance nuances and context that you will encounter in 2022 fantasy football draft and specifically best ball drafts as you set out to capture some of these 6 and 7 figure top prizes in best ball tournaments.
Top 5 2022 Picks
Not every 1st round pick is the same, and that has never been more evident than this year. We have one of the clearest tier breaks in the 1st round that I can remember. The top 5 players (in no particular order) are universally agreed upon as – Jonathan Taylor, Christian McCaffrey, Cooper Kupp, Justin Jefferson and Ja'Marr Chase. Everyone may have them in a different order, especially dependent upon the site you are drafting them on, but those 5 are in a tier of their own.
The first and easiest way for us to take advantage of this is if one of them falls to a pick that we have outside of the top 5… take them. There's no need to get cute and take your Austin Ekeler or whoever at 7th overall if the drafters in your draft decided to let Justin Jefferson fall to 7. Take the gift and move on.
The other variable is what do we do if we don't get one of the top 5. We obviously don't get to pick our draft slot, so more often than not we are going to get a pick that is outside the top 5 (you like that math?). I think there are a couple of different tactics we can employ.
My personal favorite approach, and what you see reflected in the Spike Week Overall Rankings, is to draft Travis Kelce at 1.06 or any subsequent pick after those top 5. Kelce is not without concerns of course given his age, but he also is by far the best bet to crush the field at the tight end position given the loss of Tyreek Hill. If you can't get the top 5 guy, the next best bet is to capture a true difference maker at a weak TE position.
After that, and I know this will sound cliche to people that know me, but I think the answer is one of two things – WR Heavy or a Unique Start.
With a WR heavy approach that starts with someone like Stefon Diggs, Davante Adams, or CeeDee Lamb, you are giving up some projection to the top 5 picks, but you are gaining by pairing two of these players and combining it with the fact that so few drafters are willing to start WR heavy. It will naturally lead to a more leveraged build, and a little bit of uniqueness.
Uniqueness is the other premise we can use to our advantage because drafters are so tied to ADP in the early rounds. No matter who we pick we are giving up projection beyond the top 5, so if we dip down into two players who, let's say, go in the middle of the 2nd round, we are getting basically the same level of player as those with an ADP in the back end of the 1st round, but there are almost no teams in the tournament with that combination of players.
Paying for Upside
Look, I'm human, I get triggered about things like everyone else. And maybe the most triggering thing I see across the fantasy football space is the lazy "X player is WAY over-drafted because he hasn't even had a big season yet!" type of analysis.
And that's honestly the epitome of what this article is about. People have played fantasy football for a long time and many years ago you could draft all these breakout candidates SUPER late in drafts. But the market has evolved over the years… in a very smart way.
Fantasy football is won with the players who breakout and perform at a level we have not seen before. That may be because a young player takes a big step, someone benefits from a new situation or a contingency based outcome occurs. But especially in Best Ball tournaments, we win with these upside scenarios.
And now, in a much sharper draft environment, we have to pay for those upside scenarios. Nearly every single potential breakout or upside bet (including contingencies) is priced WAY higher than ever before. Gabriel Davis is the shining example that we've meme'd into oblivion this summer, but there are tons of examples depending upon your preference. The Broncos WRs, Allen Robinson, JuJu, Kyle Pitts, Javonte Williams, Trey Lance, etc. are all significantly more expensive than we would have drafted them years ago.
However, you cannot give in to the idea that they are overpriced. Just because they were underpriced in years past does NOT mean they are overpriced now. We have to pay for upside.
Yes, the uncertainty is probably scary around these types of guys. Gabe Davis hasn't broken out besides a strong run to close 2021 and one big game. Allen Robinson was the WR91 last year. Ninety-One! Who knows what will happen with the Broncos and Trey Lance might suck.
But these are exactly the types of players we should still be targeting. At these greater costs, it will sting a bit more when they don't work out, but did it sting when you drafted Cooper Kupp in the 4th round last year? Of course not.
Generally speaking, this is the 3rd to 5th (maybe 6th depending on site) range of drafts in 2022. Anywhere from Kyle Pitts, Javonte Williams, Gabriel Davis, Jerry Jeudy, Breece Hall, Allen Robinson, Rashod Bateman, etc. all go in this range. If we were drafting 5 years ago this might feel steep for these names, but this is truthfully the area of the draft that will decide the fantasy football season.
NFL Player Movement
Piggybacking on the premise of paying for upside is this bizarre NFL offseason we've had. Russell Wilson, Davante Adams, Tyreek Hill, Baker Mayfield, Deshaun Watson, Matt Ryan, Carson Wentz, and the list goes on of significantly important players who have changed teams this offseason.
While we pretend that we know a lot more than we do about how these changes will play out, the fact of the matter is that this level of chaos in an NFL offseason creates truly insane uncertainty. This is probably the most uncertainty we've ever experienced from one offseason of movement in a long time (maybe ever).
But anytime there is uncertainty from something like this, that means there is opportunity. Similar to the paying for upside point, we don't want to run from the uncertainty, but instead we want to embrace it and use it to our advantage. Obviously, that will matter differently on a situation by situation basis, but there will be spots where we can leverage our opponent's overconfidence in how uncertain situations will play out, and other spots where we can take advantage of the market being scared away from the uncertainty.
This article is not necessarily intended to tell you who specifically to draft, especially because we are all going to have different takes on how these things like player movement impact who we should be drafting. But what is true for all of us is the fact that these situations breed opportunity for fantasy drafters who are willing to embrace uncertainty and target the situations that give us the most opportunity to crush the field if they play out in our favor.
Draft Dead Zone
Pivoting back to a little bit of specific ranges of the draft, there is this weird portion of the draft for a few rounds where it really feels dead. Everyone is aware of the RB Dead Zone, but even more important than that are areas of the draft where the player pool really flattens out. Depending upon your specific rankings, player takes and draft strategy, you probably run into a situation where ranges like this are almost forcing you to take players you don't even necessarily want to because you don't want to reach on players you really want to target with ADPs that are much lower.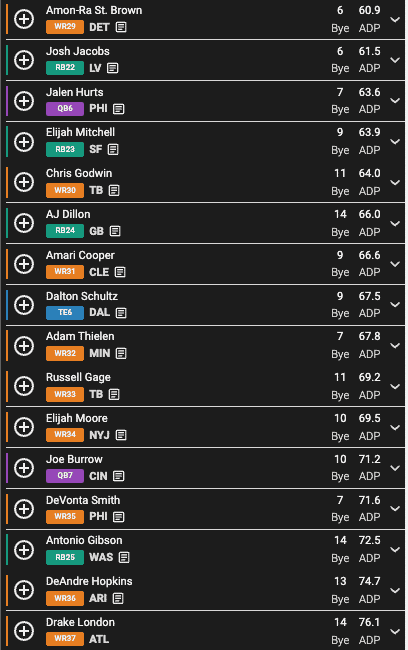 Using Underdog ADP, this is my favorite range to discuss the "dead zone". Of course, there are players I like here, and assuredly players you like here, but this is a range where we get beyond the breakout candidates at RB and WR.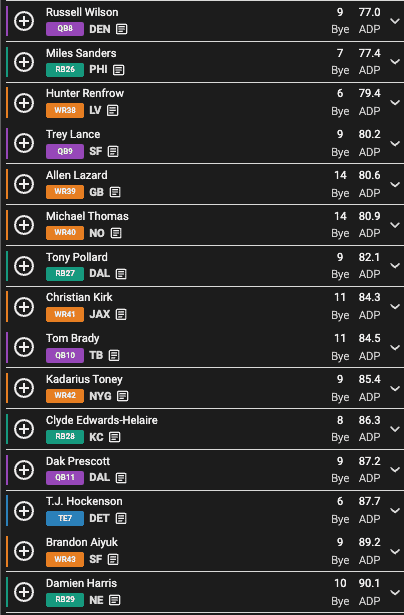 It only continues on in this next tier where we get some appealing QBs, but a range of RBs and WRs that require a ton of projection to be comfortable with.
The point of calling out this range is to note that ADP is not the end all be all. It is important not to reach too far on players and also to be a humble drafter, but every year we reach areas of the draft similar to this where the market doesn't really know what to do with this collection of players. As Ben Gretch said on a recent Spike Week show, "It's OK to be creative." People don't like to hear this, but we reach certain pockets of the draft like this where it's just a bunch of people throwing their hands up. Christian Kirk vs Adam Thielen? Pretty much a coin flip, but they go 17 picks apart. Antonio Gibson vs Clyde Edwards-Helaire? Same, but 14 picks apart. It's really just one insanely massive tier of extremely similar bets, so it's important not to be super tied to ADP. And it's also ok to have strong takes in these ranges.
Elite QB
We'll keep this one a bit more short and simple, but the fantasy market has very clearly identified the QBs who have elite upside in 2022. Similar to the above idea of "paying for upside", that's very evident at the QB position. Probably more than anything, the fantasy market has gotten the most accurate about QB production and the advantage it brings your fantasy team.
It's actually fairly straightforward, too. QBs are the easiest position to project because they are the fulcrum of the offense, and the offensive overall trends help drive that QB projection. We also can more easily project QB rushing production based on their past tendencies and their offensive structure. We've also identified archetypes that create upside (rushing upside, elite offenses, etc.).
This does not mean that elite QBs are overvalued, but the days of getting Lamar Jackson in his MVP year in the 12th round are long gone. You simply need to understand that elite QBs goes in the 3rd-6th round, and the next tier of potentially elite QBs go in the 7th-9th round (generally speaking).
You do not have to leave every draft with one of these players, but the market efficiency has hurt the potential of the Late Round QB strategy.
Mid to Late Round Skill Players
One of the most glaring things about the 2022 draft environment to me occurs in the mid to late rounds. Let's say from round 10 to round 15.
As we just discussed, the Elite QBs and even Elite QB upside are all gone once we reach these rounds (again generally speaking), and we are also just beyond that "dead zone" of the draft. This is where we start to reach the chaos.
If you are drafting a QB at this point, it's likely because you are starving for upside after missing on the elite options, so you need to take a shot on a breakout from Justin Fields, Trevor Lawrence or Zach Wilson.
If you are drafting a TE, it's fairly similar. A huge collection of TEs go here because they are all so similar, but also all definitely not elite options. Anywhere from Pat Freiermuth to Hunter Henry to Noah Fant. This range of TE is maybe the most fascinating, but more on that in a bit.
What really stands out, however, in this range is the weakness of Wide Receiver. It's not that there are no options, but the market has gotten so hip to the WR position that by the time you reach these rounds, nearly all the upside bets and even just generally optimistic WRs are gone. There are, of course, a few names each person will like here, but similar to how the upside bets are way priced up from year's past, the same thing has happened here. The types of WRs that used to be late round darts are also priced up when the Jerry Jeudy's and Gabriel Davis' of the world are priced up.
Meanwhile, with the market pricing down RBs, it creates a really intriguing range for the upside bets at RB. These aren't necessarily players you are going to be banking on crushing for you in Week 1, but it's a range of the draft with a combination of players in uncertain situations, committee backfields or strictly high upside contingency options. Similar to the 3rd to 6th round "paying for upside" players, I think this is the range of the draft where the fantasy season will be decided. Which Bills RB is better? Which handcuff in a great offense has the starter get injured? Which rookie steps into a greater role that we expect? Which ambiguous situation did the market get wrong? The answer to all those questions is nearly impossible to guess, but that's precisely why this range of the draft is so important for the RB position because it's likely to be the most impactful given the uncertainty.
Late Round TE
Also just wanted to touch briefly on this subject, as mentioned above, because it's an intriguing year for Late Round TEs. We say this many years, but there are a plethora of options in the back half of drafts, and increasingly fewer "elite" tight ends that can separate themselves from the pack.
We are assuredly going to miss on tons of these late round TEs, but there are two things going in their favor.
1 – The NFL is largely going away from the TE position as a key part of both NFL offenses and NFL passing games.
2 – Somewhat due to point 1, there are less "elite" fantasy tight ends that create a roadblock to the later round TEs being impactful.
If we had a bunch of elite TEs putting up strong scores constantly, it would be harder to make up that ground with cheaper and more fragile late round TEs. But when you think about it:
Travis Kelce is very old and a 1st round pick
Mark Andrews is due for regression.
Kyle Pitts is a stud but on a terrible team
Kittle/Waller have clear volume concerns
And you get beyond these top tier options, and there are varying degrees of intriguing targets, but no one that jumps off the screen as a combination of skill, opportunity and cost that we just HAVE to draft.
So there are more pathways for these later round TEs to breakthrough as super valuable options given the flaws of the top group, and even if they don't necessarily breakthrough, there are less hurdle for them being more than serviceable at their current cost.
Wrap Up
There are certainly more things we will learn as we get into the heart of draft season as the markets move and we learn more information. So, I will be updating this over the course of the final 2 months of draft season to reflect the newest and greatest information that we can use to our advantage in 2022 drafts.