The new Weekly Winners format released by Underdog is the biggest innovation in best ball format since the advent of the playoff tournament contest structure. If you aren't familiar with the rules, read them here. The typical regular season cumulative scoring is completely out the window with this format. So are pods, and the playoffs. Now all that matters is single week upside.
If you're curious as to what kind of scores you would have needed to post to be a Weekly Winner based on last season scoring data, here is a quick visualization using a sample of over half a million teams drafted on the same slate as Best Ball Mania 3: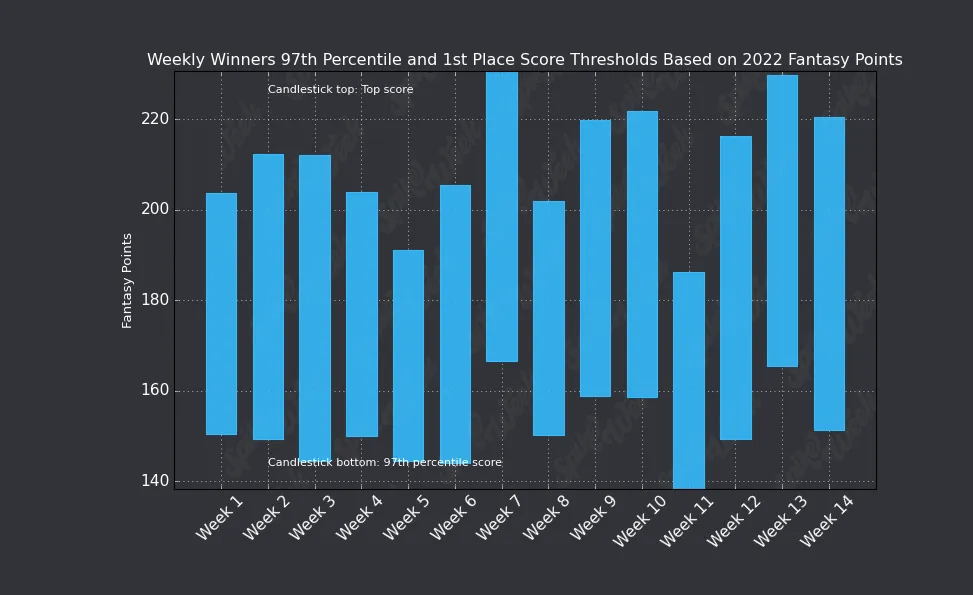 The strategy for weekly winners can be simple to summarize, but difficult to execute well:
Maximize your weekly ceiling
Maximize the probability of your team hitting its weekly ceiling
Build in points of leverage to your roster so that your team has a higher chance of separating from the field
Our very own Erik Beimfohr recently drafted a team on stream and talked through the rules and strategy.
That doesn't sound like too many things we need to do, but in a draft it is easier said than done. Here are the levers we can pull to accomplish each of those goals:

That seems like an awful lot of factors to consider when making each pick. Fortunately for us, the Draft Hacker delivers all the necessary information we need in a nice neat color coded display. I'll provide the exact settings I use for the Draft Hacker here, then we'll take a close look at how to apply the strategies and the tool to dominate a Weekly Winners draft.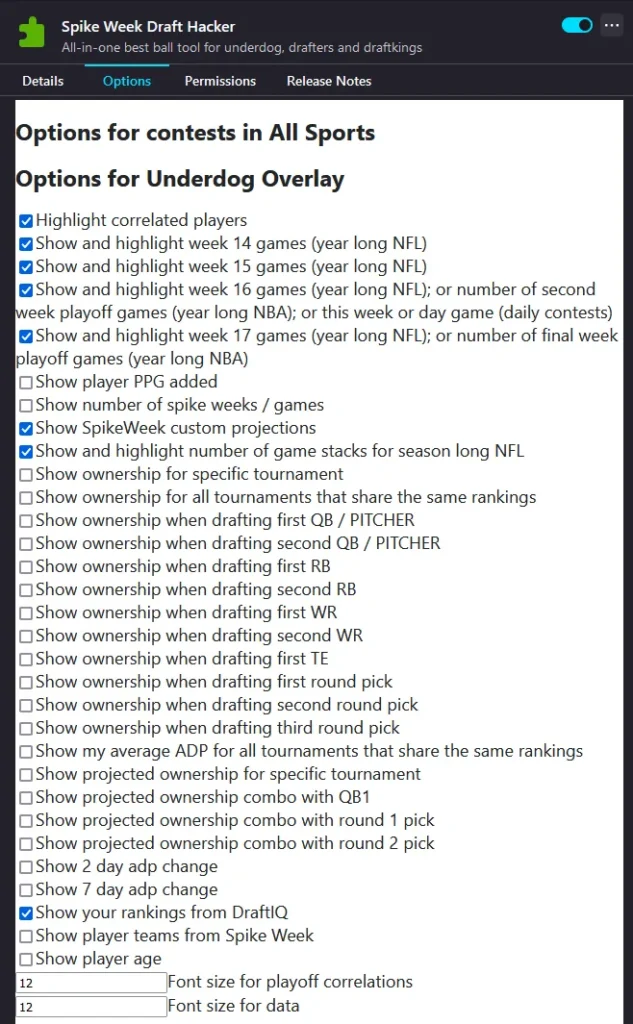 When first trying to employ our strategies, they may feel a little frantic. Appropriately cycling through all the information that we are wanting to digest provided by the Draft Hacker can be a lot to process (fortunately we have a future version of the tool in the works that can do the thinking for you). I find taking a systematic approach is the easiest way for me to make sure I am not missing anything. Here is a framework you can follow to make sure you're getting the most out of the Draft Hacker:
Early Rounds:
The player you pick in the 1st round is largely preference based. There are valid strategies for basically all of the players with ADPs in the first round. However, the players we select early in our draft will shape our strategy in future rounds. Once I've made my first pick, I am immediately viewing the player's full schedule using this view in the Draft Hacker (the green text will only populate once you have drafted a game stack for that week, the default is the white text).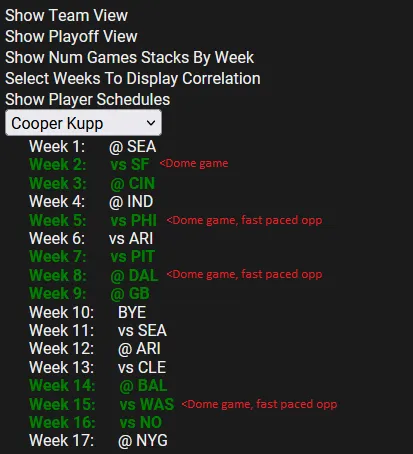 I'll begin to build a game plan around some viable weeks to target by looking for the features we discussed above: dome games, favorable matchups due to pace of play (opponent defensive strength can be difficult to accurately predict, so I weight it less than projected pace of play), and weeks with a large number of teams on bye (week 7, 10, and 13 are good targets both by raw number of teams on bye and strength of fantasy players on bye). I tend to prefer prioritizing earlier weeks over later weeks, as I believe our forecasting ability becomes more fragile the farther we look into the future. Although there are certainly roster constructions where targeting earlier weeks is preferred, do not over emphasize targeting weeks early in the season.
When we are optimizing our roster for specific weeks we can consider when we are most likely to be getting production from the player archetypes we are drafting. For example, rookie production historically increases as the season progresses. If I draft a rookie player, I might weight optimizing for the later weeks in the season more heavily. If I draft an elite RB who has strong projectable volume, I may prefer to optimize for the early part of the season. If I draft a player recovering from an injury that may start the season slowly, or a player serving a suspension, I will prefer to optimize for later weeks. There are also some more specific player production profile considerations, such as targeting Josh Reynolds on teams where I want a piece of the Lions offense in the first six weeks of the season (to benefit from Jameson Williams' suspension). Another example would be to draft Samaje Perine on teams that need RB production and a Denver player earlier in the season (assuming Javonte Williams has a slower start to the season). I won't provide a comprehensive list of specific player production profiles, but this is something you'll want to think critically about when constructing your teams. Once I have identified some initial target weeks, I will switch the weeks that the Draft Hacker is displaying with this tab.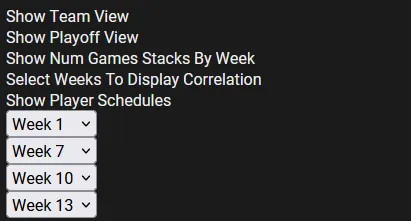 You should have all the information you need ready to make your 2nd pick at this point. Based on our research, we should be strongly prioritizing elite QB, or at the very least QBs with elite single game upside. Below is a visualization by draft round of what frequency different positions occurred in lineups that would have finished in the top 1% of all lineups in a single week based on last season scoring. This dataset is over 500,000 Underdog best ball teams drafted on the same slate as BBMIII. The draft positions in the dataset have been adjusted to simulate the current Weekly Winners ADP.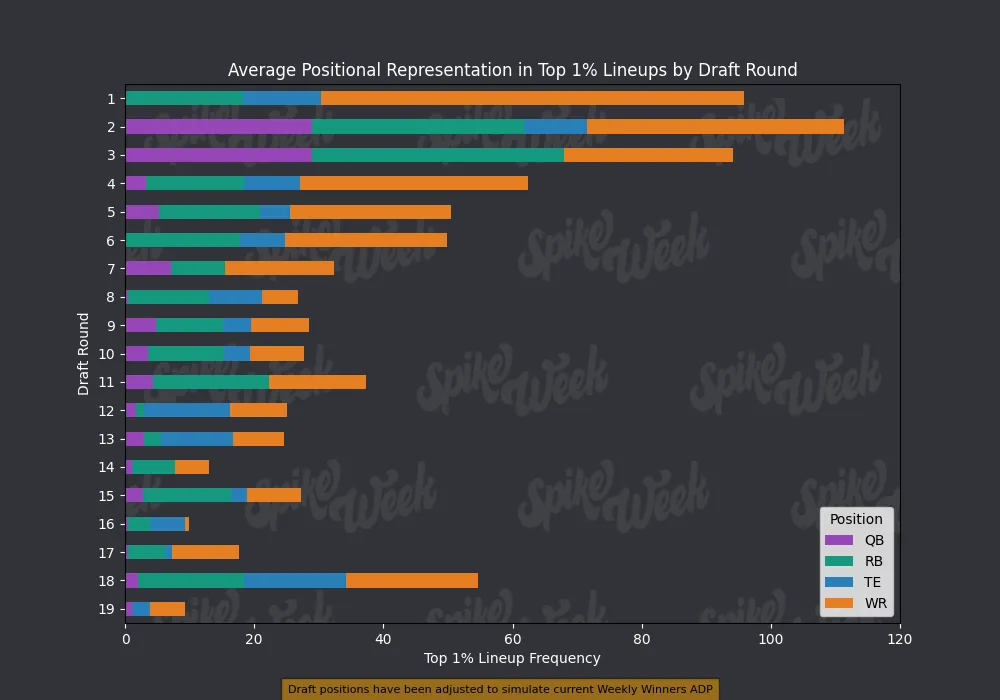 (Week 2 shows cumulative frequencies above 100% due to the ADP adjustments to bring players in line with the current Weekly Winners ADPs)
If I am not taking one of the 2nd round QBs, it is because I have a plan for which QB I want to grab later, with strong preference shown to QBs that go earlier like Lamar, Fields, Burrow, and Herbert. Once we make our 2nd pick, I am repeating the process I did after our 1st pick: scouring the schedule, identifying target weeks, and planning out future picks. It is critically important that you consider what options are available at different points in the draft. For example, just because you identified the Vikings as a mutual opponent as a bring back in multiple target weeks does not mean you need to take the next Viking player available at ADP. Understand what your roster will need both from a positional standpoint and a leverage standpoint and where you can get options that satisfy both. If I have opted for a double elite RB start, I'm less inclined to take Alexander Mattison and instead I'd prefer targeting TJ Hockenson, Jordan Addison (if I'm targeting weeks later in the season), or KJ Osborn. Once we've made our third pick the draft starts to feel like it's steering itself more and more. We repeat our schedule analysis and week targeting protocols and begin filling our queue with targets. I cannot understate the importance of the queue in this format. There is simply so much information to keep track of that we want to leverage every tool we can to free up our brain for processing.
Middle rounds:
With each pick we make, we want to cycle to the "number of game stacks" tab and use this view to help us update our preferred target weeks.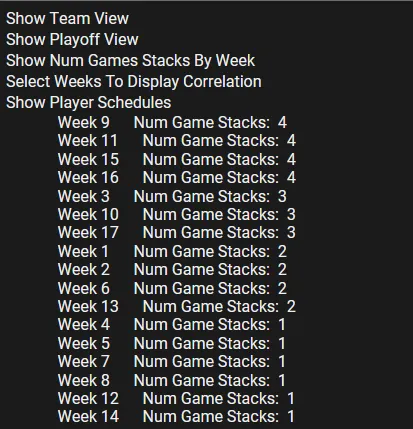 At this point in the draft you may have more than the maximum 4 displayable weeks that you want to consider targeting. My methodology is to prioritize the weeks where I already have the highest number of game stacks, then weeks that come earlier in the season, then weeks with large numbers of players on bye (7, 10, 13, obviously I am avoiding targeting these weeks if my players have a bye during any of them). For any weeks beyond the first 4 you have targeted I find it most efficient to look through the top ~24 players by ADP and queue the ones that make sense given my roster construction. Once I've done that I will swap out my lowest priority weeks in the week selection tab for the other weeks I wasn't displaying, then I will repeat the process of identifying targets in the top ~24 players by ADP. This method of cycling weeks can be very helpful for building a robust queue that provides significant optionality.
Late rounds:
At this point we are starting to get into a groove with the draft. We should have our QB and most likely a stacking partner at this point (though there are some QBs we can consider with very late stacking partners). We likely have identified at least 4 target weeks we are optimizing for. I am always considering the leverage a pick provides for me at all phases of the draft, but at this stage player projections are much lower, so leverage plays a larger role in our decision making process. The easiest way to gain leverage is by drafting players that go undrafted. Here's some data visualization on this specific topic by Underdog's own Hayden Winks, who described the Weekly Winners format as "his baby" (does that make Hayden our Weekly Winners Daddy?):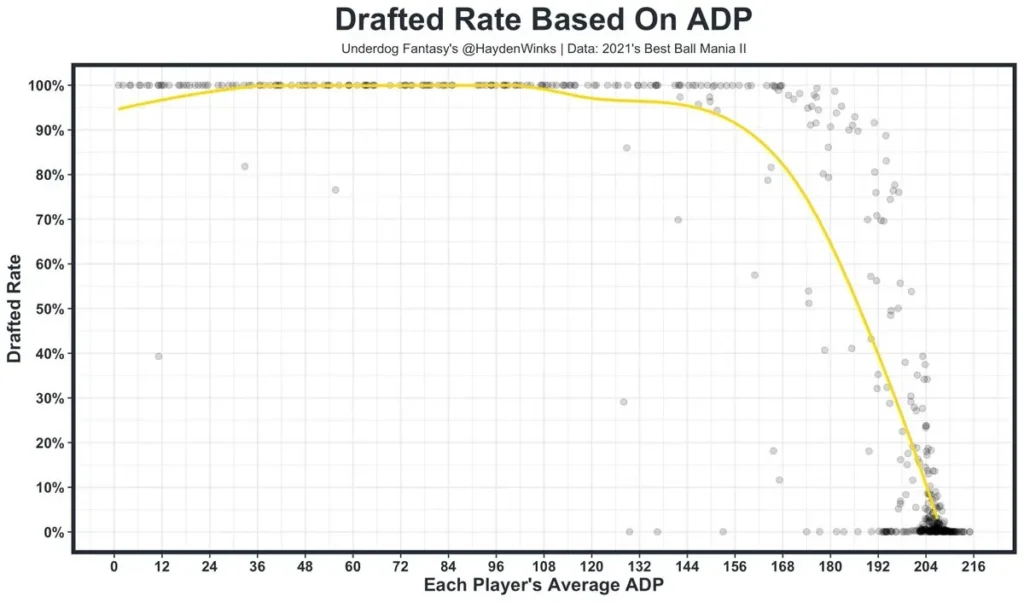 However, taking undrafted players is not the only way for us to gain leverage. By taking events that seem independent and finding loose threads to correlate them, we can build leverage into our teams. For example, if I don't have an elite TE on my team, the story my lineup is telling is that in my target weeks none of the elite TEs separate enough from whichever TEs I have rostered for it to harm my chances of taking 1st place. If we are operating under the assumption that the elite TEs like Kelce, Andrews, Hockenson, Kittle etc. are not putting up huge scores, it becomes slightly more likely that one of their teammates may be the benefactor of more fantasy points going their way. For that reason, on teams where I already have game stacks that I want to target with the Chiefs, Ravens, Vikings, or 49ers I will prioritize players from those teams slightly more than other game stacks without the elite TE leverage consideration. Bear in mind, these coefficients of correlation are low. However, we are optimizing for an outcome that is sufficient to beat 261,000 teams; we are going to need all the micro edges we can muster.
Another micro leverage edge we can use comes to us in the form of mutually exclusive players, or players that would be literally impossible to have on the same lineup. The best example for this is Justin Jefferson and Ja'Marr Chase. No team will be able to roster both of these players. We can apply similar logic that we did with the elite TE leverage by selecting a player that is the teammate of a player that is mutually exclusive to a player we have on our roster. This is best done with players with a 1st round ADP, as there is less variation in where players are selected earlier in the draft. In this hypothetical let's say we have Justin Jefferson. We can select any Bengals player as soft leverage, because we are implying that in our target week Jefferson outscores Chase in the majority of outcomes where we take 1st place. This does not guarantee Chase has a bad game, or even that he doesn't have a good game, just that Jefferson was "the guy you needed" over Chase for this specific week. Because we are artificially capping Chase's ceiling in this week, any negative correlation effects with his teammates can be dialed up ever so slightly.
Common Misconceptions: How many QBs should I draft? Do dupes matter?
I want to address some common misconceptions I've seen about Weekly Winners strategy, in order to help you avoid some pitfalls when drafting your teams. If you haven't already read my "Best Ball Tournaments and Roster Construction Combinatorics" article, you'll want to do that now, as I'm going to be referring to some concepts I discuss in that piece. First, we're going to modify the roster construction parameters to include commonly discussed Weekly Winners constructions.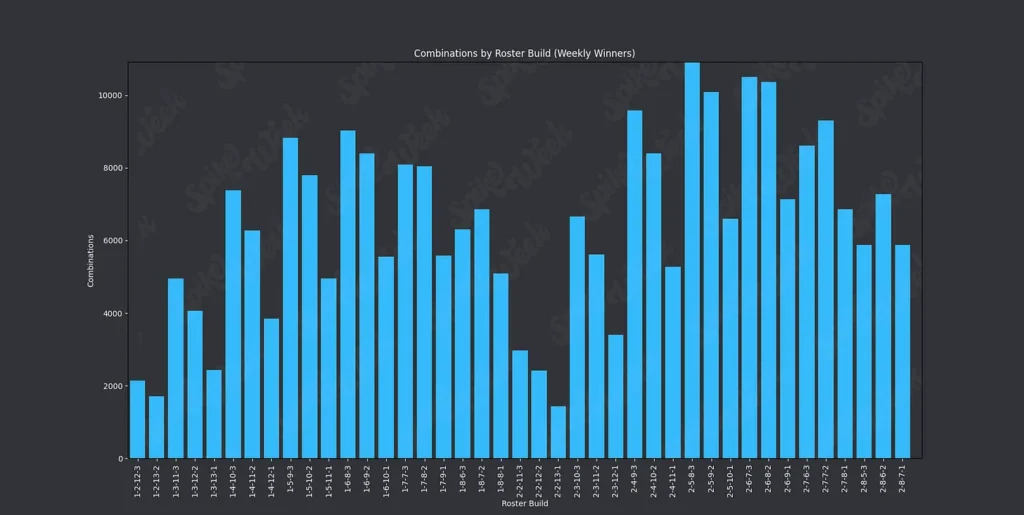 While 2 QB roster constructions provide the highest total number of combos, they have a number of drawbacks for the Weekly Winners format. Each QB in a 2 QB team represents half of the possible combos for the lineup, which means your unique combos you can field with a single QB is at most a little under 5,500 with a 2-5-8-3 construction. Solo QB constructions, however, top out at just under 9,000 combinations with a 1-6-8-3 construction. If you have a 2 QB roster where one of your QBs happens to put up a week-winning performance, your best case scenario is that you have a portfolio of 3,500 fewer lineups competing against a 1 QB team that is constructed to maximize number of combinations. Consider that for players drafted at 100% frequency there will be over 20,000 other teams with your starting QB. Even if only half of them have solo QB constructions, and even if those teams are not all optimized for the maximum number of combos (let's assume on average those teams can field 5,000 unique combos), you are still bringing 5,500 lineups to a fight against a staggering 100,000,000 possible starting lineups for the field. And, that skill position player that you passed over in exchange for a 2nd QB has a significant probability of being a part of a top 1% lineup in any given week. For all draft rounds except 14, 16, and 17 a skill position player appeared in a top 1% lineup at least 20% of the time (refer back to the data visualization of "Average Positional Representation in Top 1% Lineups by Draft Round").
If that's not enough to convince you that 2 QB teams are suboptimal for the Weekly Winners format, let's examine what happens to our number of possible starting lineup combinations we can field when we have an inactive player on our roster.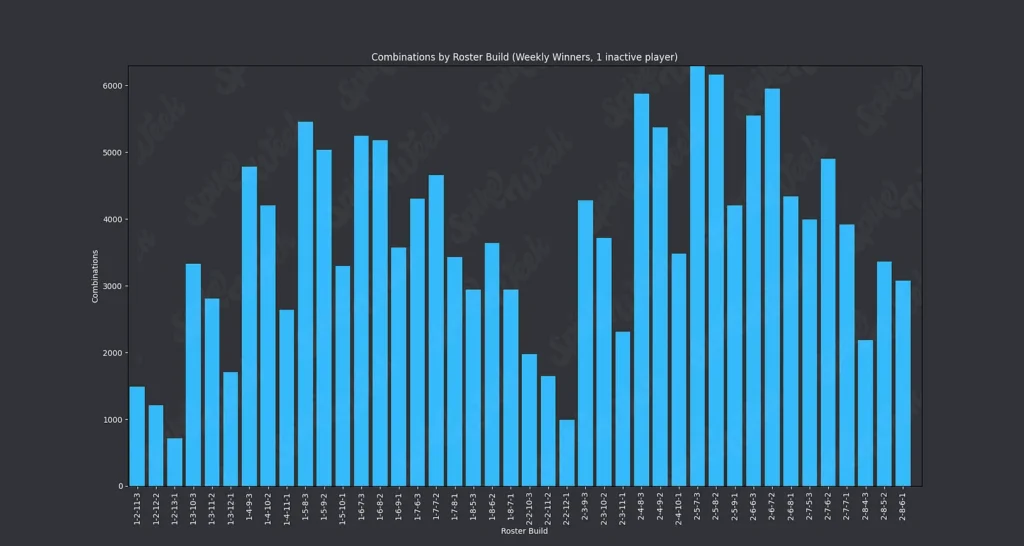 We can see with just 1 inactive player our number of possible lineup combos drops significantly. What about with 2 inactive players?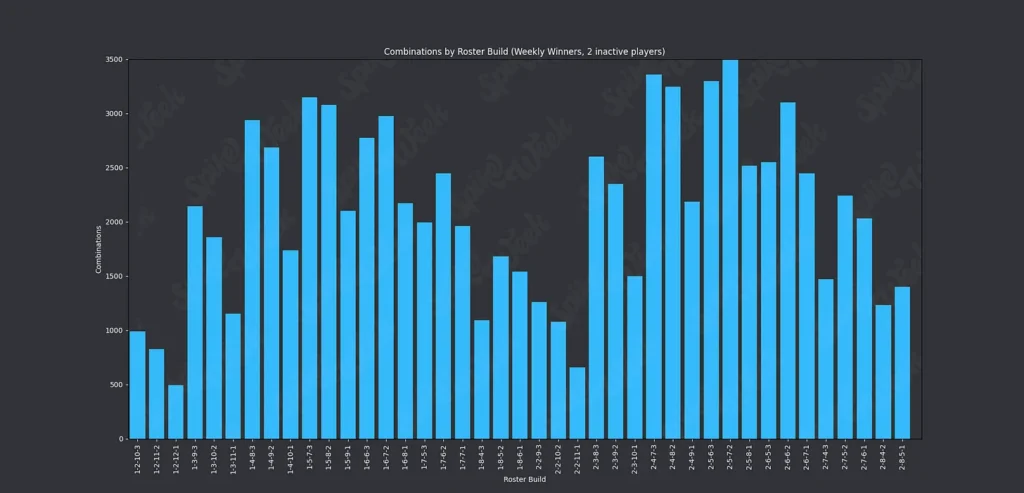 With just 2 inactive players, we can see that some 1 QB constructions begin to beat out 2 QB constructions for the total number of starting lineup combos. Because of the relationship between 2 QB builds and the number of lineup combos we're able to field with just one of our QBs, I strongly prefer building solo QB teams for Weekly Winners. If I want exposure to a QB, I would much rather build a solo QB lineup with that specific QB, than tack them on as a 2nd QB to create a watered-down version of the roster for each QB. In effect, one of our 2 QBs is an inactive player for our roster each week, and the negative effects compound if we have other inactive players on our team.
Another common misconception about Weekly Winners is that duplicate lineups will be prevalent. Based on a sample of 564,363 rosters from last season, in weeks 1-14 total duplicated lineups only exceeded 0.1% once (0.11% in week 14), with fewer than 0.05% of lineups being distinct duplicates. This dataset is more than double the field size of Weekly Winners, meaning we should anticipate even lower dupe frequency in Weekly Winners results. I know what you're thinking: "But Sack! Those teams weren't drafted with roster constructions that are being used for Weekly Winners! Doesn't that mean there could be a lot more dupes than you're expecting?" If we assume those 564,363 rosters from our sample can field approximately 5,000 unique starting lineups each (the actual number is likely higher, but I'll underestimate just to prove a point), then the total set of potential starting lineup combinations contained in that dataset is over 2.8 billion lineups. Those 2.8 billion lineups contain many of the possible combinations that would be contained in the set of starting lineup combinations of a 261,000 team Weekly Winners field (of course we are making estimations based on a hypothetical Weekly Winners tournament played with last seasons' player pool).
Essentially, while the entire 18 man roster for a Weekly Winners team may not exist in our historical dataset, the possible starting lineup combinations that team can field very likely are represented by the aggregate, which is all that matters for purposes of duplicate calculations.
Below is a chart that displays the total number of duplicates, as well as the number of distinct duplicated lineups that occurred in the top 1% scoring lineups for each week from weeks 1-14 last season.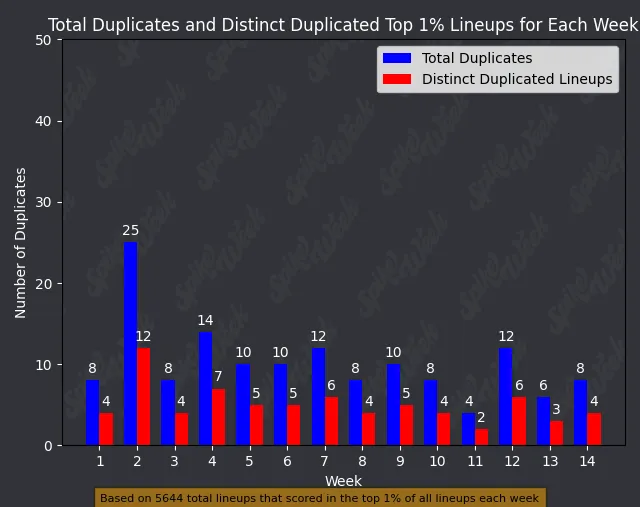 If you're still not convinced that the big bad dupe monster isn't coming to get you, I won't be mad at you if you decide to sprinkle some undrafted/low drafted players on your teams to try and improve your chances of fielding a unique starting lineup. After all, that has a positive side effect of providing leverage against the field if your undrafted player is able to provide a performance capable of separating from other flex players.
This strategy guide is far from exhaustive. There are many other strategy concepts I am still testing, and data I'm still analyzing. However, I know that the sickos out there were clamoring for a Weekly Winners strategy article, so I decided to oblige. We will continue to provide updates to our Weekly Winners strategy, but for now you can feel confident that you are ahead of the field with the foundation I have provided in this article.
I'll leave you with what I believe a good Weekly Winners team should look like (c/o of Draft Hacker):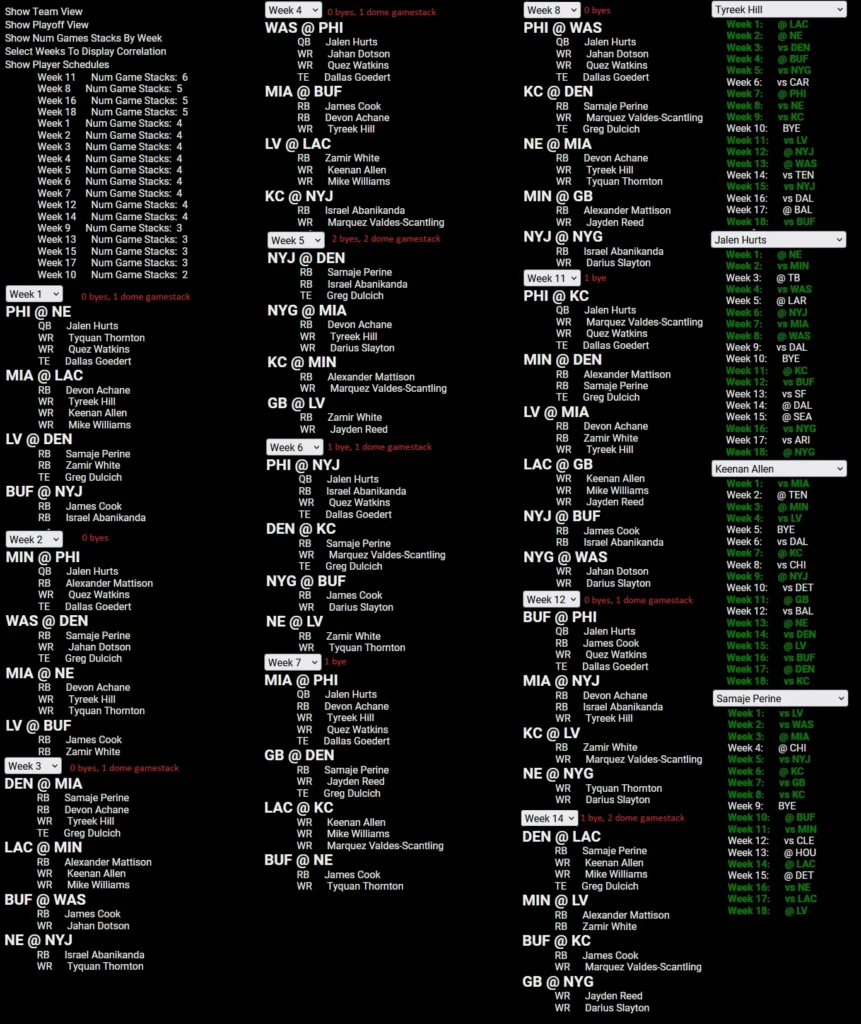 Good luck, and let's ship some weeks.