Underdog Fantasy has become wildly popular due to their massive Best Ball contests as well as their Pick 'em games, but their daily snake drafts are another incredibly fun option for fantasy drafters. Their NBA drafts (or Battle Royale as they call it format) are incredibly simple, and they give you a shot at 4 or 5 figure winnings every single day. 
All you have to do is draft 6 players from the games taking place that day in the MLB in a traditional snake draft format against 5 other users. Draft order is randomized. No salary cap. There are only a few minor positional requirements. Your team must have 1 and only 1 pitcher. You will draft 5 total hitters, and you must have at least 2 infielders (IF) and 2 outfielders (OF). Your final spot is FLEX position, which can be either an infielder or outfielder. Your team of 6 players competes against every other team of 6 drafted that day in that tournament for your share of the prize pool, which typically pays out approximately 20% of the field with 20-25% going to first place. 

Underdog offers a variety of options each day with single entry, double entry and multi entry contests available. Their player scoring is also very simple: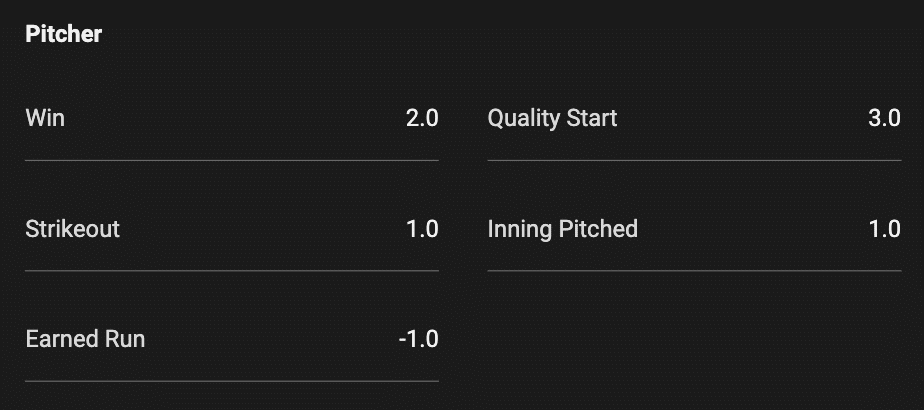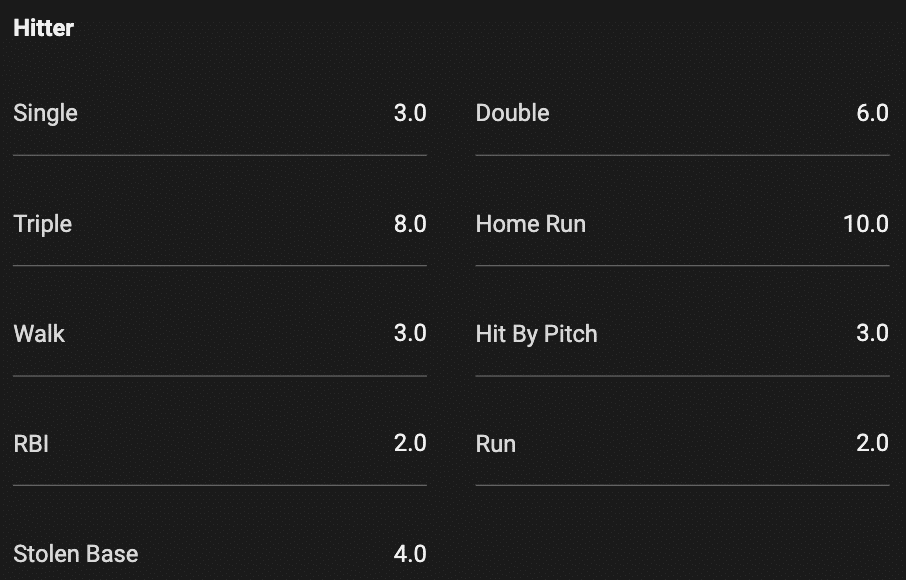 Below are the additional details and rules provided by Underdog for their general Battle Royale contests, as well as their Daily MLB specific contests: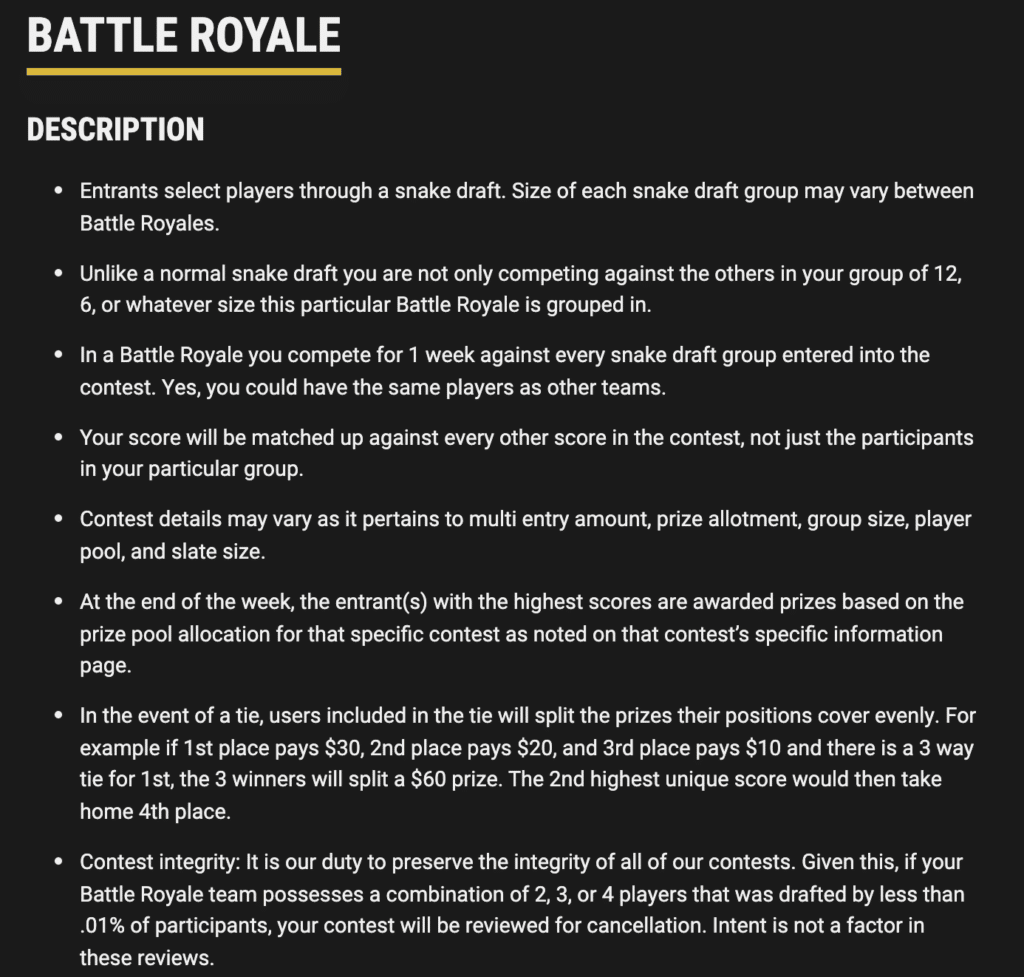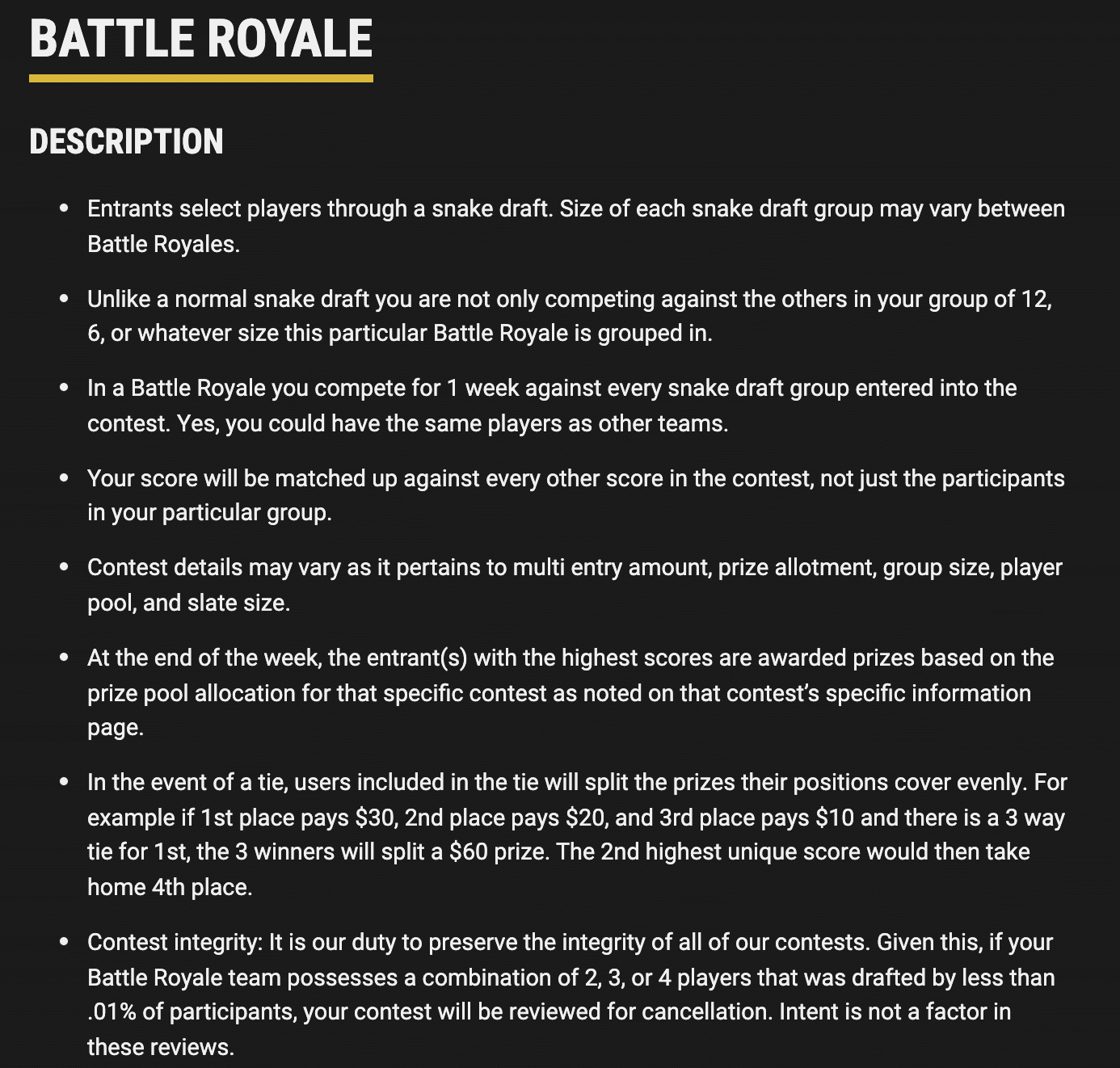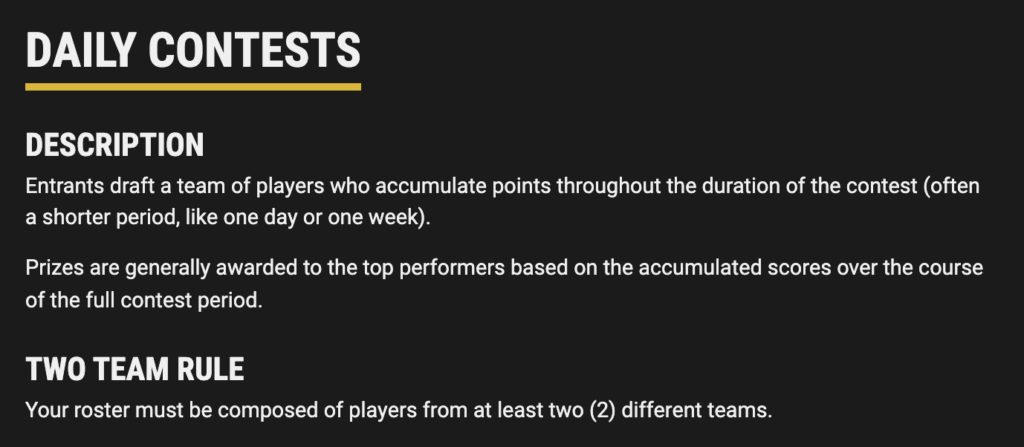 Let's dive into the strategy for today's contests. Much of the strategy for today is driven by the incredible Daily MLB Projections from the RotoGrinders team. If you'd like to subscribe to the full set of projections for every player and team, head to RotoGrinders MLB Premium , which includes fantasy point projections and daily fantasy ownership projections for sites like DraftKings, Fanduel, and Yahoo, as well as LineupHQ Optimizer access and much, much more.
Also, if you're new to Underdog, and you'd like to sign up to test out some drafts, make sure to take advantage of our exclusive 100% deposit bonus up to $100 using underdog promo code SPIKE.
Underdog Fantasy MLB Daily Battle Royale & Snake Draft Contest Strategy for Opening Day – April 7th, 2022
Top Options
Before we dive in, let's start with the weather issues. We have had 2 postponed games already – Yankees/Red Sox and Mariners/Twins. We might see more issues in other games with the Mets/Nationals looking like the other most dangerous spot. Obviously, we don't want to be drafting players from the games that have already been postponed, and I think it's reasonable to steer away from the Mets/Nats game despite some strong picks.
Aside from that, it feels like a fairly unique Opening Day where we don't have many, or any, truly great hitting spots, but we also don't a large amount of the elite ace level pitching. That makes this top end of drafts all the more fascinating, particularly with the Mets hitters as all the top Underdog projections.
The strategy around when to target pitching is always an important one, but the thing that has stuck out to me in super early drafts is that there is a ton of "value" at hitter. With all the weather issues and some projections that appear off from Underdog, I think there are a ton of upside bats (and stacks) we can target later that allow us to get one of the top pitchers to maximize our upside. The one caveat is that super early in the season, from a macro perspective we may be better off waiting on pitching and grabbing the elite bats *IF* pitchers are being held to stricter pitch count limits. The top options today are definitely Shane Bieber, Corbin Burnes and Yu Darvish given projections and combination of talent and matchup.
From a hitting perspective, some of the top bats are Mets & Nats, and we need to account for that weather. The main two being Juan Soto and Pete Alonso, and to a lesser extent Starling Marte, who project as  top 5 overall options if the game goes. It's up to each person to determine what to do with that weather risk, but we do have other very strong options near the top. Manny Machado is actually the top option as an elite right handed power bat in the best weather situation (Arizona) against lefty Madison Bumgarner. Teammate Luke Voit actually makes an appearance in the top 10 in that same juicy matchup, while 3 Cardinals – Paul Goldschmidt, Tyler O'Neil and Nolan Arenado – join Franmil Reyes and Jose Ramirez as top tier options.
Stacks to Target
Padres – With the weather issues, the Padres might be the highest upside stack left on the slate. Madison Bumgarner projects to have another terrible season in the desert, and even without Fernando Tatis Jr. the Padres have plenty of power to attack MadBum with. He's largely struggled with right handed power, which makes Manny Machado an elite option. The other options for the stack are also basically free in drafts. If you want to continue to target the righties, Luke Voit makes for an excellent late round target, and Wil Myers, Austin Nola or Ha-Seong Kim all have upside to round out stacks. Trent Grisham shouldn't be totally overlooked either despite the lefty-lefty matchup.
Guardians – Zack Greinke really fell off last season, and if you look at most season long projections (especially the BAT) we should expect a pretty poor season from the former ace. Kauffman Stadium is a sneaky good hitters park, and while the Cleveland offense is not particularly attractive, they do have a few high upside bats to target. Jose Ramirez is an excellent option in this matchup and Franmil Reyes is the type of 2 homer potential power bat we should be looking for in these tournaments. You can stick to those two top options or round out your stack with a power bat in Bobby Bradley or speed from leadoff man Myles Straw.
Cardinals – The Mets would obviously be in this mix if the game plays, but for now let's look to the spots with less weather issues. JT Brubaker is nothing to write home about on the mound for the Pirates, and despite being very right handed heavy, the Cardinals offer a lot of power potential and strong projections across the board. Paul Goldschmidt, Tyler O'Neil and Nolan Arenado make for appealing options and Dylan Carlson looks set to leadoff for this team on the strong side of the platoon with Brubaker. The narrative street truthers can take Albert Pujols in his first game back with the Cardinals as the DH.
Undervalued & Overvalued Players
Franmil Reyes – Franmil is one of the best power hitters in the game, projecting for nearly 40 home runs. Zack Greinke actually struggled quite a bit more with right handed hitters last year (thanks for his changeup curveball combo), and Franmil hit 21 of his 30 bombs against right handed pitching last year. He's free in drafts, projects as a top 10 hitter and is oozing upside.
Luke Voit – Take advantage of Voit now before the Underdog projections update. Voit currently has a zero projection on Underdog and can be had in the last round of drafts. However, he's going to start for the Padres in arguably the best matchup of the entire slate as a right handed power bat against Bumgarner. He's a top 10 hitting option on the entire slate.
Paul Goldschmidt – Another spot that we can grab one of the best hitting options on the entire slate at a steep value. Goldy sits squarely in the top 5 of hitter projections on Opening Day, but he isn't being drafted like it. While he's truly a beast against left handed pitching, Goldy still crushes righties as well, and Brubaker is about a league average one with a bad bullpen behind him.