Underdog Fantasy has become wildly popular due to their massive Best Ball contests as well as their Pick 'em games, but their daily snake drafts are another incredibly fun option for fantasy drafters. Their NBA drafts (or Battle Royale as they call it format) are incredibly simple, and they give you a shot at 4 or 5 figure winnings every single day. 
All you have to do is draft 6 players from the games taking place that night in the NBA in a traditional snake draft against 5 other users. No positional requirements. No salary cap. Your team of 6 players competes against every other team of 6 drafted that day in that tournament for your share of the prize pool, which typically pays out approximately 20% of the field with 20-25% going to first place. 
If you haven't yet signed up for Underdog Fantasy, you can use Promo Code 'SPIKE' to receive a 100% Deposit Match on any deposit up to $100. 
Underdog offers a variety of options each day with single entry, double entry and multi entry contests available. Their player scoring is also incredibly simple: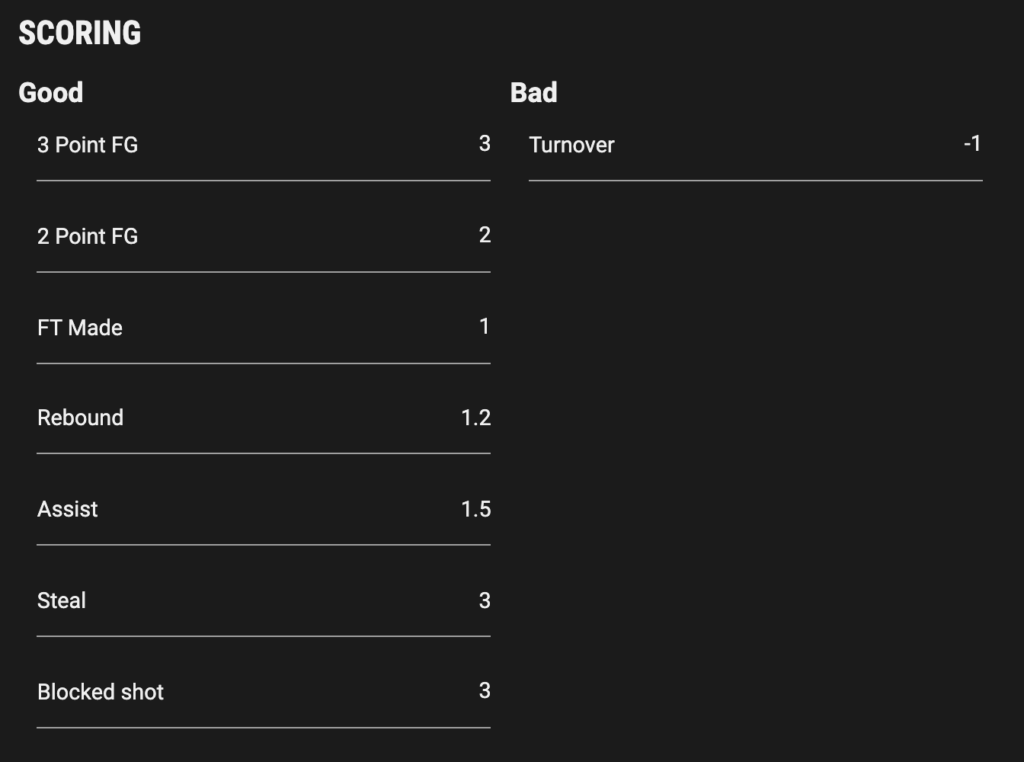 Below are the additional details and rules provided by Underdog for their general Battle Royale contests, as well as their Daily NBA specific contests: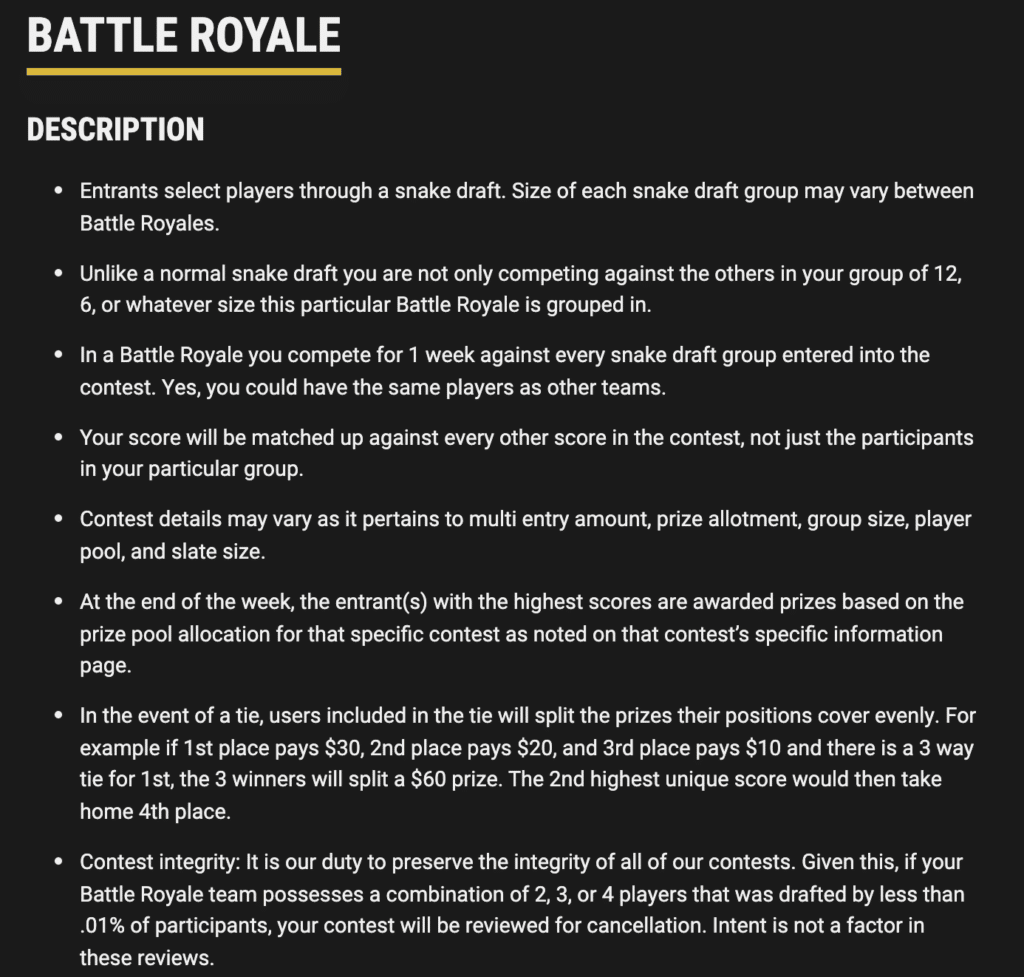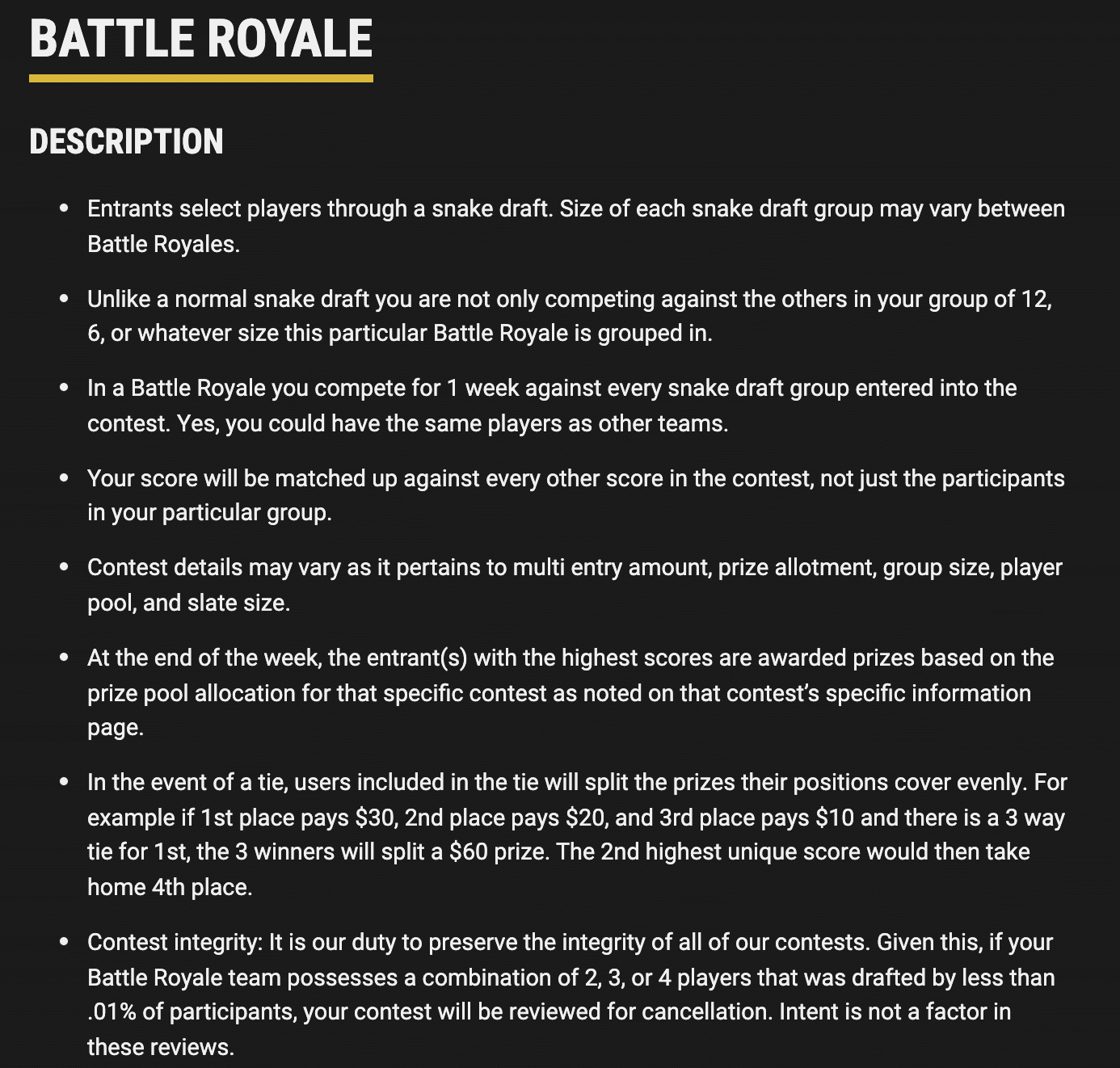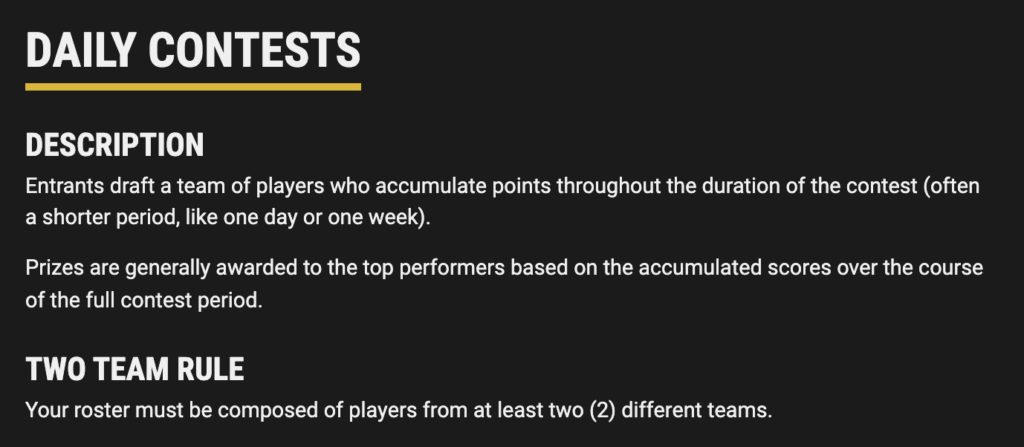 Let's dive into the strategy for today's contests. Much of the strategy for today is driven by the incredible Daily NBA Projections from the RotoGrinders team. If you'd like to subscribe to the full set of projections for every player and team, head to RotoGrinders NBA Premium , which includes fantasy point projections and daily fantasy ownership projections for sites like DraftKings, Fanduel, and Yahoo, as well as LineupHQ Optimizer access and much, much more.
Underdog Fantasy Daily NBA Battle Royale Contest Strategy for January 6th, 2022
Top Options
Every day is different when it comes to the top options, and today the top end is very strong. We have nearly all of the best fantasy producers in the league on the slate tonight, led by Nikola Jokic, Giannis Antetekounmpo and Joel Embiid. Using the RotoGrinders projections, these are a rather clear top 3. Beyond this big 3, James Harden and Lebron James project very close, followed up by Kevin Durant. After this top 6, the player pool really opens up, which is where things really get interesting for our drafts.
Undervalued and Overvalued Players
Dejounte Murray – Dejounte Murray has been incredible this season averaging more fantasy points per minute than James Harden and Kevin Durant. Projections have him as a Top 9 overall option tonight, but he is just 19th in Underdog's projections.
Jordan Clarkson – We'll get to this a bit more in our Situations to Monitor, but the Jazz are extremely short handed tonight without basically all of their regular starters and high usage players. Clarkson himself is questionable, but assuming he plays he projects as a top 15 option. He shows up 34th on the list on Underdog.
Russell Westbrook – Westbrook has taken a pretty significant step back this season as a fantasy player. RG projections have accounted for this with him closer to just a top 20 option than the 9th overall ranking you see on Underdog.
Anthony Edwards – The former number one overall pick has flashed upside this season, but the T'Wolves have gotten back to full health over the last couple games, which pushes Edwards outside the top 30 overall in projections. Meanwhile, he shows up 16th overall in Underdog's projections.
Injuries and Situations to Monitor
Utah Jazz – As outlined above, the Jazz are missing all of Donovan Mitchell, Rudy Gobert, Mike Conley, Joe Ingles and Bojan Bogdanovic. Jordan Clarkson pops in projections, and we're assuming he'll play, but he is questionable as well, as are Rudy Gay, Royce O'Neale and Hassan Whiteside. Right now the assumption is these questionable players play, but the game does have PPD potential if the Jazz cannot field an 8 man team.
San Antonio Spurs – We talked about Dejounte above, and part of why his projection pops like it does is the short handed nature of the Spurs. They're missing several rotational players, including key starters Keldon Johnson and Derrick White.
Portland Trailblazers – None of these guys project at the absolute top of the list today, but multiple guys are absolutely in play to round out your drafts. Damian Lillard, CJ McCollum and Larry Nance are all out tonight, which creates opportunity for Normal Powell, Anfernee Simons and Jusuf Nurkic to make some noise in these tournaments.