Arguably the most critical factor in NFL Playoff Best Ball drafts is how to construct the "stacks" in your lineup. To win the tournament, you are going to need to have a team that can fill out (at least) a starting lineup in the final round, plus have enough firepower to outscore your finals opponents. The best way to accomplish this is through stacking multiple individual players on an NFL team in your draft with the plan of them reaching the Super Bowl. Hit that main stack to the Super Bowl, and now all you need is representatives from their Super Bowl opponent
Both Underdog Fantasy and Drafters Fantasy have a variety of NFL Playoff Best Ball tournaments available (DraftKings coming soon), and we have made sure to cater our core picks so that they work on both sites. The big difference between the two is that Drafters is a cumulative format, while Underdog is a Playoff format. Meaning, once you draft your team on Drafters, you need to simply score the most total points in the entire tournament across the entire NFL Playoffs. On Underdog, you need to navigate through small groups each round and continue to advance until you reach the Super Bowl where the top prizes will all be decided. Luckily for us, stacking is absolutely critical for both of these formats because you need both the correlated amount of games played by the teams in the Super Bowl, as well as the correlated weekly upside.
If you are looking for real-time updated Playoff Odds, both 538 and Football Outsiders offer high quality models that show the probabilities of every possible scenario for each team in contention for the Playoffs.
Below are our Core Picks for NFL Playoff Best Ball tournaments (structured so that they will work for both Underdog and Drafters). Our picks are a blend of probability to make the Super Bowl, positional value, projection, and our own NFL team assessments (where maybe we disagree with the market). The individual player projections are powered by RotoGrinders.
These picks will be continually updated on an ad-hoc basis leading up to the kickoff of the NFL Playoffs (as needed).
Cincinnati Bengals
Draftable Players:
QB – Joe Burrow
RB – Joe Mixon
WR – Ja'Marr Chase
WR – Tee Higgins
WR – Tyler Boyd
TE – Hayden Hurst
RB2 – Samaje Perine
The Bengals are the perfect blend of Super Bowl chances, ADP value, and elite individual player upside. In order to get access to the best skill players (CMC, Chase, Kelce, Diggs, Jefferson, etc), you are either going to have to forego the top 3 QBs or they're already be taken in your draft. But, that's just fine. Joe Burrow averaged just 2-3 points less per game than the top 3, and he's available more than a round later on average.
From a team perspective, the Bengals are just outside the top 3 (Eagles, Bills, Chiefs) in 538's Super Bowl odds, sitting at 9%, and we saw a likely worse version of this exact team make a run through the AFC to the Super Bowl just last year.
From an individual draft perspective, they have everything you want in a team to target in Playoff Drafts. An elite QB, two elite WRs, a strong RB1, and several ancillary players who have upside in their own right. You can even get a cheap TE (a horribly weak position) or an RB2 late that plays a role on passing downs and has displayed huge upside when Mixon has been banged up. It's the perfect stack, both for main stacks and secondary stacks.
San Francisco 49ers
Draftable Players:
QB – Brock Purdy
RB – Christian McCaffrey
WR – Deebo Samuel
WR – Brandon Aiyuk
WR – Jauan Jennings
TE – George Kittle
RB2 – Elijah Mitchell
The 49ers (imo) are the best team to target as a whole in these Playoff Best Ball tournaments. They have a plethora of appealing individual targets with upside at all stages of the draft. They have the best non-QB option in the draft. They have a rare high upside TE, and even some intriguing punt options at the end of drafts.
From a team perspective, the Niners are not being given the credit they deserve. This is the best 49ers team of the Kyle Shanahan era (even with Brock Purdy at QB), and this is probably the weakest NFC. Their 538 odds to win the Super Bowl are just outside the top 3 at 11%, but at the actual team level we can see even more appeal. If we look at Football Outsider's DVOA, the Niners are just fractions of a percentage point behind the Eagles for the 2nd best team in the NFL (Bills are 1st). Meaning, from an analytical standpoint, you're getting a team that one could easily argue is the 2nd best team in the entire NFL at the prices of a regular old "good" team that doesn't have a bye.
Brock Purdy has not only kept the Niners ship afloat, but one could argue he has been a boost to the offense over Jimmy Garoppolo. Deebo Samuel is now healthy, and they're even getting Eli Mitchell back for Week 18 as an intriguing late round pick in drafts, so long as you make sure to put him in the right structured teams.
P.S. in case you missed it, CMC is our number one overall player for Playoff Drafts.
Los Angeles Chargers
Draftable Players:
QB – Justin Herbert
RB – Austin Ekeler
WR – Keenan Allen
WR – Mike Williams
WR – Josh Palmer
TE – Gerald Everett
RB2 – Josh Kelley
Everything is coming together at the perfect time for the Chargers, but our opponents still haven't totally caught on. They have slowly gotten healthy as the season has gone on after yet another insanely injury riddled season all across their roster, and the performance on the field has predictably boomed.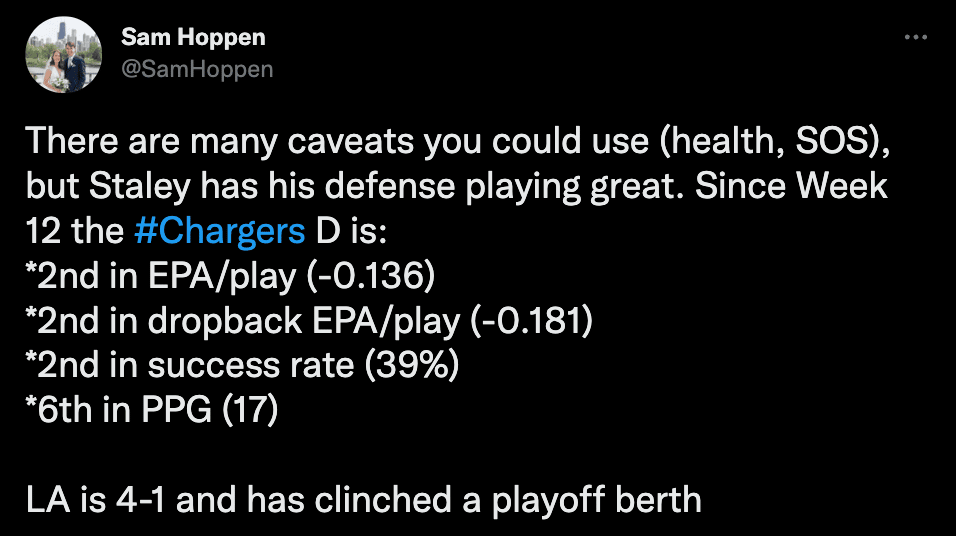 As Sam Hoppen noted, their defense in particular has been a huge boost over the 2nd half of the season, and that was their one big area of concern for the Super Bowl chances. They added a ton of talent on that side this past offseason, and it's finally coming together for them. Due to their lack of health (& a loaded AFC), they're being treated as a huge downgrade in drafts (& in these other markets or analytics) from the top teams, but their current form and current level of play suggest otherwise.
Austin Ekeler is the one rival to CMC from an individual RB perspective, and the field being down on the Chargers has him going all the way down at 16th overall (which is up from where it was), behind the likes of Jerick McKinnon and right next to Tony Pollard. Even crazier, Justin Herbert actually goes behind BOTH Dak Prescott and Brock Purdy in drafts as a pretty distant QB6 in drafts. I understand this is because of team, and truthfully AFC vs. NFC, level issues, but I think that's something we can take advantage of with everyone so down on the Chargers.
Beyond Ekeler and Herbert, there are two excellent WRs to target at great prices here. Keenan Allen is probably never going to put up the "guy you need" type score in a week, but he's a target hog that can be a key part of your weekly output. Mike Williams offers a bit more boom-bust, with a higher floor than people give him credit for.
The ancillary options here are admittedly a lot less appealing than the other teams with Gerald Everett being forgotten in the offense of late and Josh Palmer lacking much upside with Keenan and Mike Will healthy. But, they're also readily available at the very back of drafts if you need a little extra boost of correlation.
To summarize, of course you don't want to limit your exposure in Playoff Drafts to ONLY your Top Stacks. You'll find players from other teams and stacks of others teams in my portfolio. The draft just doesn't always fall to you perfect. However, these three teams will easily make up the most critical focus of my exposure from a stacking perspective in drafts – both as my main stack and secondary stacks alongside another main stack.