Spike Week is the very first community, content and tools provider focused solely on providing everything needed for Best Ball drafters to become winning players. With a Spike Week subscription, you gain access to the most in depth and diverse set of tools and content in the entire Best Ball space, all of which were developed by Best Ball sickos for Best Ball sickos
Your Spike Week premium subscription includes access to:
Draft Hacker Overlays
DraftIQ
Best Ball Rankings for Underdog, DraftKings and Drafters
Best Ball Picks, Analysis and Strategy Playbooks
ADP Tools
Best Ball Tournament Ownership Projections
Best Ball Player Point Projections
Best Ball Player Stats
And we are always building more!
Draft Hacker Overlays
Countless Customizable Options
Our Draft Hacker allows you the ability to see anything and everything you need to see in real-time while you draft your Best Ball teams. Once you have subscribed, you will simply download our premium browser extension, upload your teams you've already drafted (if applicable), select your settings, and you're ready to roll!
Users can customize every single option they'd like to see right on their screen while they draft, and they can even customize the colors shown on the data or the colors used to highlight things such as player, team and playoff matchup correlations. The options are nearly endless, and you can choose as many or as few options to display as you'd like.
All settings are customizable for each different site (Underdog, DraftKings and Drafters), and you can change them whenever you'd like. Plus, if you happen to forget which data point on your screen is showing you a particular option, you can just hover over it to see what that option is showing!
Examples of the Overlay Options: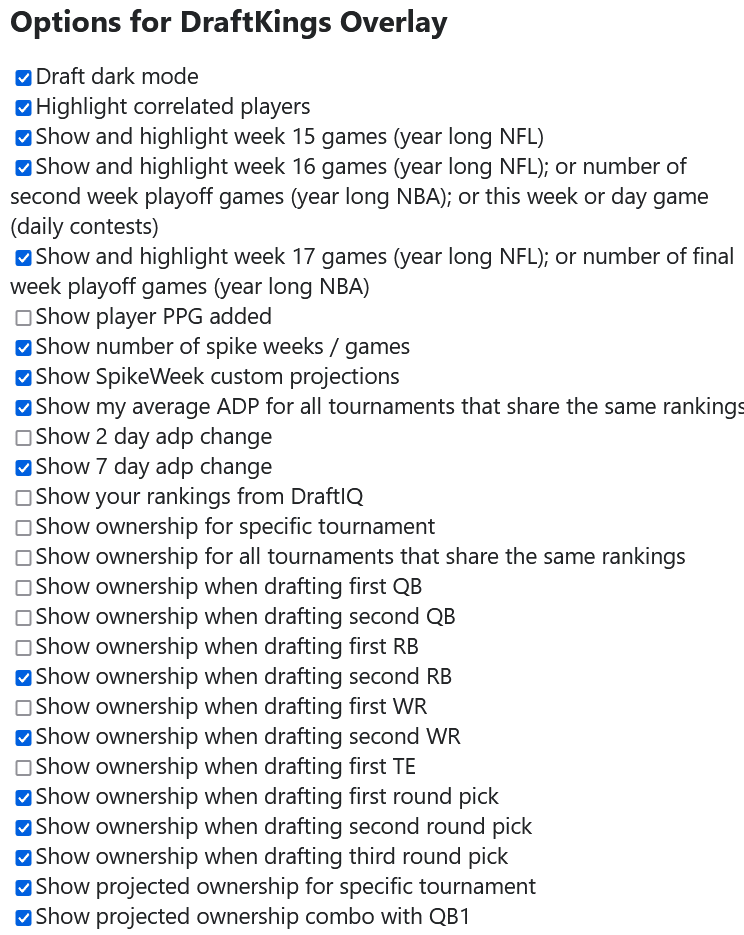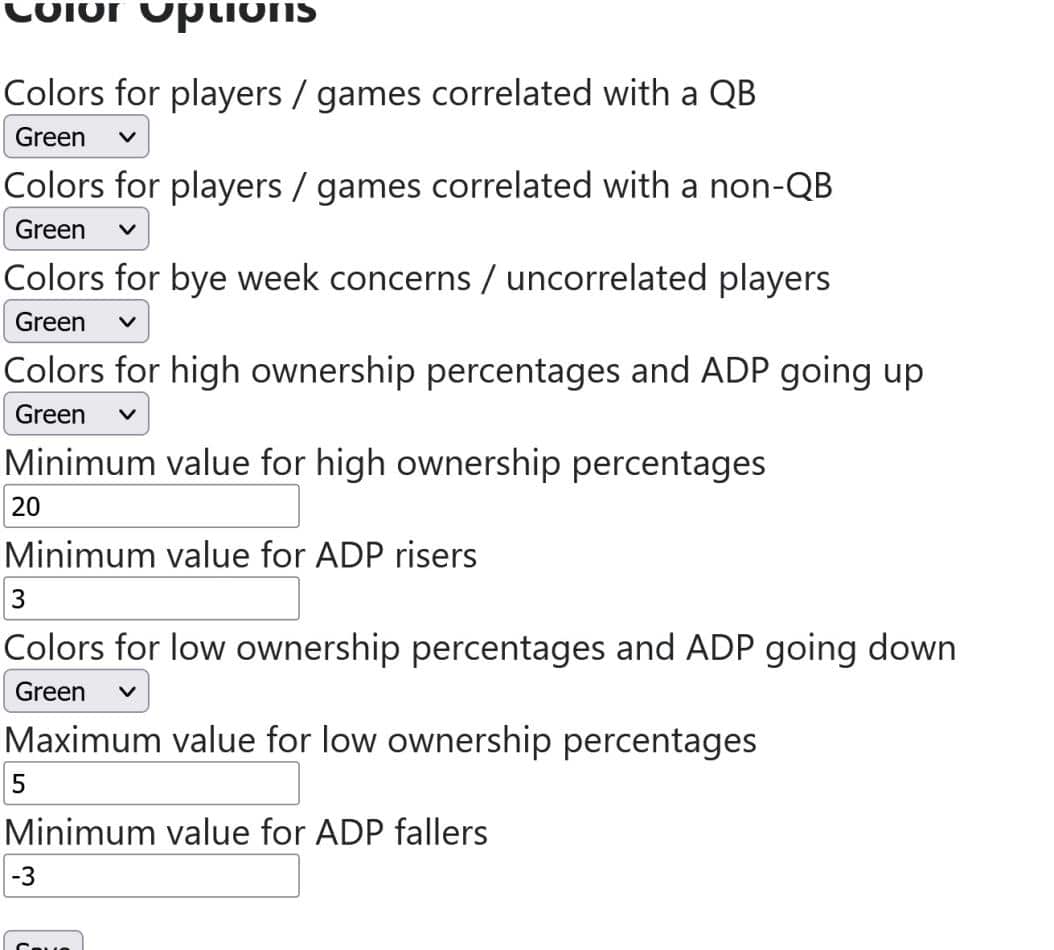 Real-Time Overlay Information During Drafts
Once you have uploaded your teams and select your options in the Draft Hacker, that's when the real fun begins. When hop into a draft on Underdog, DraftKings or Drafters, you can see the power of the Draft Hacker as you assemble your team during your draft.
Most of the data from the Draft Hacker will be displayed in the row next to the players in the queue. This is where you will see all the data points that you have selected within your options in the extension show up during your draft. The options selected will show up in the order they are listed on the options page. Don't worry though, if you forget which percentage or metric means what, you can simply hover over that number with your mouse and it will tell you what that specific number is representing.
The Draft Hacker will also display two critical data points for best ball draft – correlations and playoff schedules.
Correlations will show up via highlighting. As you see in the example below, once you have selected a player to your team, players who correlate with that player will be highlighted in the color you selected in your options. In the example below, the drafter has selected Tyreek Hill, so Tua Tagovailoa is highlighted in orange to show you that this player is correlated with a teammate that you have already drafted.
You can also set different colors for different correlations. Again in the example below, the drafter has already selected Lamar Jackson onto this team, so you see Odell Beckham highlighted in green in the player queue. This particular highlight represents a player who correlates specifically with a quarterback you have drafted on that team. We understand there's an important distinction between a normal teammate skill player and a stacking partner with the QB you've drafted, so you have that option to give those correlations different colors.
Next to the player's name in the queue, you also see 3 NFL team names. Those are the Week 15, Week 16 and Week 17 matchups for the player. We know that the fantasy playoffs are extremely important in best ball, so you can see every player's player schedule right on your screen in the queue. On top of that, if a player in the queue correlates with someone you have already drafted to your team in any one of those playoff matchups, that game (as you see with @ BAL next to Tua below) will be highlighted in the color you have selected.
Last but not least, we have two additional views that you can toggle between – the Team View and Playoff View:
Team View – It can be a little difficult to see exactly how many players you have from specific NFL teams as you are drafting your squad, so if you select Show Team View you can see a breakdown of the players you have selected organized by each NFL team that they belong to. This is an easy way to see not only your breakdown of players by team, but also the various stacks you are or can assemble as you draft.
Playoff View – as mentioned before, the playoffs are extremely important, but we know that Best Ball drafters need to know about their Week 17 matchups. If you select Show Playoff View (which is selected in the below screenshot), you can get a quick and easy to consume break down of the Week 17 matchups that you have exposure to within that particular team. These will only show once you have selected at least one player from both teams in a particular matchup. If you want to find the players from any one individual team, you can see that in the Team View.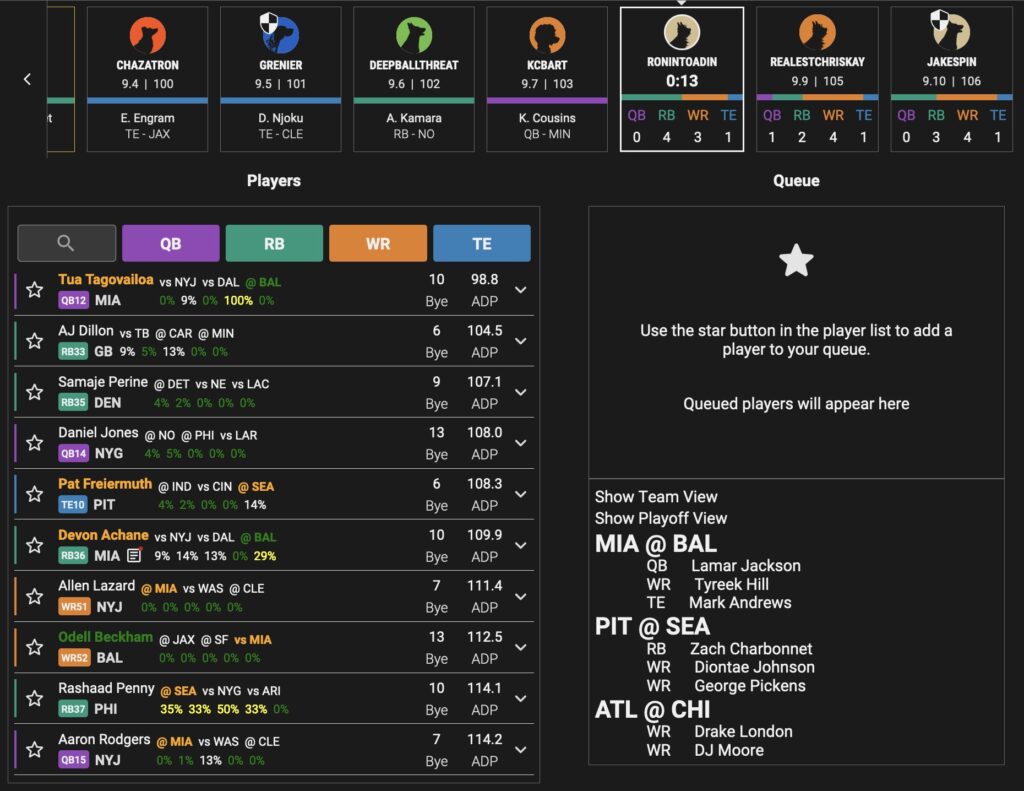 DraftIQ
DraftIQ is the first ever Best Ball Exposure and Portfolio tool. This tool allows Best Ball drafters to analyze every possible angle of the teams they've drafted to ensure that they are putting their best ball strategy into practice just as they'd like. Player combinations, stacks, week 17 correlations, roster constructions, individual lineups and so much more for ALL of Underdog, DraftKings and Drafters.
Drafts & Rankings
On the Drafts tab, you can get an overview of how your exposures and teams are shaping up at the individual player level. You can see your exposure for each player on any one of the 3 best ball sites, and you can also see your player exposures for any individual tournament.
For each player, not only can you find your exposure, but you can see your average ADP on that player compared to his actual ADP. You can find the total amount of money invested into that player, as well as what type of roster constructions you have drafted with that particular player on a percentage basis.
This page is also where you can upload your own rankings to see the player list in the order of your rankings (and compared your rank vs. ADP), and also where you will upload your Underdog lineups using their CSV.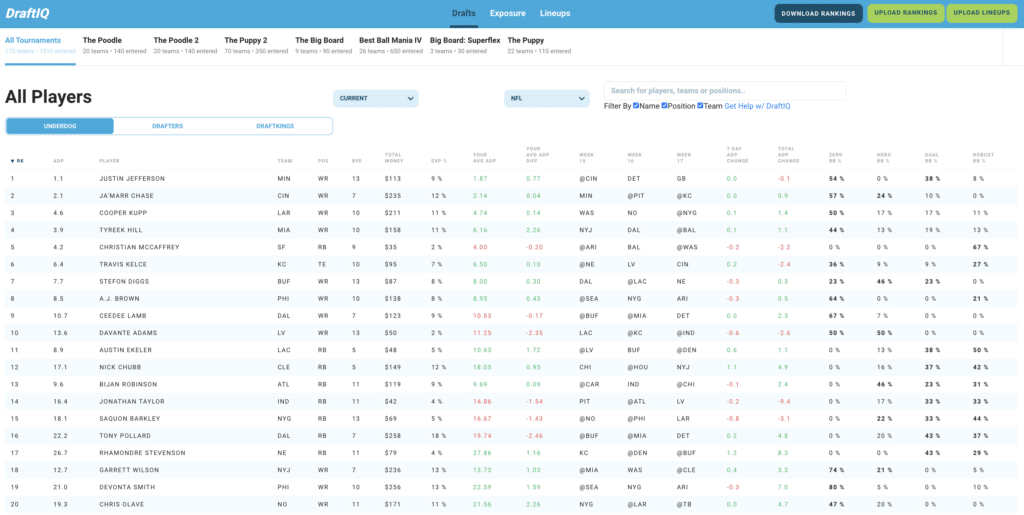 Exposure Details
The Exposure tab is where you can really drill into your portfolio of teams. Again, you can see your exposure for each site as a whole, or drill down into individual tournaments for that particular site. But on this page you will see 8 different views:
Players – Your Overall Exposure by Player, including the number of drafts you've selected that player in.
QB Stacks – Which QBs have you stacked the most across your teams
Stacks – Which offenses have you drafted multiple players from the most (included both QB stacks and combinations of non-QB teammates)
Roster Build – See the breakdown of how many of each position you are drafting and how frequently you draft each build
Team Structure – How often you are drafting each type of roster construction (I.E. Zero RB, Elite QB, etc.)
Week 15 / 16 / 17 Stacks – How often you have drafted stacks of each game in each playoff week
The really epic part of this page is that not only can you see this data at an overall level about a site or tournament, but you can drill all the way down by searching for an individual player OR any combination of two players. So, if you want to see what your teams look like that have both Justin Jefferson and Tee Higgins on them, you can search for those two players in the search box and see the data update in real-time. You can take it even further and search for those players in any specific tournament to find our what those teams look like in one tournament, such as Best Ball Mania. Lastly, you can even drill all the way down in the Players section by adding one more player search to see what other players you have exposure to alongside not one, not two, but three players on any individual team.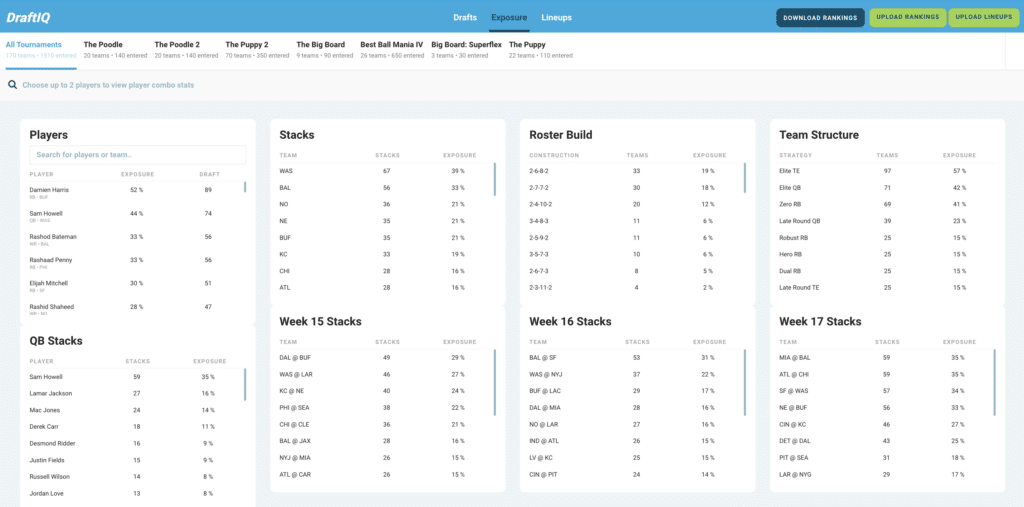 Lineups
It's very difficult to look into any individual Best Ball team on the specific best ball sites, nonetheless trying to look at multiple teams at once. Our Lineups page solves that, and also allows you to drill down extremely deep into your specific lineups.
Similar to the Exposure tab, you can search overall by a specific best ball site or by an individual tournament. Also similar to the Exposure tab, you can search for any individual player OR combination of two players to quickly find your teams that have that player or player combo on them.
You can also filter your lineups by various options, such as:
Pick Number (I.E. 1.01, 1.02, etc.)
Roster Numbers – how many of each position you selected on a given team
Roster Type – which roster construction you used on the team (I.E. Zero RB, Elite QB, etc.)
Live or Upcoming – Once the season starts, if you are drafting in-season contests or Playoff Best Ball contests, you can filter for lineups that are currently live or those that have not yet started.
You can also sort your teams by a myriad of options:
Date
ADP Value
Total Points Scored (for live or historical teams)
Points Ahead (for live or historical teams)
Points Behind (for live or historical teams)
Place (for live or historical teams)
For DraftKings and Drafters, we fully support the in-season sweat for all your lineups. As you see above, there are various options to be able to track all your teams while the season is ongoing. As Best Ballers ourselves, we know it's impossible to try to sweat your teams while the season is playing out, so we took care of that for you. Simply click the "Update Scores" button whenever you'd like to get your scores updated during the season, and you can search for teams that have any individual player or combination of players, see your advancing teams, teams that are close to advancing, and much more.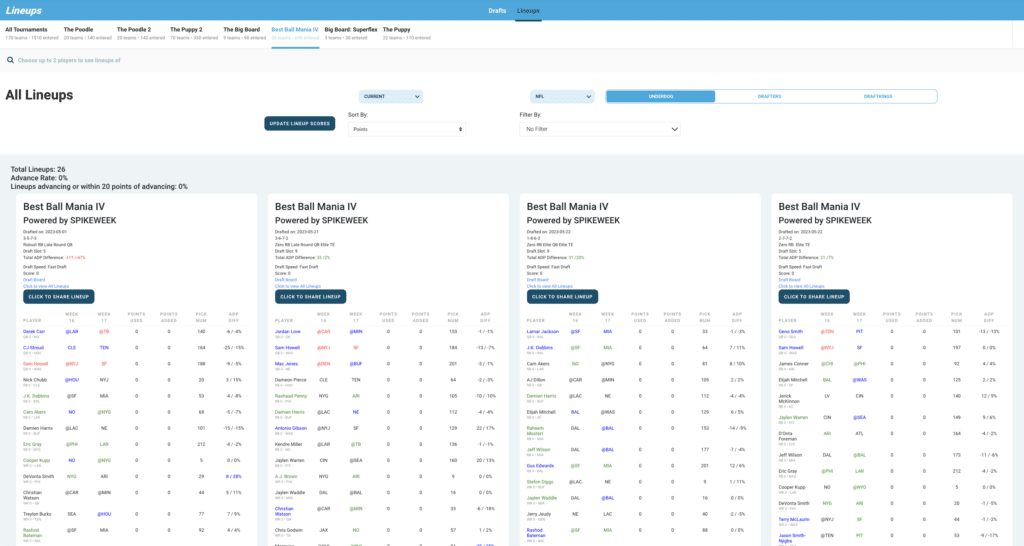 Player Combinations
If you want to see your exposure to every combination of two players, use this page to quickly and easily see what percentage of your teams have specific player combos.

Advance Rates
We took our Exposure page and added one more layer to it. It's very tough to find all the data about JUST the teams you drafted that advanced to the playoffs, so we built an Advance Rates page for subscribers.
This page functions almost the same as our Exposure page, but it filers out all the teams that you drafted that did NOT advance to the fantasy playoffs. This way you can see which players and roster constructions worked for you in a particular season, as well as each round of the best ball tournament. You can see a breakdown of your teams that advanced to the playoffs, advanced through week 15 and advanced through week 16.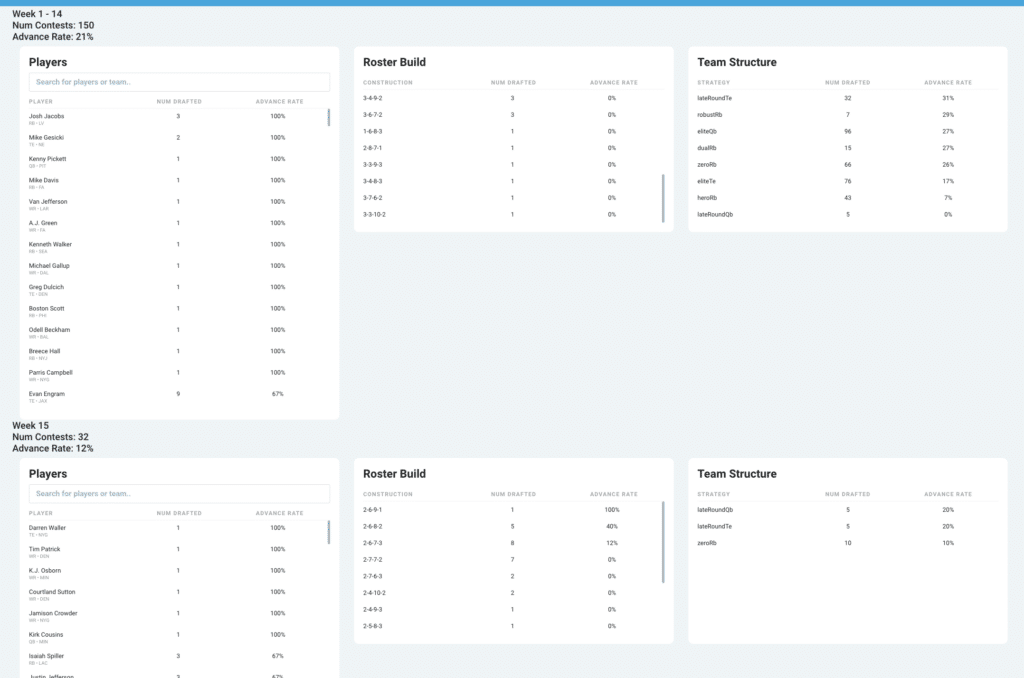 Best Ball Rankings
Your Spike Week Subscription gets you access to our Best Ball rankings for the following sites:
The rankings for each site are updated as our team continues to evolve their thoughts and analysis on the player pool and draft strategies for the season. The rankings are also downloadable for subscribers to be uploaded and used during your drafts on each individual best ball site, if you so choose.The rankings include our Top 250 Overall players.
Best Ball Picks & Analysis
Spike Week subscribers get access to more than just tools and rankings! We are the most dedicated group of sickos in the entire Best Ball space, so we also offer a great plethora of analysis on our favorite players, stacks, players to avoid, and advanced strategies and playbooks specifically designed for individual best ball tournaments from players who draft thousands of best ball teams to develop their strategies.
Underdog 2023 Strategy (coming soon!)
DraftKings 2023 Strategy (coming soon!)
Average Draft Position (ADP) Tools
Understanding how players are moving in terms of where they are being drafted is an important element to the game of best ball. We have developed several different views into Average Draft Position that you can use to research player movement across any of the 3 main best ball sites (Underdog, DraftKings and Drafters).
We have 6 different ADP tools for subscribers:
ADP by Site – search for a player's ADP over any time period on one particular best ball site.
ADP by Round – search for specific rounds of the draft on a best ball site and see how each player currently being selected in that round's ADP has evolved over the draft cycle.
ADP by Team – search for entire NFL team's ADP and see where all the individual players from a team stack up in where they're being drafted.
ADP by Contest – see individual player ADP by a specific best ball contest.
Individual Player ADP – search for a player's ADP and see the comparison of his ADP in a line chart between all 3 sites.
Tournament Fill Rates – a little different than ADP, but this view allows you to see how quickly tournaments are filling over time.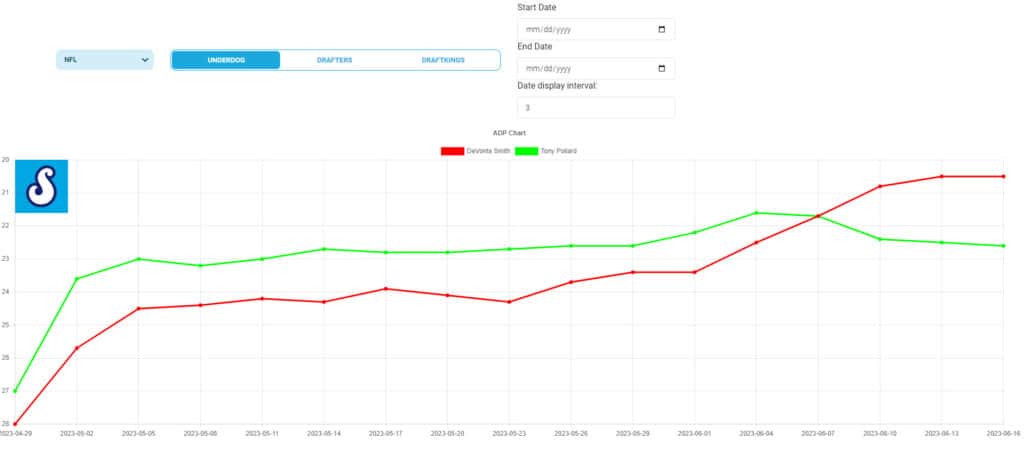 Best Ball Ownership Projections
We have created the very first Best Ball Ownership projections. A next level way to approach Best Ball is by identifying certain combinations of players, stacks or individual players not being selected together frequently to try to gain an edge on your opponents. We have utilized historical draft data from all 3 of the major Best Ball sites to combined with current ADP and market sentiment to build a projection model that will predict how frequently drafters will be selecting certain player combinations, stacks or individual players.
We have built 8 different ownership projection views:
Ownership Combos – see how popular certain combinations of players are being drafted together. These combinations only account for the players in the first 8 rounds.
QB Stacks – see how popular all the different stacking partners for each QB will be.
QB Double Stacks – see how popular all the different double stack (QB plus two pass catchers) options are for each QB.
First 3 Round Combos – see how popular each combination of players in the first 3 rounds of the draft are.
Roster Builds by Player – see the most popular roster constructions your opponents are building around individual players.
Draft Rate – see which players are not being selected in every single draft and the projected rate of drafts they are selected in.
Week 16 Stacks – see how frequently certain week 16 game stacks are being drafted.
Week 17 Stacks – see how frequently certain week 17 game stacks are being drafted.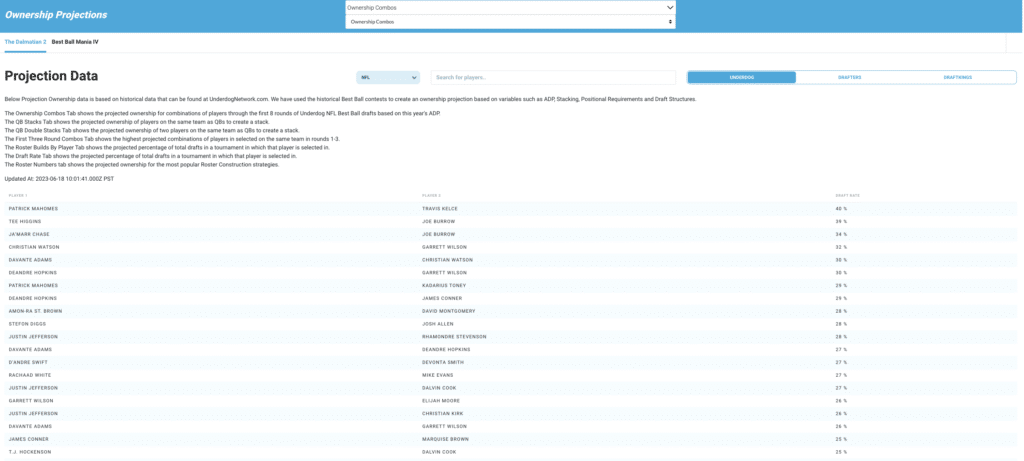 Best Ball Point Projections
Best Ball is a weekly game disguised as a season long game, so we built the first ever Best Ball weekly point projections for both full PPR and Half Point PPR.
Partnering with our Daily Fantasy (DFS) team from RotoGrinders, we built single game point projections for every player in the player pool. Using these projections, you can see where each player stacks up from a single game projection standpoint vs. the rest of the players at their position or across all positions. The projections were built to assume a net neutral matchup for every single player, as well as to assume that every player is fully healthy, so that you can get an idea of how every player projects on a totally even playing field with the rest of the player pool.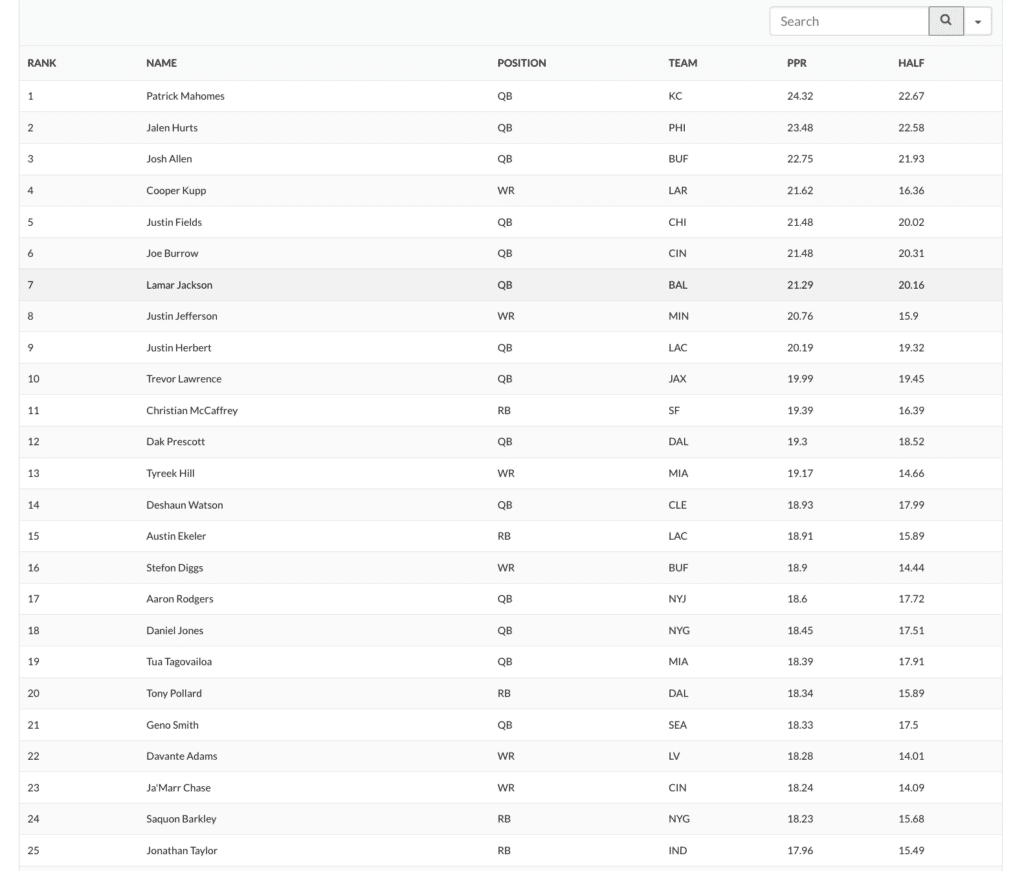 Best Ball Player Stats
You'll often hear the terms "usable weeks" or "spike weeks" tossed around in the Best Ball industry, so we decided to quantify them using our Best Ball Player stats.
Using these stats, you can compare every major statistical output category of a player, as well as ADP, to see how they really performed for Best Ball rather than just looking at end of season points scored rankings or final season stat lines. You can see things like:
Total Fantasy Points (and rank)
Fantasy Points Per Game (and rank)
Total Points Added (and rank)
Points Added Per Game (and rank)
Nuclear Weeks
Spike Weeks
Usable Weeks
Dud Weeks
Target Share (and rank)
Air Yards Share (and rank)
RB Opportunities – Carries + Targets (and rank)