Underdog Fantasy has become wildly popular due to their massive Best Ball contests as well as their Pick 'em games, but their daily snake drafts are another incredibly fun option for fantasy drafters. Their NBA drafts (or Battle Royale as they call it format) are incredibly simple, and they give you a shot at 4 or 5 figure winnings every single day. 
All you have to do is draft 6 players from the games taking place that day in the MLB in a traditional snake draft format against 5 other users. Draft order is randomized. No salary cap. There are only a few minor positional requirements. Your team must have 1 and only 1 pitcher. You will draft 5 total hitters, and you must have at least 2 infielders (IF) and 2 outfielders (OF). Your final spot is FLEX position, which can be either an infielder or outfielder. Your team of 6 players competes against every other team of 6 drafted that day in that tournament for your share of the prize pool, which typically pays out approximately 20% of the field with 20-25% going to first place. 

Underdog offers a variety of options each day with single entry, double entry and multi entry contests available. Their player scoring is also very simple: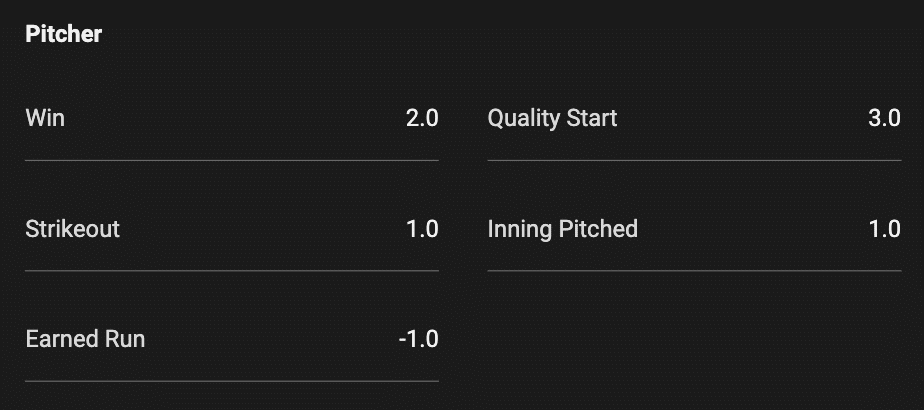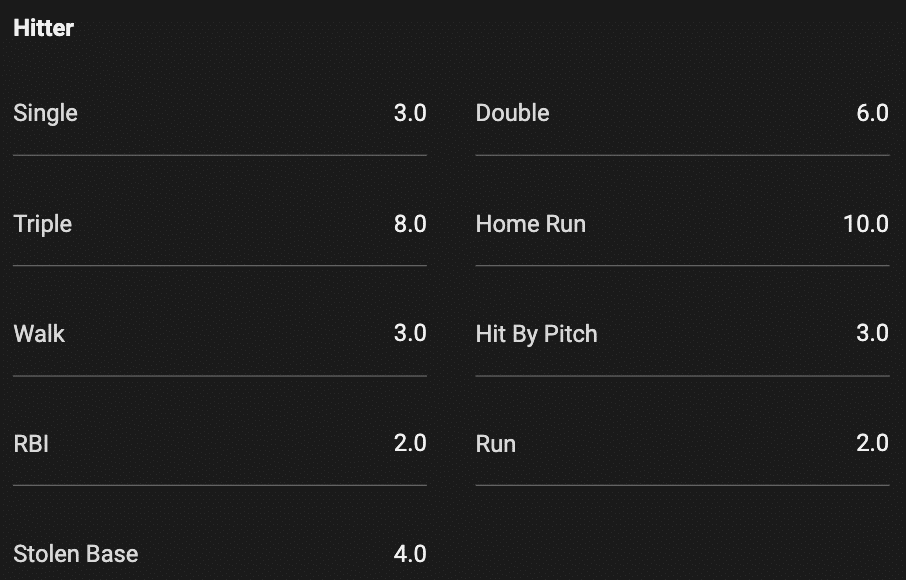 Below are the additional details and rules provided by Underdog for their general Battle Royale contests, as well as their Daily MLB specific contests: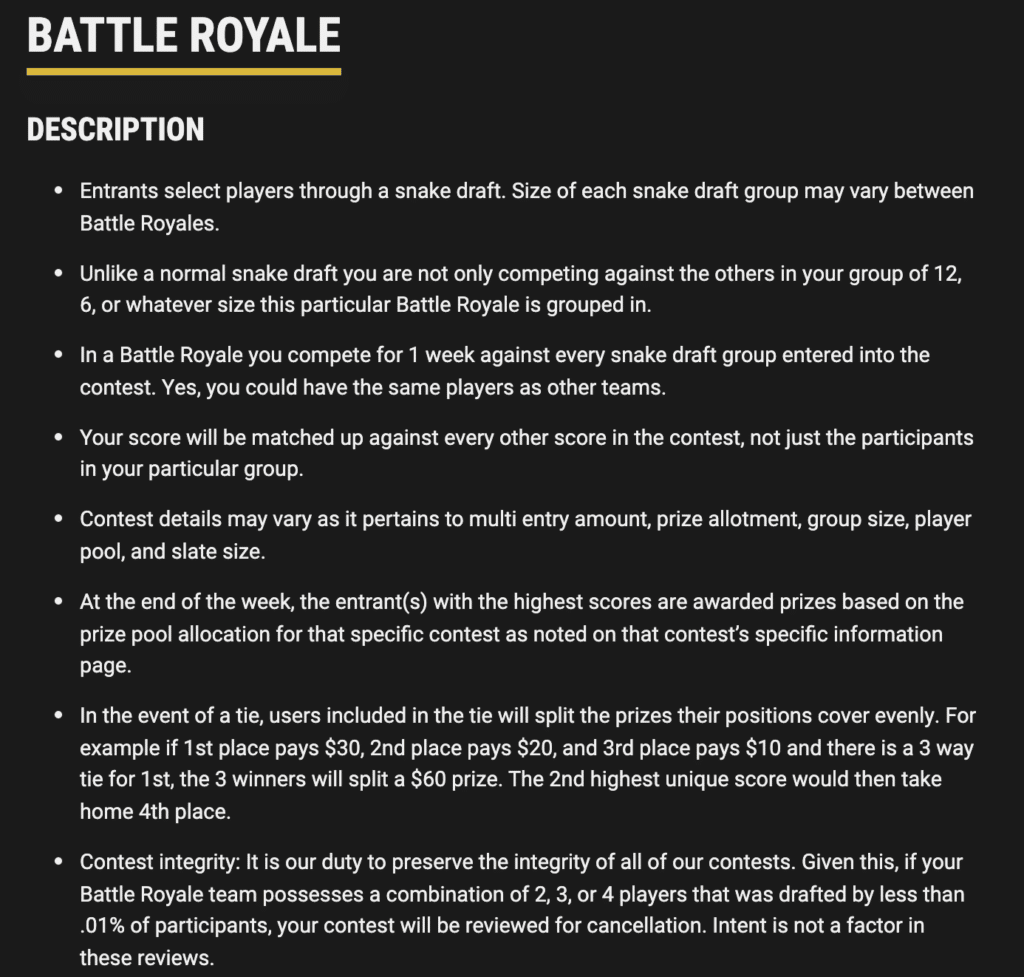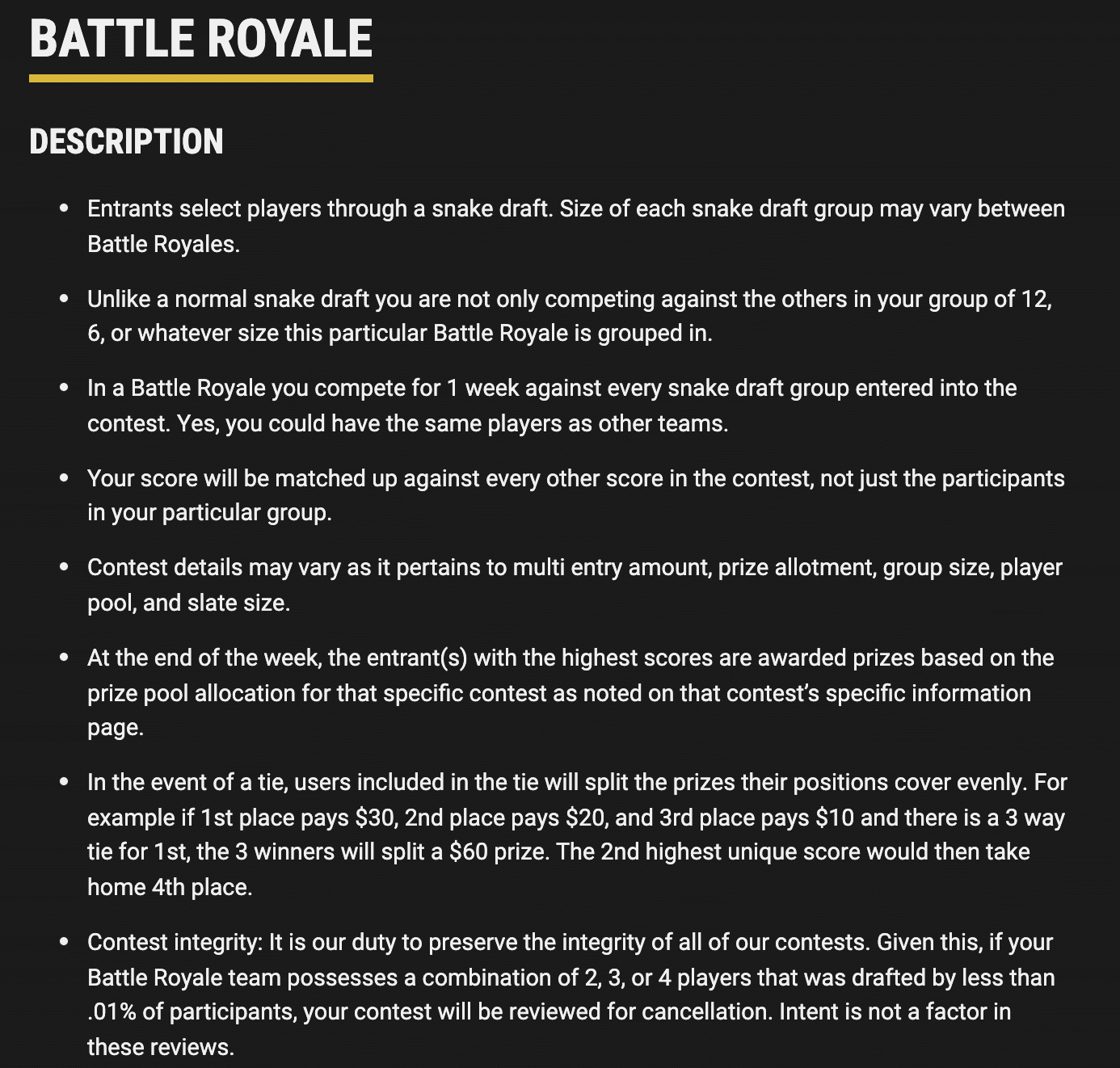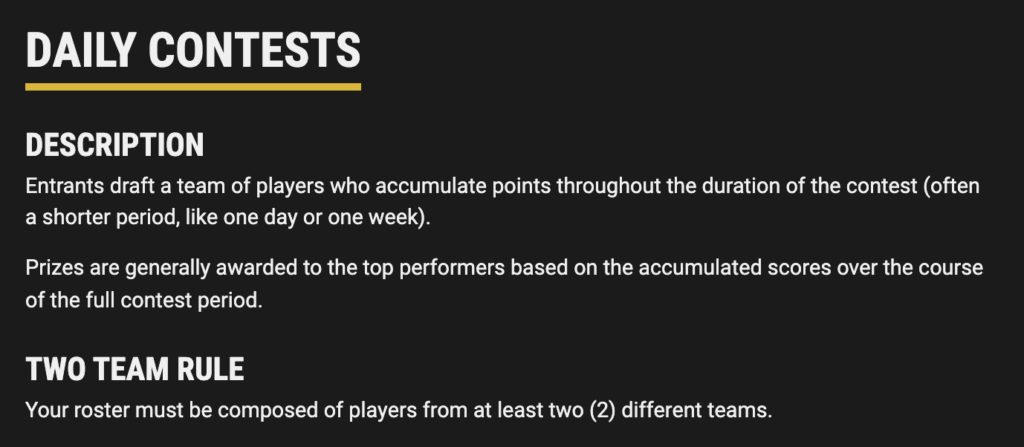 Let's dive into the strategy for today's contests. Much of the strategy for today is driven by the incredible Daily MLB Projections from the RotoGrinders team. If you'd like to subscribe to the full set of projections for every player and team, head to RotoGrinders MLB Premium , which includes fantasy point projections and daily fantasy ownership projections for sites like DraftKings, Fanduel, and Yahoo, as well as LineupHQ Optimizer access and much, much more.
Also, if you're new to Underdog, and you'd like to sign up to test out some drafts, make sure to take advantage of our exclusive 100% deposit bonus up to $100 using underdog promo code SPIKE.
Underdog Fantasy MLB Daily Battle Royale & Snake Draft Contest Strategy – April 20th, 2022
Top Options
A little bit of a split slate tonight with 7 games in the evening starting at 6:40 PM ET.
On the pitching side, Carlos Rodon is a tier above the rest despite a matchup with a Mets team that doesn't strike out a ton. Sandy Alcantara and Chris Bassitt round out the top tier of pitching, and beyond them (or maybe even including them), our projections see no reason to rush to take any other early round pitchers.
From a hitting perspective, we don't have Coors Field to worry about tonight (it's a day game), but we have several of the top bats in the game in appealing matchups. The Angels draw Jake Odorizzi, making Mike Trout (assuming health) and Shohei Ohtani the top two bats of the night. Trout has not played the last couple days, so you have to take the risk on his health, and Ohtani always projects for zero points when he is pitching on Underdog, so you may be able to get him at a value in drafts. That would allow you to get another elite bat like Vlad Guerrero Jr, Rafael Devers or Juan Soto onto your team.
Stacks to Target
Angels – Odorizzi isn't the worst pitcher ever, but he's prone to the long ball, and if Trout can come back the Angels make for a really appealing stack. Trout and Ohtani are the two top hitters of the night, Anthony Rendon and Jared Walsh both make our rankings list, and Taylor Ward is a player to mix in in the last round while he's off everyone's radar.
Blue Jays – Similar to Odorizzi, Nick Pivetta has shown flashes of talent in the Majors, and he's not a total gas can. But he's been prone to blowups as well, and even without Teoscar Hernandez the Jays have a ton of firepower, especially on the high end. Vlad, George Springer and Bo Bichette are all elite options, with Lourdes Gurriel available to round out stacks.
Undervalued & Overvalued Players
Carlos Rodon – The perfect example of why we should use our own projections and rankings. Rodon sits way down the list on Underdog, and he won't be available that late in drafts, but he should be the consensus number one overall pitcher in every draft. He's been the best fantasy pitcher in baseball thus far, but he projects down beneath a bunch of scrubs on UD.
Shoehei Ohtani – It's important to bring it up again, but Underdog has an issue in their system where Ohtani projects for zero points on days when he's pitching, but he counts as a hitter and you'll draft him as a hitter. He is playing in the lineup everyday, including when he pitches, this year, and he's right there with teammate Mike Trout as the top bat of the day.
Rafael Devers – I'm sure everyone knows Devers is good, but I don't know that most give him quite the credit for the truly elite tier level hitter he is. He has truly become one of the top handful of hitters in the game, and he draws a matchup with Jose Berrios who has REALLY struggled so far to start this year, recording just one out in his first start and serving up another 2 HRs in his second.