NFL Playoff Best Ball is here, and Drafters Fantasy has launched their Best Ball Championship contest. Drafters is a particularly fun playoff format for a variety of reasons. But first, let's take a look at the details of their contest.
If you haven't yet signed up for Drafters Fantasy, you can use Promo Code 'SPIKEWEEK' to receive a FREE $11 ticket with any deposit of $20 or more – or click HERE to get signed up.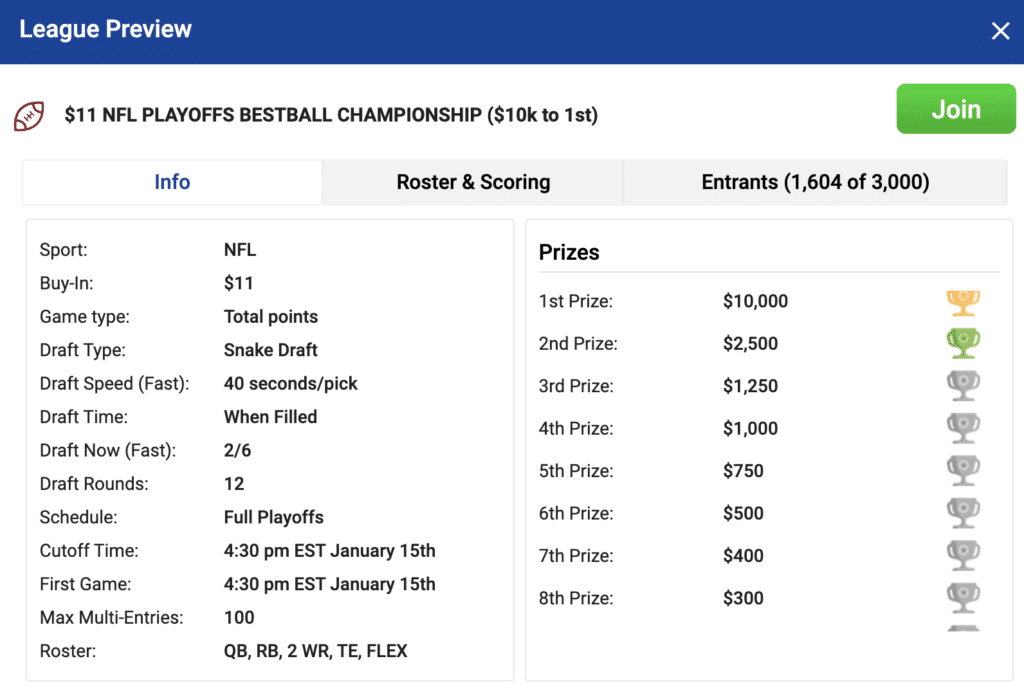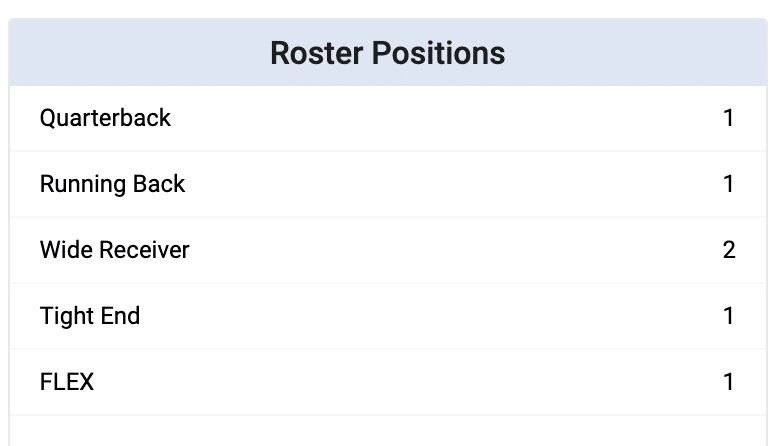 If you've been playing on another site, such as Underdog, you'll quickly notice a bunch of differences between Drafters and those formats.
First, similar to the regular season contests from Drafters, their playoff tournament is a cumulative scoring format, meaning the prizes in the tournament will be determined strictly by the total points scored from each entry in the contest. There are no groups or knockout rounds like we see on a site like Underdog. You simply draft your team and compete to score the most fantasy points over the course of the playoffs across 3,000 drafted teams.
They offer traditional PPR scoring as well, but arguably the most interesting difference on Drafters is their roster structure. The drafts consists of 12 rounds (as opposed to 10 on Underdog), and your starting lineup includes a tight end position. On Underdog, you see that they lump all wide receivers and tight ends together into one position. This adds an extra layer of strategy that's extremely fun to think through.
General Strategy
Ok, so how do we attack these things? Starting at a high level, the clear factor to consider is the cumulative scoring. On sites that have small groups in each round where you just need to beat handful of people to advance, there is a lot more benefit to heavily stacking teams, giving up some projected points and hoping to sneak through each round with rosters loaded up on 1-3 specific teams. Survive, advance and give yourself a team loaded up on the Super Bowl matchup to beat the other teams that make the finals.
Correlation is definitely still a critical factor here, but we can't afford to give up too many points in those first couple of rounds. You could hit a team that stacked the Super Bowl matchup, but be so far behind by the time that Super Bowl gets here that you're still drawing dead to win the $10k Top Prize. Ultimately, we have to try to thread this needle of projection and early round scoring vs. exposure to Super Bowl teams.
Obviously, hitting on team stacks that advance, ideally to the Super Bowl, is still going to be a critical aspect here. As we know, the more games you play, the more fantasy points you score. Plus, there will be other teams in the 3,000 entrant field that have Super Bowl stacks in their lineup when we get to that final weekend. Particularly with the extra spot in your starting lineup, there are plenty of points still to be gained in the later rounds with so many players being knocked out due to a loss by their team.
On Underdog, I think correlation is king. Projection lags way behind in terms of importance. Even if you want to boost your early round projection, there are easy ways to do it while still creating the correlation to give you outs to different Super Bowl matchups.
On Drafters, correlation is still extremely important, but that gap between the two becomes thinner. Because you only need to beat a handful of other teams in each round on UD, often times tossing in an extra player to your stack in later rounds can be more beneficial because the upside of having additional players available in later rounds can outweigh a small projection boost in the first round (or two). Again, that is a much more interesting discussion on Drafters where you may never use someone like Byron Pringle's score in your lineup until the Super Bowl, if the Chiefs were to make it, and at that point it's possible his low projection in the Super Bowl doesn't even increase your win equity enough to sacrifice the potential projection of 1-2 rounds on another player.
Ultimately, I think there is really no right answer. That's what makes this specific format so fun. We know for certain we need to build the upside into our teams (through stacking) to capitalize on hitting on teams that advance (ideally to the Super Bowl). But we want to be cognizant of simultaneously coming as close to maximizing early round points as we can in order to be within striking distance of first when our stacks and key players do advance in the playoffs.
Micro Strategies
There are a near infinite number of hyper focused strategies that you could employ in these drafts, so much so that there is no humanly possible way to outline them all in one sitting (or probably even several). Again, that's what makes these contests so fascinating. But I think there are a few that we can use to our advantage in order to give ourselves the best shot at first in this tournament.
The Tight End Position – As outlined above, the tight end position is a unique aspect of Drafters, and it can create potential edges for us in our drafts. As we know from this fantasy season, the tight end position is extremely weak. When you compound that with the fact that we only have 14 teams to choose from, and we know that we lose half of those in each round, tight end scoring can be an easy spot to separate yourself from the field. Hitting on a high scoring tight end that advances to the Super Bowl has as good a shot as any to be the skeleton key to this contest. That gives clear added value to someone like Travis Kelce in the first round. Despite a bit of a down year, we know that Kelce has the ability to truly distance himself from the field at the position, and that is only compounded when you factor in a Chiefs Super Bowl run gives him more games to extrapolate that scoring edge.
From a construction perspective, I think taking a fragile approach to tight end is a great way to go. If you are drafting a team betting on a Cowboys Super Bowl run, drafting Schultz as your only tight end can give you a large structural edge over your competition. A strong playoff run from Schultz would give you strong scores at the position every week while being able to load up at other positions to give you bullets on adding to your stack or increasing your projection.
Lastly, including late round, high upside tight ends on teams less likely to advance beyond round one has merit here as well. We aren't projecting the Eagles or the Raiders to win, but we know that Dallas Goedert and Darren Waller have huge roles and ceilings on their team. It wouldn't be ideal to lose them in round one, but they have the ability to put up a huge score that really helps your team, and if they are able to pull the upset you could get multiple rounds of elite tight end scoring from one of your last picks.
Zero RB? – Couldn't help myself but get a troll in about Zero RB even in playoff drafts. But seriously, we could make the case that running back is even weaker than tight end. Nearly every backfield is a committee on these playoff teams, there are injury issues in certain spots and some of the better running back projections are on teams with a low likelihood of advancing. That opens up the possibility of being very light on the running back position overall, and loading up at the other positions. If running back is low scoring, you can gain an advantage by simply having a running back or two that aren't necessarily putting up monster weeks but are on teams that are advancing. You can "hang in there" at running back with Darrel Williams or Devin Singletary in the mid to late rounds (although Singletary has been a huge ADP riser), and they arguably have as much upside as any running back in the pool. You could even push that further to CEH and Pollard in those same backfields while loading up even more on the positions that can truly give you separation on the field. My favorite way of doing this is just 1-2 running backs on my roster but using the backs from the teams I've made a bet on making a Super Bowl run. If you want, you can also employ the same strategy as mentioned with TE and toss in someone like a Josh Jacobs or Miles Sanders.
Stacks – I think at this point it mostly goes without saying that stacking is still extremely important. Not only does it give you the potential for scoring in the Super Bowl round, but you're compounding scoring on a team that's successful throughout the course of the playoffs, and those players are positively correlated. If Dak has a good playoff run, his receivers are seeing the benefit of that as well.
Secondary stacks are important here as well. You don't have to build a huge stack of every team you target, and often having just something like 2 players from a team is actually more ideal. If you make a bet on the Cowboys making the Super Bowl (I.E. they are your main stack), you can thread the needle on projection vs. upside by correlating your secondary options. Having pairings of players like Joe Mixon and Tee Higgins, Gabriel Davis and Devin Singletary, or even Josh Jacobs and Hunter Renfrow (just to name a few) can give you strong projections while also building in the upside if those teams do advance. This allows you to have to get less things right in your one team. In this example, a Cowboys Super Bowl run with one of these other teams making a run as well. The total ideal scenario being you hit the Super Bowl matchup with a team that can fill out that Super Bowl starting lineup while having gotten multiple games out of your secondary stacks. Boom, needle perfectly threaded.
This is obviously nowhere near an exhaustive list of the different strategies you can employ, and they're also certainly not gospel. But hopefully this gives you an idea of some different ways to approach your drafts on Drafters with their extremely fascinating playoff format.
Good luck!