Underdog Fantasy has become wildly popular due to their massive Best Ball contests as well as their Pick 'em games, but their daily snake drafts are another incredibly fun option for fantasy drafters. Their NBA drafts (or Battle Royale as they call it format) are incredibly simple, and they give you a shot at 4 or 5 figure winnings every single day. 
All you have to do is draft 6 players from the games taking place that night in the NBA in a traditional snake draft against 5 other users. No positional requirements. No salary cap. Your team of 6 players competes against every other team of 6 drafted that day in that tournament for your share of the prize pool, which typically pays out approximately 20% of the field with 20-25% going to first place. 
Underdog offers a variety of options each day with single entry, double entry and multi entry contests available. Their player scoring is also incredibly simple: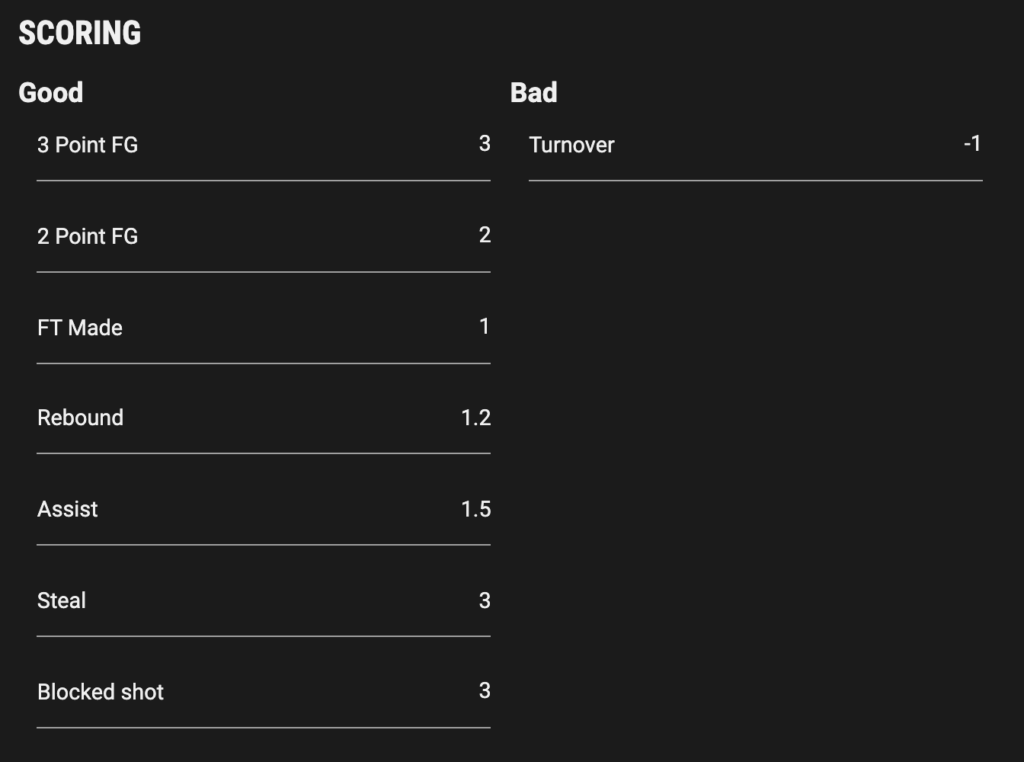 Below are the additional details and rules provided by Underdog for their general Battle Royale contests, as well as their Daily NBA specific contests: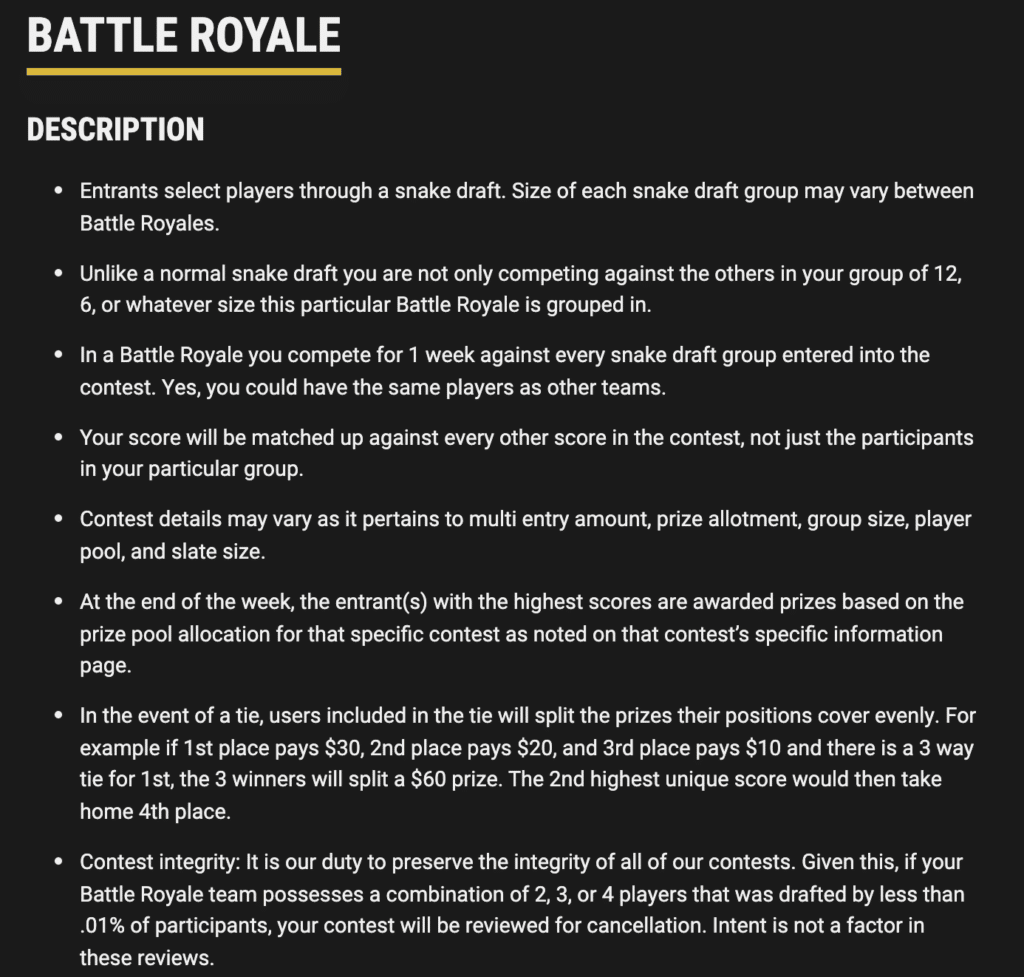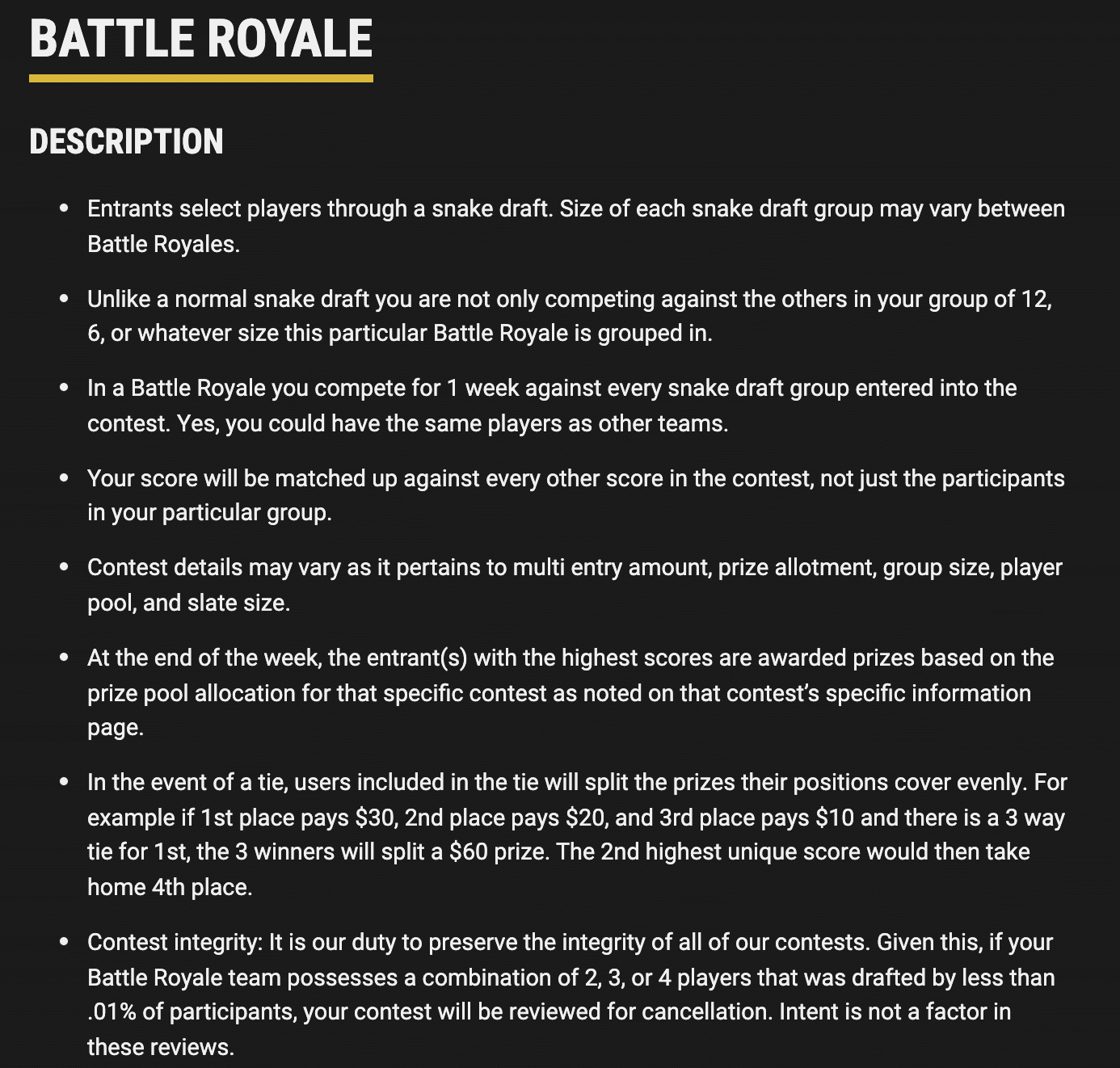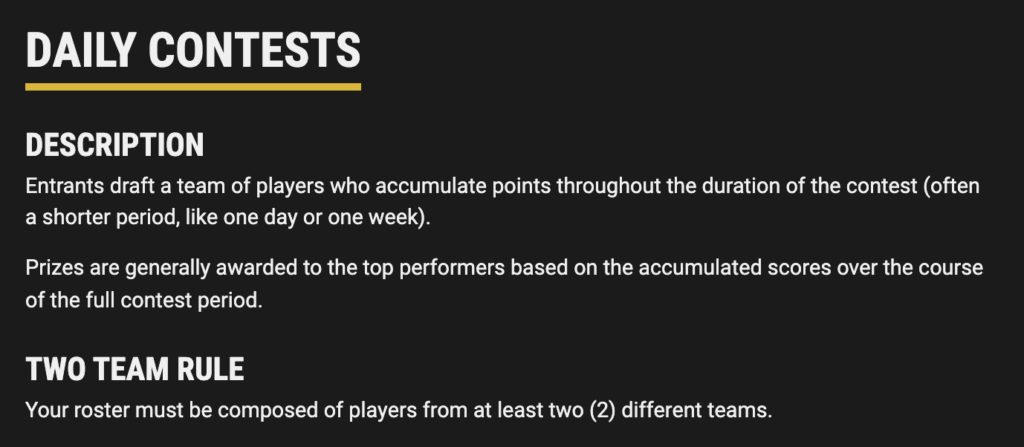 Let's dive into the strategy for today's contests. Much of the strategy for today is driven by the incredible Daily NBA Projections from the RotoGrinders team. If you'd like to subscribe to the full set of projections for every player and team, head to RotoGrinders NBA Premium , which includes fantasy point projections and daily fantasy ownership projections for sites like DraftKings, Fanduel, and Yahoo, as well as LineupHQ Optimizer access and much, much more.
Underdog Fantasy Daily NBA Battle Royale Contest Strategy for March 7th, 2022
Top Options
Fun 8 game slate tonight with a LOT of moving parts. Even the top end is not removed from the chaos with so many players questionable or out. Without Anthony Davis and given the matchups of the respective teams, Lebron James slightly nudges out Luka Doncic and co. for the top spot in our rankings, but it's honestly splitting hairs. We saw last game that Lebron still has it in him to put up the nuclear game, but Luka has been able to put more consistently big scores. Oddly enough, Nikola Jokic against basically the G League Warriors team slots in 4th overall, but we know his upside as well. And finally, Dejounte Murray (if he plays), Joel Embiid, James Harden and Karl-Anthony Towns are elite options in their own right at the high end. Heck, even Trae Young and DeMar Derozan round out an insanely impressive top 10.
Undervalued and Overvalued Players
Jordan Poole – My gut says that Poole will rise as the day goes on, but he's massively undervalued right now. The Warriors are down to a skeleton crew tonight with all their key players missing, and that leaves Poole as the main show in town. He has had a 34% usage rate without these guys on the season, and he's easily a top 20 players tonight.
DeMar Derzoan – DeMar makes for an excellent value for a number of reasons tonight. He's flat out undervalued in the UD projections regardless of situation, as he's a top 10 player on this slate that's not being drafted as such. But he also has contingent upside if Nikola Vucevic (questionable) were to miss, which would make him a smash pick at cost.
Donovan Mitchell – Simply put, Mitchell is insanely overvalued right now. He's an incredible real life player, but he draws one of the tougher defensive matchups in the league in a slow paced game tonight. He is a back end of the top 20 type player tonight, but his UD projections have him WAY higher.
Injuries and Situations to Monitor
Steph Curry – The Warriors are going to be a shell of themselves tonight as Steph, Klay, Draymond, Wiggins, Gary Payton and Iggy will all be out. Jordan Poole is the clear benefactor, as outlined above, as he has a monster usage rate without these guys and will be tasked with a lot of scoring in their absence. Jonathan Kuminga also makes for an intriguing late round flyer given the upside he's shown in the past.
Nikola Vucevic – Vuc is questionable, and if he were to miss we would get big boosts to Derozan and Lavine, similar to what we've seen all year when one of their big three are sidelined.
Afernee Simons – Simons has been exceptional in this tanking portion of the Blazers season, but it appears even he was too good for their liking while they try to lose games. The situation is a mess, and no one outside of mainly Josh Hart projects well here, but if you'd like to dabble in a situation with a ton of opportunity, guys like Brandon Williams make sense to sprinkle in late as well.
Luka Doncic / Jalen Brunson – It looks like Luka should be back tonight, but Brunson is truly questionable. If he were to miss, it would keep Spencer Dinwiddie relevant in later rounds. Luka demands huge usage, but there is still a role here for one of these guys to put up a big score if the other is out.
Dejounte Murray – This might actually be the biggest news of the night, as the Spurs take on the Lakers in a juicy spot. Dejounte is a top 4 pick if he goes, but if he were to miss we would see massive boosts to multiple other Spurs, especially with Derrick White out of town as well. Keldon Johnson would have to take on the most usage, but Tre Jones would start at the point and guys like Devin Vassell (also questionable), Josh Primo, and Lonnie Walker would have to take on much bigger roles as well.
Good luck!