Underdog Fantasy has become wildly popular due to their massive Best Ball contests as well as their Pick 'em games, but their daily snake drafts are another incredibly fun option for fantasy drafters. Their NBA drafts (or Battle Royale as they call it format) are incredibly simple, and they give you a shot at 4 or 5 figure winnings every single day. 
All you have to do is draft 6 players from the games taking place that night in the NBA in a traditional snake draft against 5 other users. No positional requirements. No salary cap. Your team of 6 players competes against every other team of 6 drafted that day in that tournament for your share of the prize pool, which typically pays out approximately 20% of the field with 20-25% going to first place. 
If you haven't yet signed up for Underdog Fantasy, you can use Promo Code 'SPIKE' to receive a 100% Deposit Match on any deposit up to $100. 
Underdog offers a variety of options each day with single entry, double entry and multi entry contests available. Their player scoring is also incredibly simple: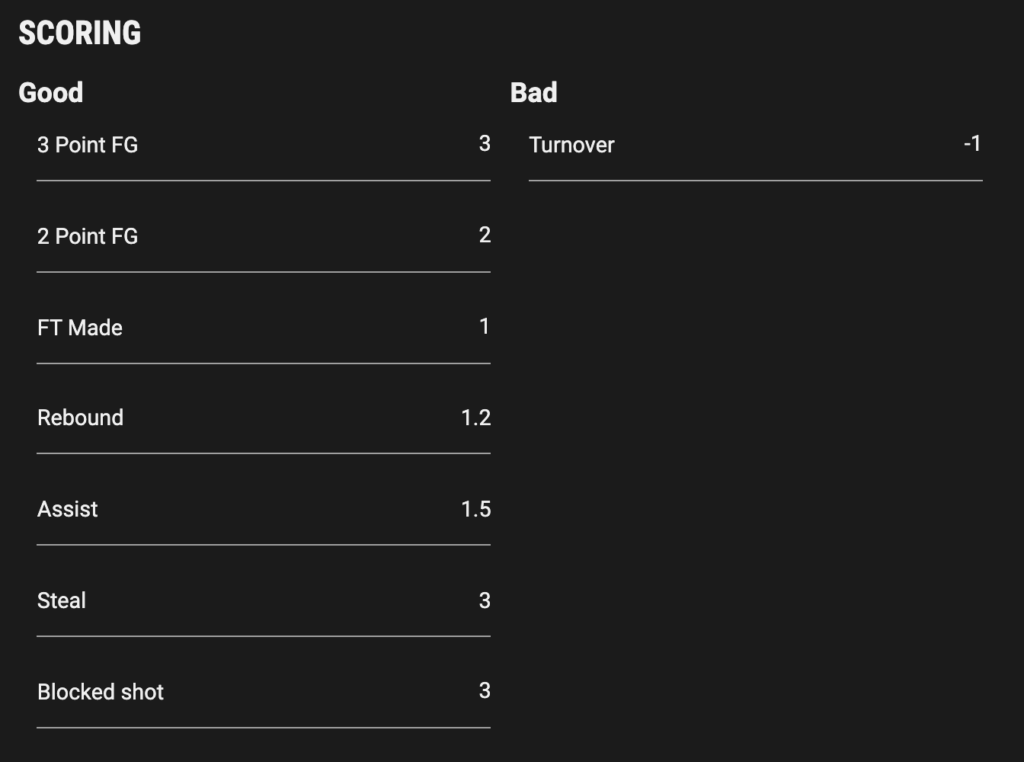 Below are the additional details and rules provided by Underdog for their general Battle Royale contests, as well as their Daily NBA specific contests: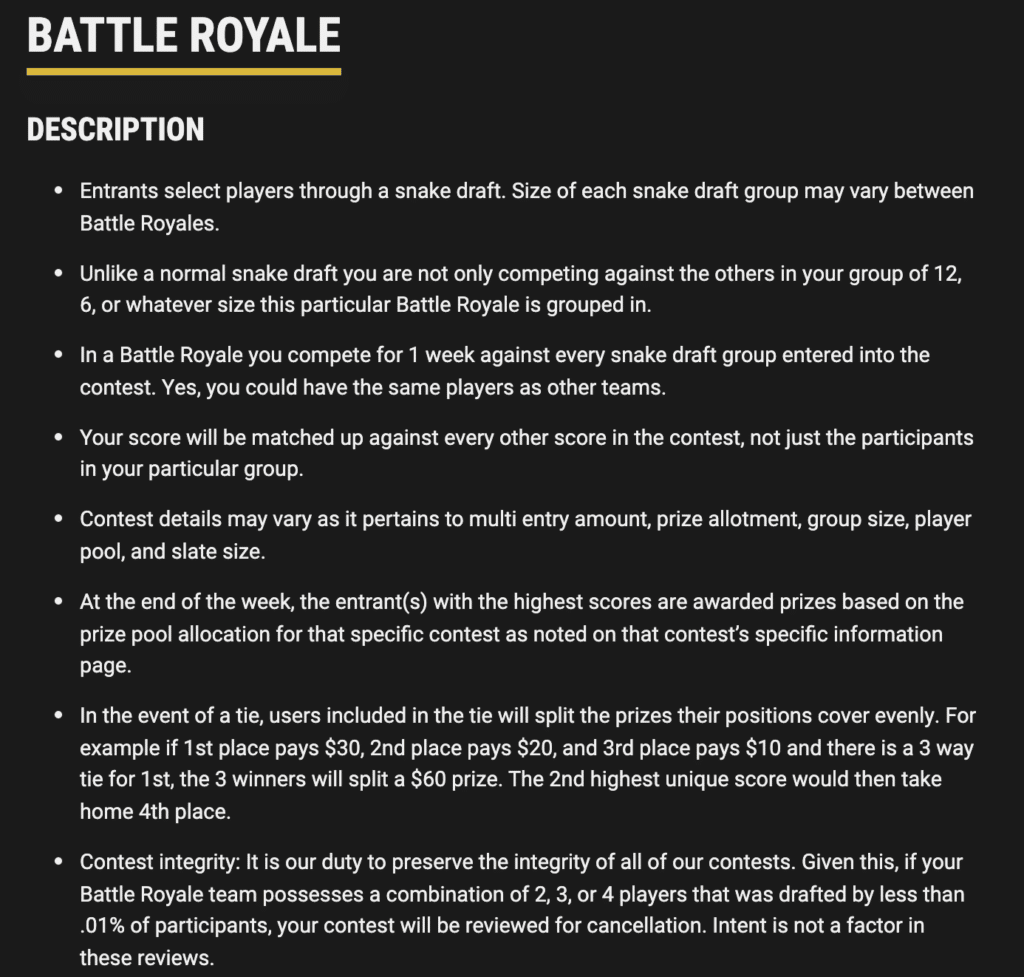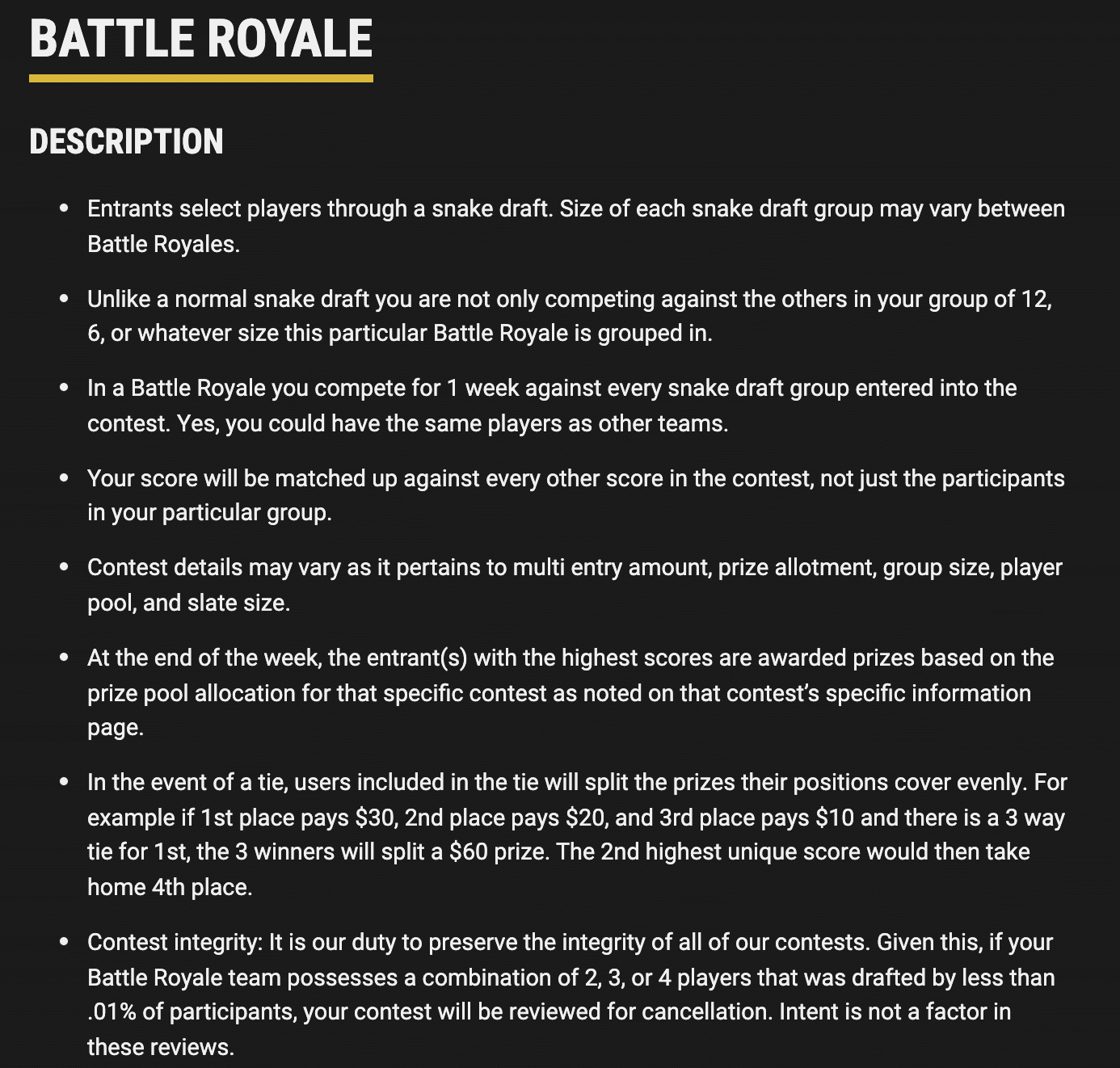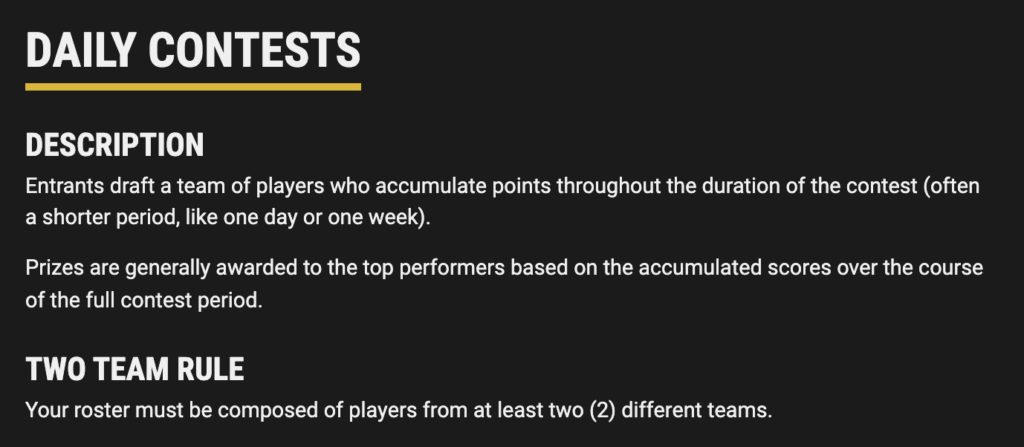 Let's dive into the strategy for today's contests. Much of the strategy for today is driven by the incredible Daily NBA Projections from the RotoGrinders team. If you'd like to subscribe to the full set of projections for every player and team, head to RotoGrinders NBA Premium , which includes fantasy point projections and daily fantasy ownership projections for sites like DraftKings, Fanduel, and Yahoo, as well as LineupHQ Optimizer access and much, much more.
Underdog Fantasy Daily NBA Battle Royale Contest Strategy for January 27th, 2022
Top Options
We've got an 11 game slate, so naturally the firepower at the top is quite strong. The interesting part is that it's not quite as loaded as recent with the super elite stars as usual with no Harden, Embiid or Curry. Nikola Jokic is an extremely clear cut top option, followed by Giannis and Lebron as fairly clear 2nd and 3rd. Beyond that, it's fairly wide open with a bigger third tier. Devin Booker is out of this world right now with the Suns so banged up, and Ja Morant has been out of this world all season. And that's not to discount Dejounte Murray or Karl-Anthony Towns, either. 
Undervalued and Overvalued Players
Cade Cunningham – The clear cut most undervalued player in UD's projections right now is Cade Cunningham. He sits way, way down in a tier with Mikal Bridges and Wendell Carter on their list, but our projections have him as a fringe top 25 overall option on the entire slate. 
Dejounte Murray – It feels like nearly every slate Dejounte is a guy we have to mention. He has become an upper echelon level fantasy player, but Underdog's projections almost never value him as such. He's 16 overall in their projections, but he should be 6th. He's a 1st round pick that you can get in the late 2nd, or maybe even 3rd if your draft is asleep at the wheel.
CJ McCollum – The days of CJ McCollum being a super elite fantasy producer without Damian Lillard are gone, but the UD projections haven't quite adjusted yet. For reference, he sits just barely above Cade Cunningham for us, in a tier with Zach Lavine and Bam Adebayo, but Underdog has him in their top 5 overall.
Injuries and Situations to Monitor
Domantas Sabonis – Sabonis still has zero projection on UD, as he's questionable to play tonight. He could certainly miss again, but he did return to practice yesterday and makes for a great last round pick if he were to play.
Brandon Ingram – Ingram does have a projection on Underdog, but he is another questionable guy that could make for a strong last round pick if he were to end up playing. If he's out, Jonas Valanciunas should take on a heavy load against Nikola Jokic tonight.
Jimmy Butler – Jimmy projects as a nice value himself tonight, but he's questionable to play as he frequently is. If he plays, he makes for a strong option against the Clippers, but if he were to miss it would be a huge boost to Bam Adebayo, and Tyler Herro would become a great mid to late round option as well.
D'Angelo Russell – Russell sustained a shin injury and did not return to the T'Wolves game last night, so we'll be awaiting on an update on his status. He seems questionable at best, and if he were to miss, it's a big boost to Karl Anthony-Towns and Anthony Edwards given the increased offensive burden.
Good luck!