Underdog Fantasy has become wildly popular due to their massive Best Ball contests as well as their Pick 'em games, but their daily snake drafts are another incredibly fun option for fantasy drafters. Their NBA drafts (or Battle Royale as they call it format) are incredibly simple, and they give you a shot at 4 or 5 figure winnings every single day. 
All you have to do is draft 6 players from the games taking place that night in the NBA in a traditional snake draft against 5 other users. No positional requirements. No salary cap. Your team of 6 players competes against every other team of 6 drafted that day in that tournament for your share of the prize pool, which typically pays out approximately 20% of the field with 20-25% going to first place. 
If you haven't yet signed up for Underdog Fantasy, you can use Promo Code 'SPIKE' to receive a 100% Deposit Match on any deposit up to $100. 
Underdog offers a variety of options each day with single entry, double entry and multi entry contests available. Their player scoring is also incredibly simple: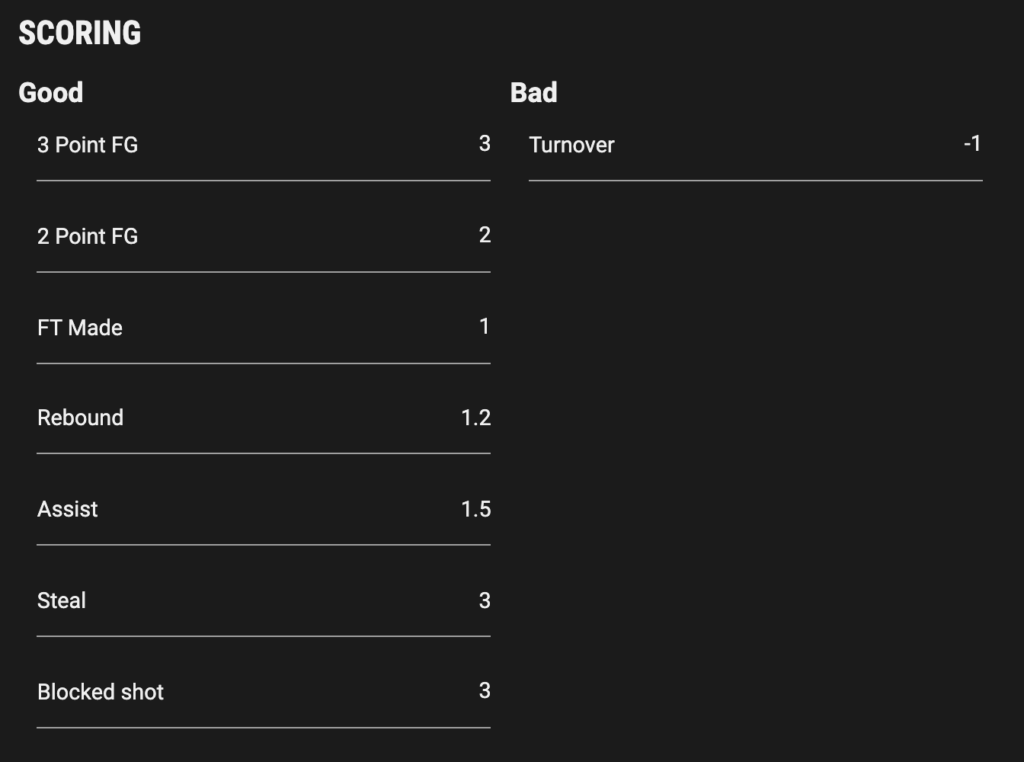 Below are the additional details and rules provided by Underdog for their general Battle Royale contests, as well as their Daily NBA specific contests: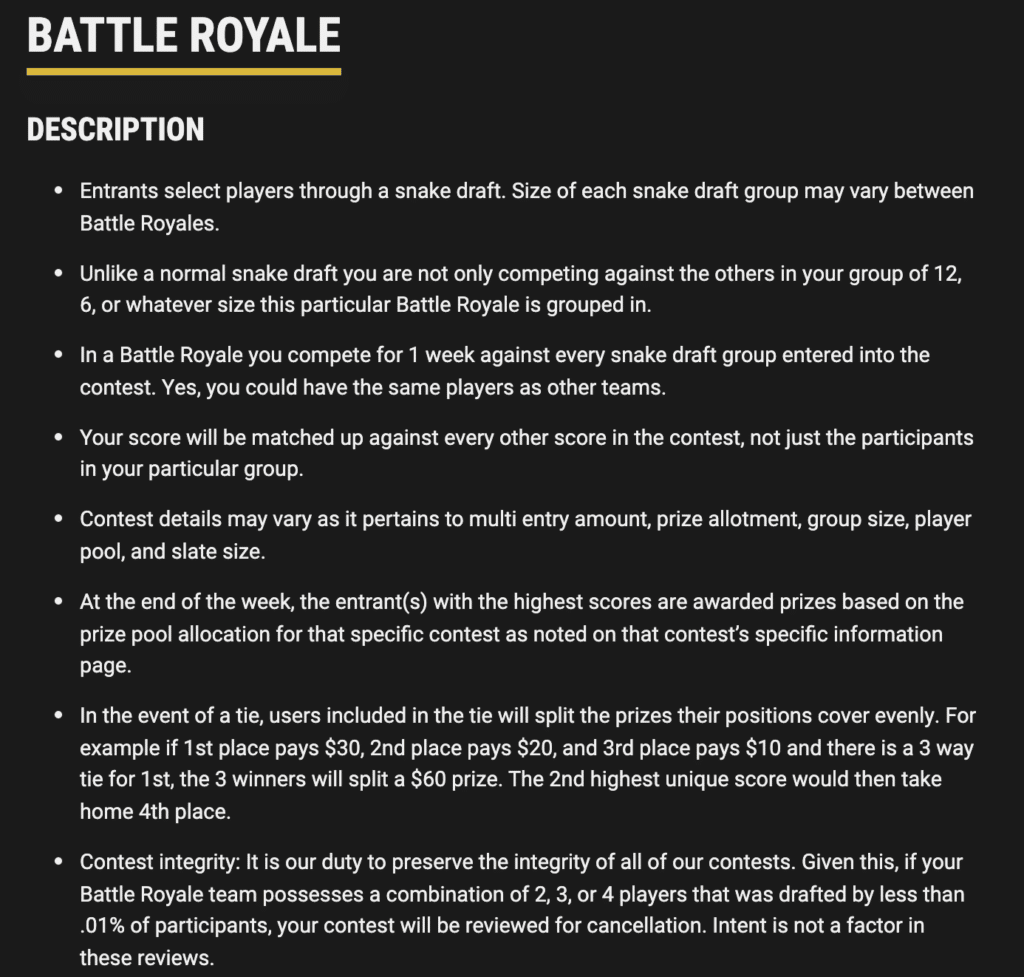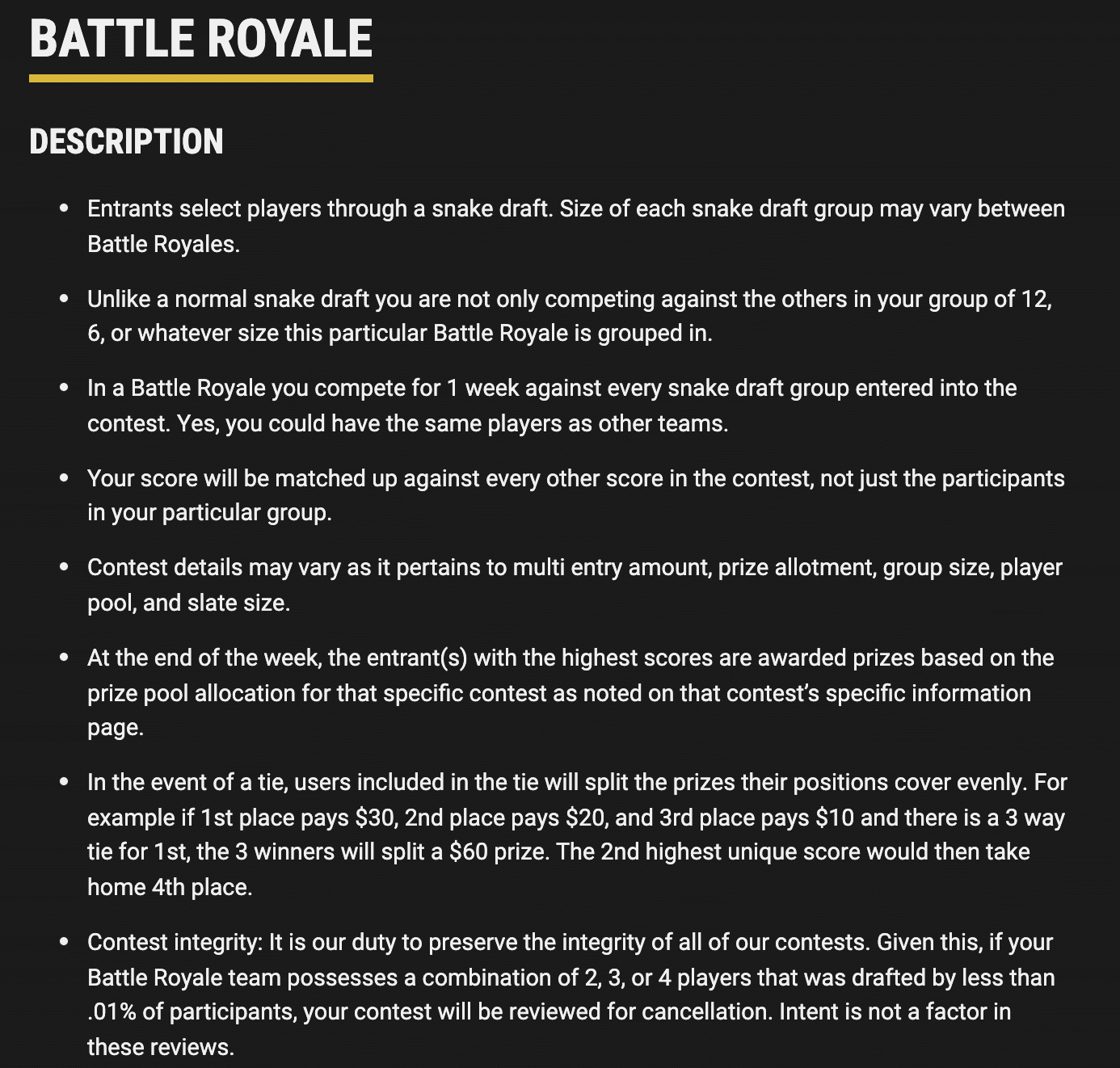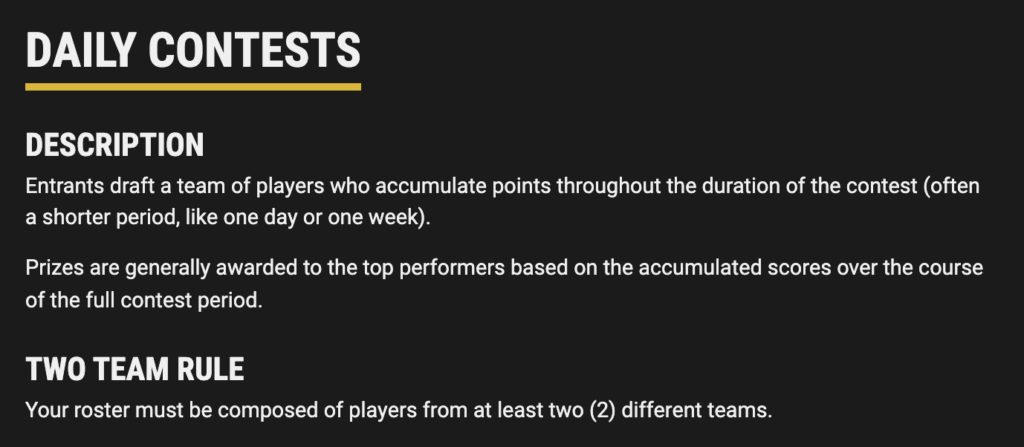 Let's dive into the strategy for today's contests. Much of the strategy for today is driven by the incredible Daily NBA Projections from the RotoGrinders team. If you'd like to subscribe to the full set of projections for every player and team, head to RotoGrinders NBA Premium , which includes fantasy point projections and daily fantasy ownership projections for sites like DraftKings, Fanduel, and Yahoo, as well as LineupHQ Optimizer access and much, much more.
Underdog Fantasy Daily NBA Battle Royale Contest Strategy for January 25th, 2022
Top Options
Back to back days with a loaded slate of games brings us another star studded top end of the player pool. Nikola Jokic sits atop projections again tonight as the Nuggets take on the Nets in Brooklyn. This means that James Harden trails closely behind Jokic with Kyrie Irving unable to play home games. And to round out the top 3, we have Giannis Antetokounmpo as he returns (probable) after missing the Bucks last game. Luka continues to be slightly overprojected on Underdog, but he still lands in the top 5 overall here. The most interesting player at the top end is probably Ja Morant, who projects as a top 5 overall player for us, but is sitting all the way down at 11th in UD's projections.
Undervalued and Overvalued Players
Devin Booker – The Suns will again be without many key pieces, and they get a matchup against the Jazz who are oddly enough also missing many of their key pieces. We saw last game in this situation just how much of the burden Booker and Chris Paul have to carry, and Booker should be a top 10 player tonight.
Tyrese Haliburton – De'Aaron Fox missed last night's game, but even with Fox in our projections at this point, Haliburton is massively undervalued. He's taken over the lead role of this team from Fox, and he looks like a fringe top 15 overall player that is not valued as such. Particularly if Fox misses, Haliburton is the best value of the day in this matchup with the Hawks.
Hassan Whiteside – Whiteside has a huge ceiling, but he's outrageously overvalued in Underdog's projections today. He's somewhere around a top 50 player today, but sits 13th overall on UD. If he falls in drafts he can be viable with his ceiling potential, but he's an avoid at this cost.
Injuries and Situations to Monitor
Toronto Raptors – Fred VanVleet and Scottie Barnes missed last night's game, and that's huge news for tonight. If they play, particularly VanVleet, they make for great picks themselves. But if even one of these two miss again, you have excellent value in Pascal Siakam and OG Anunoby.
Gordon Hayward – Hayward is questionable again after missing back to back games. If he were to miss again, it would be a strong boost to the key players for the Hornets given how tight they will get with their rotations. A matchup with the Pacers dreadful defense and injury riddled lineup is mouth watering, and the upside of LaMelo Ball, Miles Bridges and Terry Rozier without Hayward is massive.
Jarrett Allen – Allen missed the Cavs last game, which gave a huge boost to Kevin Love and Evan Mobley. That would be true again tonight if he were to be ruled out, but Allen himself also makes for a great pick at his current cost due to the uncertainty.
De'Aaron Fox – Fox missed the last two games for the Kings, and we saw what that did for Tyrese Haliburton 2 games ago scoring 50 fantasy points. He would be the main beneficiary here, and likely be a great value where he's currently drafted if Fox cannot go, despite the poor performance in a blowout loss yesterday. Terence Davis also got hurt in yesterday's loss, and his absence would only boost Haliburton's usage, and could possibly put Buddy Hield in play in the last round of drafts.
Good luck!