The biggest Best Ball contest ever launches today (May 2nd) with Best Ball Mania 3 on Underdog Fantasy. The prize pool will be an insane $10 Million. TEN MILLION.
With that kind of money on the line, we're all looking for edges. Best Ball Mania is a unique tournament in that it opens immediately after the NFL Draft for us to start drafting teams for the 2022 NFL Season, but it's open basically all summer leading up to the start of the NFL season.
If you're interested in the pros and cons to when you draft your Best Ball Mania teams (I.E. early in the summer vs closer to the start of the season), you should check out this piece.
Clearly a lot can change over the course of an NFL offseason. We have some players that are still free agents. We have very uncertain depth charts or roles on teams. And we'll unfortunately have injuries to key players over the next several months. On top of that, the market hasn't had quite enough time to figure out exactly where everyone should be valued.
That final point can be a big edge for us starting today in our drafts. Player ADP is not going to reflect what it will later in the draft season, and it will take a little time for players to become appropriately valued in drafts. If we can pounce on the right players, we'll be able to extract excess value from our teams simply by the timing of our draft and identifying the right players.
In early BBM 3 drafts, there are a handful of players I'm specifically targeting in order to get out ahead of what I expect to be rising ADP this summer:
QB
Kyler Murray – Jalen Hurts is getting a lot of hype (for good reason) after the AJ Brown trade, but I think Kyler deserves at least as much after the Cardinals acquired Hollywood Brown. I am not sure I could think of a more perfect marriage than this. The Cardinals offense, while very good, lacked any true game breaking vertical threat. There's a lot of talent on the offense, but that's the one piece that was missing next to an incredibly strong group of short to intermediate targets in DeAndre Hopkins, Rondale Moore, Zach Ertz and James Conner.
Hollywood is one of the best deep ball weapons in all of football, but he flies a bit under the radar because of his former offense. Kyler also seemingly flies under the radar as well with his ability to throw the deep ball.
Per Rich Hribar, "Kyler has completed 41.5% (34/82) of his passes of 30-plus air yards, the highest rate in the league (league average is 30.3%). His EPA per dropback on those throws (0.91) is second behind Justin Herbert."
Meanwhile, again per Rich, "Hollywood Hollywood is second in the NFL in those targets (43) since entering the league behind Tyreek Hill (45). But Brown has secured just 9 of those targets (20.9%) with 14 of those targets deemed inaccurate due to the quarterback, the most in the NFL over that span per TruMedia."
The Hollywood addition, and the perfect fit of said addition, takes the cap off the ceiling of this offense. Kyler is my QB2 overall, and I think is closer to Josh Allen than he will get credit for. Plus, he and Hollywood have the shower narrative from their days at Oklahoma together. I probably should have led with that part.
RB
Miles Sanders – While the whole world flocks to Jalen Hurts and AJ Brown for their exciting, new Eagles stacks, a low key huge winner is Miles Sanders. Despite frequent offseason hype for fantasy, Sanders has disappointed basically every year, culminating in last season where he scored ZERO TOUCHDOWNS. Zero. 137 carries and 34 targets in 12 games… zero touchdowns.
Clearly, we need our running backs to score touchdowns to be good for fantasy, but we also know that touchdowns can be fluky year to year. Maybe more importantly, the Eagles did not add a running back in the draft or free agency. Boston Scott and Kenneth Gainwell are back, but Jordan Howard was not retained. Yes, Jalen Hurts will likely steal a couple goal line touchdowns, but we know how helpful the rushing QB is for RB efficiency.
The Eagles had a total of 101 Red Zone rushing attempts in 2021. Sanders accumulated the 3rd most on the team (20) despite playing just 12 games. He trailed Hurts (31) and Jordan Howard (23), and we know that Howard is now gone. Some may have concerns about his pass game involvement, but he did finish the season with a 9.66% target share, which is not elite, but it's higher than Joe Mixon and Cam Akers and on par with Jonathan Taylor (10.18%).
Sanders was an absolute smash on the ground (outside of those dang touchdowns). His 5.5 YPC equaled both Jonathan Taylor and Nick Chubb, which was tied for 2nd in the league behind just Rashaad Penny. It's difficult to expect too much regression from the efficiency level when you consider Sanders averaged 5.3 YPC in 2022, the offensive line remains intact and elite, Hurts' rushing ability is still there and now the Eagles have an offense with AJ Brown, DeVonta Smith and Dallas Goedert to keep pressure on defenses through the air.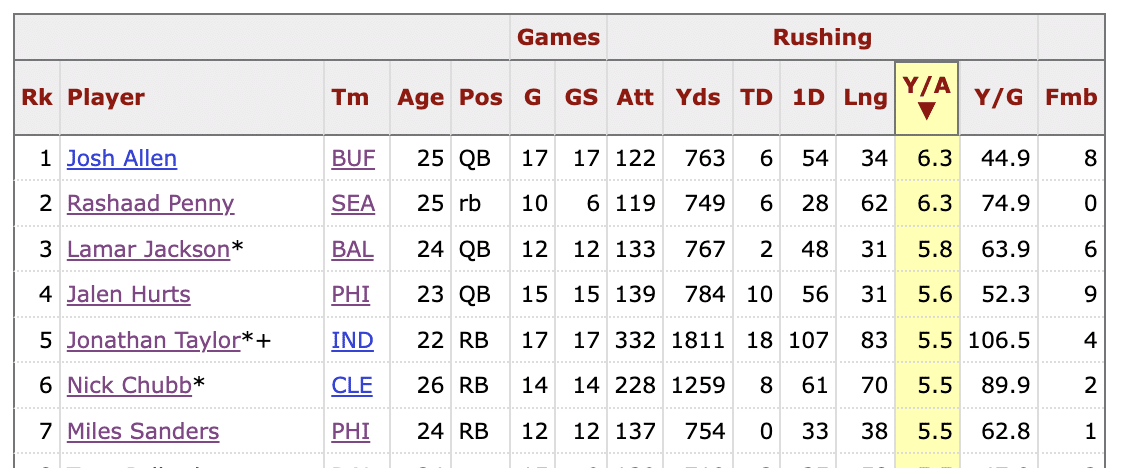 Is Sanders without risk? Of course not. Maybe Boston Scott and Kenny Gainwell steal all the running back touchdowns again, but nearly every running back in the NFL have at least some form of concern in terms of split work, and almost none have the efficiency that Miles Sanders does. And now he's in an offense loaded with talent that should allow for even more scoring opportunities.
WR
Gabriel Davis – Hollywood Brown was in play for this WR spot, but I didn't want to regurgitate everything from the Kyler section above. You can probably spot a bit of a trend in this piece if you look close enough… elite offenses. And Gabe is very much a core piece of a truly elite offense, but his price does not reflect it. This is often the case with players who simply have not put together a big fantasy season yet. Because we haven't seen it, the market discounts them for the "safety" of the players who they've seen produce. I think that's what we have here with Gabriel Davis.
Emmanuel Sanders is now gone, and the only WRs the Bills added were slot receiver Jamison Crowder and 5th round rookie Khalil Shakir. That gives Davis an every down role on the outside on a top 3 offense in the NFL that we know we can trust to maintain a hefty pass rate.
Stefon Diggs of course returns, but he might be the most interesting part of a potential Gabe breakout. Diggs is still great, but we did see a bit of an efficiency dip from him in 2021. We must use the typical caveat that it could be variance, but Diggs is not getting any younger, as he turns 29 this coming season.

He saw fairly substantial drops in a few different areas that cause at least some concern. Per Player Profiler, he was not as efficient on a per route or per target basis. He did not separate well, particularly against man coverage. That separation can be masked by contested catch efficiency, but we saw a really steep drop in his contested catch conversion as well. Of course, this could all be noise and Diggs bounces right back this upcoming year (I like Diggs in the 2nd round, too), but if we are starting to see any sign of slowing down, that would directly drive production and a huge ceiling towards Diggs' young counterpart.
Gabe did not see rises across the board in these same metrics in 2021, but he also increased his playing time and volume by huge amounts. With the volume increases, it's impressive to see a player maintain high level separation and YPT efficiency, while seeing a huge rise in his per route run efficiency and go from a bad to an elite contested catch weapon.

Given the lack of moves to threaten his playing time combined with the big steps in efficiency (and an underrated area like Contested Catch ability) and some possible signs that Diggs is slowing down, I think it's well within the range that Davis takes a huge step in this Bills offense. It's not inconceivable to think he could become the lead passing game weapon, or at least become a 1a/1b with Diggs in one of the best passing offenses in the league.
It's a rare combination for a young player to be both an elite separator, and an elite contested catch player, and we obviously saw what the ceiling looks like for Davis in the playoffs this past year. Similar to the Diggs regression last season, that playoff performance could be nothing more than variance, but an 8 catch, 200 yard, 4 touchdown performance in the playoffs for a 22 year old 2nd year player also shouldn't just be thrown aside. The combination of all these things give Davis season altering upside, and he was drafted as just the WR34 in drafts prior to BBM.