As much fun as it is to draft Jonathan Taylor, Cooper Kupp or even your favorite 8th round WR, nothing quite compares to the joy of nailing an 18th round pick that no one else is even considering drafting. 
Enter the "Sleeper".
If you've been playing fantasy football for a long time, you know that the concept of a sleeper is a popular one. And it's mostly been ruined by the thousands of articles, podcasts, and tweets about this year's "sleepers" without ever really defining what a sleeper even is.
Especially for the modern age of fantasy football with these massive Best Ball tournaments on sites like Underdog, DraftKings and Drafters, the idea of a "sleeper" is actually quite important, but it's important to define what it is in the first place.
What is a Fantasy Football sleeper?
We are largely focused on Best Ball here, and the concept of a sleeper is something that can be hugely beneficial in the Best Ball landscape. But we aren't just talking about some 11th round pick that we think is undervalued. That's not a "sleeper". 
For our purposes, we can define a sleeper as a player that is not drafted in every draft or maybe even rarely gets selected at all. Maybe some might call it a "Late Round Sleeper".
But in these tournaments with 18 to 20 rounds in each draft, we can benefit from someone the rest of the drafters are "sleeping on". In 2021, we saw this come through in a huge way with the likes of Elijah Mitchell and Cordarelle Patterson. Despite either paths to real opportunity, talent or a great situation, the market decided that these players were not worth drafting, but they ended up as some of the best possible selections in the last round of drafts, if you were wise enough to do so.
In a traditional season long managed league, you can pick these players up off the waiver wire, but you cannot do so in Best Ball. Once you draft your team, that's it. No roster moves, trades or lineup setting. Because of these aspects of the format, we know we are going to miss very frequently on these late round picks, but that's also precisely what makes the upside of hitting on them so insanely valuable. 
When 95% of our opponents are getting nothing out of these selections, and we find a top 15 running back, it's about as big of a leg up as you get can get on your opponents. And we need all of these we can get in Best Ball Tournaments with top heavy payouts.
How do we identify potential sleepers?
There's no clear cut or straight forward way of finding these sleepers. If there were, these players wouldn't be slept on at all. But there are a couple different variables I think we can look at to try to find these diamonds in the rough at the end of drafts that our opponents aren't considering:
Ambiguous Situations
Youth
Talent
Offensive Situation
If we can find all 4 of those different variables coming together on an individual player, and they're not consistently being drafted, that player might deserve strong consideration as our sleeper.
Now that we've come up with a real definition for a sleeper and identified some characteristics to look for, let's take a look at some options for 2022 drafts.
2022 Fantasy Football and Best Ball Sleepers
Matt Corral, Quarterback, Carolina Panthers
On Underdog, Matt Corral has an ADP of 215.5 making him right on the border of being drafted or not in most leagues. Some thought Corral may get drafted in the first round of the 2022 draft, or at least in the 2nd. But he fell to the Panthers in the 3rd round, and that has soured most drafters on him, but he hits all 4 of our sleeper characteristics, which is extremely rare for a Quarterback frequently going undrafted. 
The starting job is wide open for the taking with just returnee Sam Darnold back in Carolina. Darnold has proven for several years now to be a below average NFL QB, so despite the 3rd round capital, Corral has a path to starting day one. 
As a rookie, he clearly has the youth variable on his side, and there's at least enough talent upside here that many considered him a potential 1st round pick. In fact, the only reason he seemingly fell was due to some mental health issues Corral mentioned he struggled with during the interview process. That absurd bias by NFL teams (shoutout to Corral for being willing to openly discuss his past depression and work through it) may have given us a ton of extra value in our drafts.

The Panthers offensive situation is also sneaky great for a Quarterback, and Corral's ability to run should only help that. They have high level weaponry in Christian McCaffrey, DJ Moore and Robby Anderson, plus offensive line upgrades (including 6th overall pick tackle Ikem Ekwonu). 
Through the first month of the 2021 season, Sam Darnold was actually the QB5 overall in fantasy. The Panthers were scoring 24.25 points per game, and Darnold was actually leading the entire NFL in rushing touchdowns (with 5).

Clearly Darnold collapsed, got injured and the offense fell apart, but I think that snapshot offered some insight into the fantasy upside for a dual threat QB in this offense. Corral is a better runner and likely better talent at this point than Darnold, and he is not even always drafted in Best Ball drafts.
Chris Evans, Running Back, Cincinnati Bengals
No, not that Chris Evans. Although maybe we will need to nickname the Bengals version of Chris Evans "Cap" if he comes through as this year's Cordarrelle Patterson or Eli Mitchell.
First, I don't think the Bengals will cut Samaje Perine, but they would save more than $1 Million by doing so before June 1st. So that outcome is at least in the range for Evans, but more important are all the other variables.
Evans is a 2nd year player who the Bengals drafted in the 6th round out of Michigan. A unique prospect, Evans worked in a committee for 3 years at Michigan before being set up to be the feature back his senior year. However, Evans was suspended from the team for the entire 2019 season leading into that year. When he returned, Michigan had a boatload of other running backs (Hassan Haskins, Zach Charbonnet, Blake Corum) all keep Evans from a significant role after the suspension.
Evans doesn't have quite the "ambiguous situation" of Patterson or Mitchell, but I do believe he has a different variation of one. Despite being the 3rd back, the Bengals made it a point to play Evans last year, including in the playoffs, for at least a few snaps every week. He was also their kick returner, and Samaje Perine is not the type of talent to keep a better, younger player from the field, assuming Evans continues to develop. It's assumed Perine is the locked in backup, but I think it's a lot more uncertain for the soon to be 27 year old vs the 2nd year back.
Some local beats are quite bullish on Evans' as well: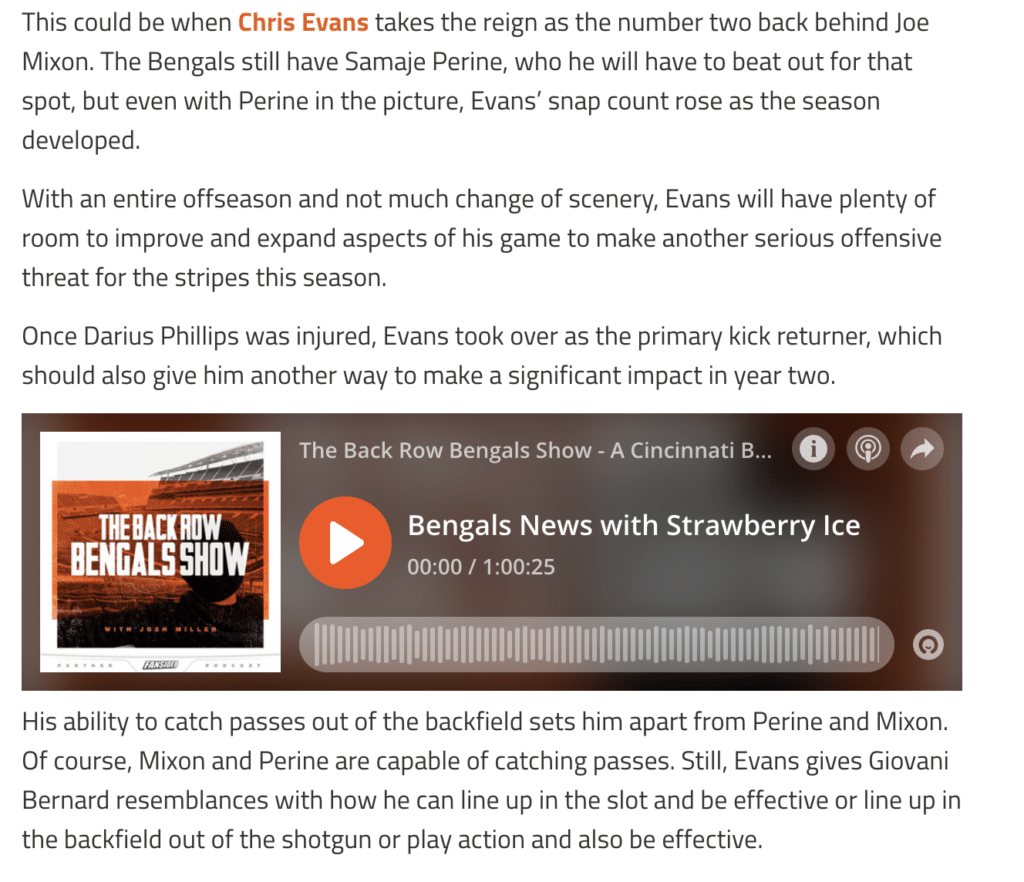 It's notable because Joe Mixon is also not getting any younger (26 in July) and is fresh off a huge workload. He played 20 total games last year and wracked up 419 total touches. Interestingly, that's 1 more total touch than Derrick Henry accumulated in his incredible 2020 season with more than 2,100 total yards. We know historically players with those workloads tend to break down a bit easier in subsequent seasons, but there's also potential ambiguity in the Bengals trying to lighten Mixon's workload after last year.
We know the Bengals offensive situation is about as good as it comes, especially after upgrading the offensive line this summer, and we know 2nd year players make for great breakout candidates. But is a 6th round player actually talented enough for us to care?
The RB position is interesting in that way (Eli Mitchell was a 6th round pick after all), but Evans is also such a unique case.
Evans is intriguing because he was hyper efficient in a part time role with Michigan for 3 years, and he is a natural pass catcher and talented receiver. He was actually 4th on the Wolverines squad in receiving in 2018 despite playing a role as a part time running back. At 5'11, 220 pounds, he ran a 4.44 40 yard dash with a 40.5 inch vertical, 10'7″ broad jump and 20 reps on the bench. Given his suspension in college, I suspect he would have gone undrafted if not for his incredible workout displaying his athleticism.
There's a ton of uncertainty here, but that's the exact kind of situation I think we want to pounce on. Who knows where Evans would have been drafted without the suspension, but he's proven to be an excellent athlete with receiving chops, and he landed in the perfect spot for fantasy upside here in his 2nd year.
Zay Jones, Wide Receiver, Jacksonville Jaguars
The 2017 37th overall pick hasn't exactly set the world ablaze since entering the league and was eventually traded from the Bills to the Raiders in 2019. However, something seemingly clicked for the 27 year-old down the stretch of last season with the Raiders. As noted in my Week 17 Game Stacks piece, Zay amassed an insane 62 targets over the final 8 weeks of the Raiders season, including the playoffs. From Week 12 to Week 18, Zay was 12th in the entire NFL in receptions.
On top of that, he actually tied with Hunter Renfrow for the team lead in target share (22%) and ranked 5th in the entire NFL in Air Yards.

This offseason, Zay signed with the Jacksonville Jaguars amid their spending frenzy for a 3 Year, $24 Million contract. Given that contract and his 2021 performance, he should be locked into a starting outside role for the Jags, while Christian Kirk kicks Laviska Shenault back to the 4th WR.
The Jags were clearly a terrible offense for fantasy last year, but they got rid of disastrous coach Urban Meyer and his staff and spent a TON of money on the offense (Zay, Kirk, Evan Engram, Brandon Scherff). It's the 2nd year for number one overall pick Trevor Lawrence and Travis Etienne heads into the offseason healthy after missing his rookie season. There's at least reason for optimism in Jacksonville on offense.
While Zay may not totally have the youth part at age 27, but he's not yet aged out of the productive years of his career. He does, however, clearly have the ambiguous situation. Christian Kirk received the most money, but targets are completely up for grabs in this offense, and Zay flashed as a downfield threat in 2021, which we know can be ideal for Best Ball scoring.
Maybe it was just a flash in the pan, but it also requires at least a certain level of talent to draw that volume of targets, air yards, etc. for an extended stretch on an NFL Playoff team. And we are talking about a former 37th overall pick. Growth isn't always linear, and maybe we finally started to see Zay's talent shine through last year down the stretch.